São Tomé and Príncipe wildlife
"Jurassic Park! It's just like that," says Alistair Walls. He's the Africa specialist at Far and Wild, our São Tomé wildlife vacation specialists, and he's describing the incredible topography of São Tomé and Príncipe. The volcanic hills of this island nation resemble the thick, virgin jungles of the film; stegosaurus-jagged, and 90 percent cloaked in obô – original forest. There are no dinosaurs in São Tomé and Príncipe, but the wildlife is brilliantly different.

The birdlife seems especially beautiful, because these species can only be seen here.

You've never seen a more beautiful egg than that of the São Tomé prinia. This plain-looking bird lays eggs that look like watercolour paintings, made more beautiful because they can be found only here. Then there's the unmistakable giant sunbird with his hook-shaped beak, and little blue-backed Príncipe kingfishers. There are 28 known endemic bird species on the islands, but there might be even more.

The world is threatened with mass extinction on nearly every front, but in São Tomé and Príncipe, species are at risk of going extinct before they've even been discovered. Thanks to centuries of being overlooked, these islands, which have so many endemic species per square kilometre that they've been nicknamed the African Galapagos, are only just discovering some of their treasures: the São Tomé cobra in 2017, the Príncipe shrew in 2015. In 2006 a survey of marine life found 10 previously undiscovered specimens on the reefs.

There's another reason these islands got their Darwin-esque nickname – just like the Galapagos, the wildlife is pretty tame. Príncipe became a UNESCO Biosphere reserve in 2012, and its birds are thriving. "I had a client there over New Year. He was well travelled, he works in the city," says Alistair. "He texted me to say that this was one of the best hotels he's ever stayed in. He said the birdlife on the beach was quite spectacular."
Our Sao Tome & Principe Vacations
What wildlife can you see?
Birds
Unlike countries like Madagascar, where logging and charcoal production have eaten much of the native forest, here there is plenty. Birdlife thrives in Obo Natural Park on São Tomé, where there are several endemic species. Príncipe has a few more. The São Tomé ibis was once considered extinct, but there are a small cluster still surviving on the south of São Tomé. The cutest of all birds found here might be the São Tomé scops owl, with his teddy-bear fluff and enormous eyes. He's nocturnal, secretive and small, standing only seven inches tall.
Fish
Sea life is rich here, as it is all around the Gulf of Guinea, in which these islands sit. Special West African reef species you can spot include the West African parrotfish, the African rainbow wrasse, the Guinean parrotfish and the West African butterfly fish. There are even more endemic species swirling in the waters close to the shore that even keen snorkellers might not recognise. Divers can find octopus, stingrays and sharks.
Whales
The islands shelve as steeply underwater as they do on the surface, so deep, whale-friendly water is close to the shore. "It's fantastic for humpbacks," says Alistair, "because they come very, very close to the land." The whales in question are humpbacks: metres long, bristle-mouthed, barnacle-backed, and fond of breaching – leaping out of the water, flippers akimbo. They're found from May to October, when they come up to feed. The Príncipe Trust, an NGO, incentivises local children to record whale sightings in return for books and school supplies.
Turtles
Five of the world's turtle species have been reported nesting on São Tomé and Príncipe, the eggs hatching around six weeks to two months later. This makes the islands' beaches an important conservation site for green, hawksbill, leatherback, loggerhead and olive ridley sea turtles. The turtles and their eggs were popular food on the islands, but that's changing now thanks to local government and organisations. The Tatô Program, a family-run organisation that's part of marine conservation charity Marapa, is striving to change habits and protect their marine visitors. Evenings are best for turtle watching – watch your step on a dark walk along the beach.
Our top Sao Tome & Principe Vacation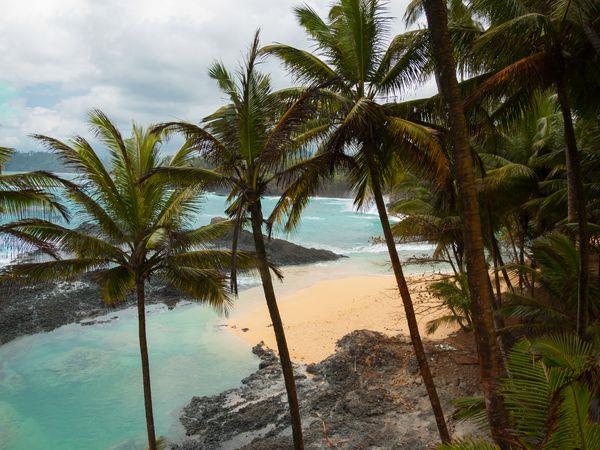 Lush rainforests, sapphire seas and nature at its finest
From
£

3200
8 days
ex flights
Tailor made:
This trip can be tailor made throughout the year to suit your requirements
If you'd like to chat about Sao Tome & Principe or need help finding a vacation to suit you we're very happy to help.

When is the best time to go?
Birding is best from October to March, with mating season occurring in January and February. Winter is the best time to see the island's 129 orchid species. Turtles nest between mid-November and early February – you will be tempted to return in March to watch them hatch, but if you want whales, then late July to October is the best time to go, to watch them migrating along the north coast of Príncipe.
More about Sao Tome & Principe