Where to go cycling in Scotland
With the right to roam enshrined in law, you can pretty much go anywhere you want on two wheels in Scotland (provided there's a path, so that you're not damaging the landscape). But classic routes are renowned for good reason. The Great Glen Way between Fort William and Inverness takes you through some of the Highlands' most glorious scenery, while the North Coast 500 explores remote and wild coastline. For a more freewheeling take, you can opt for self guided mountain biking in the Cairngorms National Park. And then there's Scotland's take on the 'sail-and-cycle' vacation, roaming the Inner Hebrides aboard a schooner. You might see whales and dolphins one day and tour a whisky distillery the next.
1. Cairngorms National Park
The Cairngorms National Park is paradise for the adventurous mountain biker. This majestic, mountainous landscape offers all levels of challenge, complemented by the prospect of a few whisky tastings along the way. Self guided rides are tailored by local experts never happier than when on two wheels themselves, exploring the Cairngorms from Aviemore.
2. Great Glen Way
This coast-to-coast classic starts in Fort William at the foot of Ben Nevis, passes Loch Ness, and finishes in Inverness. Three days in the saddle is more than enough to tackle the route's 129km at an easy-going pace, and while there are some demanding steep sections in places, the Great Glen Way is as manageable as it is scenic.
3. Inner Hebrides
There are few finer ways to explore the ancient history, marine wildlife and dramatic seascapes of the Inner Hebrides than touring them by boat and bike. Meander around Mull, the Morvern peninsula, and Jura with its renowned whisky distillery in the company of a guide and a small group of likeminded riders. Then return to a stylish two-masted schooner to set sail in the evenings.
Land's End to John o' Groats
4. Land's End to John o' Groats
Two weeks, 1,600 kilometres, and many of the UK's most beautiful landscapes from the Peak District to Dartmoor and Glencoe – Lands' End to John o' Groats is an epic, but perhaps surprisingly accessible for riders of all abilities. If you're fit enough to ride steadily for 15 days of cycling, tackling some big climbs along the way, there's a place for you in the pack.
5. North Coast 500
Ranked by some as one of the most scenic coastal routes in the world, the NC500 is a circuit around Scotland's far north, starting and finishing at Inverness Castle. Week-long trips involve a handful of demanding ascents and plenty of remote, beautiful beaches. Our responsible travel partners keep group sizes small to minimise their impact and avoid the most traffic-heavy sections of the route.
Our Scotland cycling Vacations
If you'd like to chat about Scotland cycling or need help finding a vacation to suit you we're very happy to help.

Cycling in Scotland tips & advice
Gordon Steer, from our vacation partner World Expeditions, on sail and cycle trips in Scotland:
"Combining cycling with cruising is a great, adventurous way to vacation. By day you explore the island by bike and then cruise to the next island and wake up somewhere different every day. The idea of bike and boat is a really unique experience anyway. Add to that a spectacular part of Scotland and the fun of getting around under your own steam, and what's not to love? I've done similar trips in Holland, Croatia and Greece, and I just love the idea of getting onboard and not having to worry about anything because all the time-consuming logistics are done for you."

Rob Nutting cycled on our Land's End to John o' Groats trip. He says:
"Make sure that you have done sufficient training on a bike beforehand. Thinking you are fit because you go to the gym regularly may not be enough. Do not be put off by thinking that the group will be full of 'boy racers'. It won't be. Don't think you'll be too old – I'm 69. Make sure your bike has been checked and serviced properly before you start. Fit good tyres to help avoid punctures. Don't take lots of luggage – you won't need it and it doesn't help the support team. Be prepared to eat lots of sugary foods and carbs to keep those energy levels up!"

Tom Lunt, who travelled on our North Coast 500 cycling tour, says:
"Make sure you understand what's involved. Try cycling 100 miles two or three times before booking."
Sunny Wattal, from our cycling vacations specialist High Places, says:
"People naturally like to bring their own bikes on the NC500. For convenience, our team can arrange bike pick-up in the days leading up to the trip, and we then drop them off again afterwards."

Gordon Steer, from our vacation partner World Expeditions, says:
"With cycling vacations, and Scotland in particular, you really do need to plan carefully for the weather. It's true what they say about four seasons in one day, so waterproofs are essential even in summer. I think Scotland is overlooked by many people as a vacation destination, but when the sun is shining there are few better places to be on Earth. As far as cuisine, I would always recommend a visit to a distillery on any trip to Scotland. The smoked fish on the west coast is a particular delicacy I'd suggest trying."
More about Scotland cycling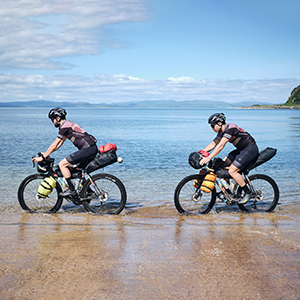 Scotland cycling vacations combine a glorious sense of freedom with a wonderful range of landscapes.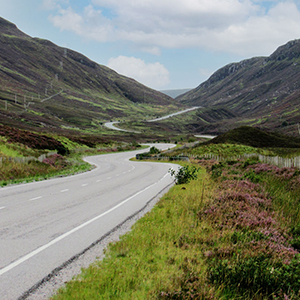 Tackle one of the top five coastal routes in the world on a North Coast 500 cycling vacation.