Cruising the lochs of the
Scottish Highlands
"I think the calm, tranquil waters of the lochs appeal to many people," says Fiona Forsyth from our Scotland cruising partner The Majestic Line. "Not everyone is comfortable cruising out on the sea. And each loch is so different in terms of their landscape – some are surrounded by mountains for instance, others not. All of them have hidden attractions too, – walks and historic castles. You can easily go for a walk and not see another person. It's really about getting away from it all."

You probably know that 'loch' is Scottish Gaelic for 'lake' but you may not know that there are different types of lochs. There are inland lochs, which are enclosed entirely by land unless fed by a river, and so freshwater. And there are sea lochs, which are inlets from the coast similar to the Norwegian fjords, which are saltwater. Then there are locks, and you'll find plenty of them along the Caledonian Canal, a superb feat of engineering that links the east and west coasts of Scotland, as well as several of those freshwater lochs, including the famous Loch Ness.

Sailing the sea lochs of the Scottish Highlands is a relaxed business, with placid waters and crews eager to ensure their passengers have a good time. You might leap overboard for a swim while moored up on a nice day, or ask the skipper if you can take the wheel for a while. Highland cruise vacations offer a marvellous sense of freedom, particularly welcome after the confinement so many were forced to endure in 2020.

"We have fishing rods on board that our guests are free to use. Anything you catch we can cook for your supper" says Fiona. "If I were to recommend a few dishes to eat in the Highlands, I'd have to start with the fish platters we serve on board."
The Majestic Line team knows its way around the west coast of Scotland and the Hebrides like a seasoned sailor knows their knots. Small ship cruises such as theirs are the best way to travel, allowing you to slip into narrow waterways and seek out remote anchorages, with very little of the negative impact on the environment and local communities that is the curse of larger vessels. Your craft will typically be an old fishing boat, rescued and restored, with around 11 passengers in en-suite cabins attended by four crew members. Gourmet meals served at anchor every evening use locally sourced ingredients, from seafood to meat, wherever possible.
Very local, at times. "We might do some creel fishing on board, where you're using these large wicker baskets to catch crab, shrimp, lobster and crayfish. So some days it might be crayfish for breakfast," says Fiona Forsyth. "Some of our guests like the tradition of having whisky on their porridge in the mornings too. Also, there's a dessert called cranachan that's delicious."
If you're passing any local event, such as food festivals or Highland games, your boat may well pause so that you can attend. "There's always something going on in the Highlands," says Fiona. "In the past we've actually sponsored the International Stone Skimming Championships on Easdale. That's a fun and quirky event. And we'll often take guests to the Argyll Highland Games in Dunoon as well."
Our Scottish Highlands Vacations
Cruising the sea lochs of Argyll
Cruising the Southern Hebrides – Jura, Islay, the Slate Islands – your boat can dip into the sheltered sea lochs of Argyll that extend deep into the Knapdale and Kintyre peninsulas. You might drop anchor on Loch Sween; the lovely fishing village of Tayvallich is a popular mooring stop. West Loch Tarbert was sailed by the Vikings when Magnus Barefoot took control of the Kingdom of the Isles. Pleasant stopovers can also be found on Loch Melfort or Loch Crinan. Skippers have complete freedom to choose their routes between the Hebrides and the Highlands, exploring remote areas dotted with small traditional communities that are reached much more quickly by boat than by car.
The Caledonian Canal slices diagonally across Scotland for 97km, connecting Inverness in the north-east with Fort William on the west coast. Along its route it passes through the magnificent Great Glen, and with it several Highlands lochs including Loch Dochfour, Loch Ness, Loch Oich and Loch Lochy. There are plenty of locks too: 29 in total, including the huge Neptune's Staircase just outside Fort William.
You can cruise in either direction, starting in Inverness or the lovely town of Oban, and a typical trip takes seven days at a pleasantly languid pace. No doubt much of your time will be spent on deck watching the scenery drift past. You'll see the staggeringly picturesque Castle Stalker (a familiar landmark for Monty Python fans), the village of Fort Augustus, the ruins of Urquhart Castle on the western shore of Loch Ness, and Ben Nevis, the tallest mountain in the UK. Red squirrels and otters are often seen on the banks, and your boat will pause regularly, allowing you to take a stroll along the towpath or head into the countryside a little.
Our top Scottish Highlands Vacation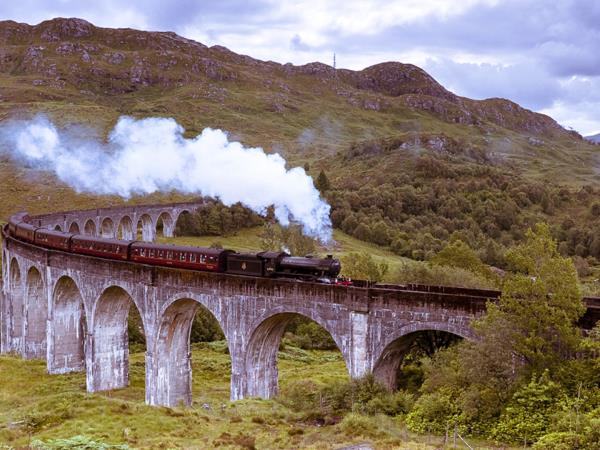 Experience authentic Scotland independently and car-free
From
£

1275

to

£

1345
8 days
ex flights
Tailor made:
This trip can be tailor made from April to the end of October.
If you'd like to chat about Scottish Highlands or need help finding a vacation to suit you we're very happy to help.

Best time to cruise the Scottish Highlands
"In spring the air is so fresh and you have all the seabirds," says Fiona Forsyth. "And in summer you get the weather (touch wood). But my favourite season is autumn. The colours in the Highlands are beautiful in September and October." Cruises around the lochs of Argyll typically sail between June and August, while Caledonian Canal cruises tend to have a longer season between April and October. Midges are a problem in summer, but less so when you're on water as they don't have a long range and experienced skippers will keep you moving at dusk when necessary.
More about Scottish Highlands