South America overland
travel guide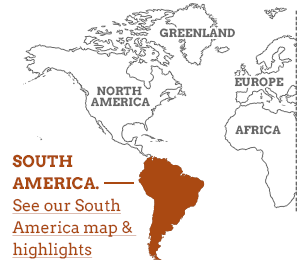 At first glance, it can be hard to differentiate between the 12 nations of South America. They all speak Spanish or Portuguese; most of them have the Andes as their vertiginous spine; most of them, too, descend into the endless stretches of the Amazon. But an overland tour here will make you wonder why you ever thought Peru and Bolivia were alike, or what on earth Chile has in common with Argentina. There is lilting Spanish, yes – but also Quechua, Aymara, Huaorani – and Welsh. Really. There are places where the rain seems ceaseless – and places where it never falls. There is fresh seafood, hearty stews cooked in the earth, and strange fruits as vibrant and delicious as this captivating continent.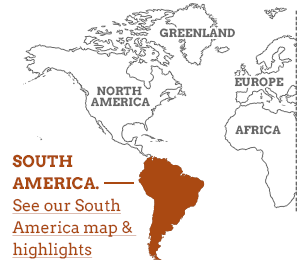 With a landscape ranging from looming Andean peaks and moonlike desert, to the planet's largest rainforest – the spectacular scenery in South America was made for overlanding.

Linking up these highlights on an overland tour involves long hours on the road – but what roads these are. The landscape changes not daily but hourly, with mountain passes, waterfalls, indigenous villages, modern cities, thick jungle and stunning coastline all side by side. Find out how to explore it all in our South America overland vacations travel guide.
What does a South America overland trip entail?
On a South America overland vacation you'll be in a group of equally adventurous passengers, in group sizes from as small as four to as large as 20 people. You'll travel in a purpose-built expedition vehicle, which has been developed to be self-sufficient and really comfortable with water tanks, cooking stoves and fridge-freezers aboard, plus plenty of room to stow luggage, high, cushioned seating to allow great views, and lots of leg room.

Generally, you'll be sleeping in hotels, guesthouses, or lodges as much of the time is spent in towns and cities – itineraries which include the Inca Trail being one of the exceptions. The trips are often designed for multi-share accommodation however – making them brilliant for solo travelers, couples, or groups of friends. A huge emphasis on South America overland trips is to do as the locals do, so when you're staying in hotels you will be eating locally prepared food and the wonderful array of dishes you try will vary from country to country, and region to region – something which is even more apparent when border hopping so frequently.
Most trips are run by a minimum of two tour leaders (both western and local leaders are used, depending on which company you travel with) who are highly knowledgeable and passionate about South America and can provide loads of suggestions for things you might like to see or do en route whether that's trekking in the Torres del Paine, or finding a great place to eat in Buenos Aires. Local guides will join you at places of interest along the way too, who'll ensure that you're party to invaluable snippets of local knowledge.
Most South America overland vacations cover a serious amount of ground, and although you won't be on the road every day, when you are, stints can last from as little as four hours to as many as nine. There is an awful lot of choice out there, so you can find South America overland trips that combine less lengthy days on the road and instead opt for flights where possible to maximise your time at destinations. You can look into tours that stick to travel by private vehicle, or those that mix and match with public transport too. The whole point of a South America overland trip is to really get under the skin of the destination and share that experience with your fellow travelers; your journey is much more about group camaraderie and memories than it is about luxury and relaxation.
If you'd like to chat about South America overland or need help finding a vacation to suit you we're very happy to help.

Things to do in South America
Things to do on a South America overland vacation...
The Inca Trail. A high altitude battle, the Inca Trail is both a remarkable journey and a destination in itself, punctuated by oodles of natural and cultural rewards. From looming windswept tundra to hot and humid cloud forest, the Andean landscape is a huge draw, but so are the incredible hidden ruins you'll discover along your path to Machu Picchu.
Hit the jungle. While many of the jungle's thousands of species cunningly conceal themselves among the dense vegetation, a good guide will lead you to spot all manner of caimans, capybaras and chattering monkeys. Jump in a canoe and cruise for turtles; learn about all the bizarre plants that grow there; and head up to the top of a watch tower for a panoramic view across the lungs of the Earth.
Get your adventure on. At the very core of any South America overland vacation is a sense of adventure – trekking to the top of an Andean peak, gawping at massive glaciers in Patagonia or spending three, blinding days crossing the Uyuni Salt Flats. These three are just a mere drop in an enormous ocean of experiences you will encounter. It is all about harnessing the explorer within and going for it.
Things not to do on a South America overland vacation …
Get impatient. There might be a lengthy border crossing; the truck might need maintenance; you might find your path blocked by an Andean landslide – of course, nothing might happen too and it's unlikely you'll suffer major delays, but the nature of overland travel dictates that not everything can be planned and mapped out by the minute. Just stay tranquilo... Go without a local guide. Regardless of the fact that no one knows the quirks of their country or landscape better than a local person, it's important to remember that for many rural South Americans, the money that you give them to show you round and educate you about your surroundings forms a substantial part of their income. You'll be staggered by the amount you can learn from an excellent local guide, plus you'll feel entirely safe while doing so. Ignore the locals. With natural and historical attractions like South America's, it would be easy to overlook the local people who live beneath Machu Picchu, farm the slopes of gently puffing volcanoes, harvest salt from the world's biggest salt flat or spend their days paddling along the Amazon. But the encounters you'll have along the way – aided by local guides – will end up being as memorable as that first glimpse of the Atacama at sunset.

There's a type of weather for everyone across a continent that clashes humid tropics in the north with cool Andean mountain air along the west coast and frozen glaciers down south.

Its vast size and altitude contrasts means there is no single best time to visit South America. June, for example, offers a steamy 30°C in the Amazon – but snow and ice shut down much of southern Patagonia, best visited from November to March, when it is much more accessible. Dramatic contour shifts can mean clement temperatures on Chile's coast, but snowy 5,000m chill just 100km away. September and October offer a good balance in many places, with generally comfortable spring temperatures and dry weather. But check specific locations – even within the same country – to help you set nature's thermostat to suit yourself during your trip according to your route.
Cuzco, Peru Weather Chart
More South America overland articles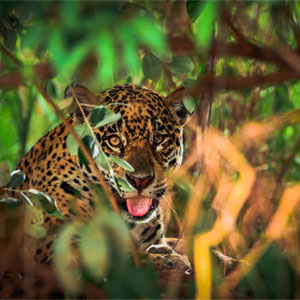 See our favourite haunts - and our expert partners have shared their top overland travel advice.