Cycling in the South Downs
---
AROUND THE DOWNS ON TWO WHEELS
Cycle trails in the South
Downs National Park
---
Cycling the South Down Way makes that seaside reveal happen even more quickly. In fact, cycling is one of the most popular pulls of the South Downs, as it is so close to and accessible from London. Families and cycling enthusiasts can escape the city easily by train and get some much needed oxygen hits as they career along the chalky paths or saunter through ancient woodland, stopping to paddle and picnic by crystal clear rivers.
Take a train straight to one of the seaside spots along the South Downs, such as Brighton or Seaford and cycle a coastal section of the South Downs, racing the oystercatchers, fulmars and widgeons that wheel overhead. This is part of the National Cycle Network and so much of it is on road, although there are sections such as between Saltdean and Cuckmere that are off road. This is Route 2 of the National Network and will take you between Brighton and Eastbourne within the South Downs boundaries and on up to Camber beyond that.
You can find details of other circular cycling routes around Sussex and the South Downs such as Seven Sisters Off Road Circular Route, which is 53km long. A good strenuous challenge, it takes you along the final miles of the South Downs Way, from the height of Firle Beacon and down towards Eastbourne before another climb up to Beachy Head and descent into the Cuckmere Valley. Even better, this circular route starts and finishes at Newhaven railway station, so no cars required here.
Always stick to bridleways (footpaths are for walkers only) when you are cycling, remember to give priority to walkers, wheelchair users and people on horseback, but when the coast is clear, you can zap on to the real coast in no time. However, it isn't downhill all the way and it is considered a serious mountain bike challenge to take on all of the South Downs Way. If you want to make the task a little easier, you can hire an
electric bike
, which still makes you work the hills a little, but definitely gives more power to the thigh muscles. Or the more adventurous can go full on mountain biking, with a plethora of dedicated trails at Deers Leep Park, and plenty of training opportunities here too.
What isn't a challenge, however, is getting there by train. First step is to download a cycling guide from the
National Trails website
and decide on your route. This is a very handy leaflet, with details of how the land lies in terms of ups and downs, and also distances between key points along the way. It even tells you where you can top up your water bottle. It has details of all bike hire locations, or you can just stick your own on the train and pedal straight out onto the hills. See our Walking page for details of trains. Each rail company has a different policy on carrying bikes, but generally all of them will be happy to help, free of charge, if you are traveling outside peak travel hours, on a first come first served basis. For more details of individual bicycle policies, see
Southern
, Southeastern and First Great Western.
Cycle Hire
---
There are many options in the South Downs National Park for cycle hire, such as Meon Valley Cycle Hire which is on National Route 2 cycling trail, and is located at Titchfield near Fareham on the Hampshire coast. Meon Springs has a good range of family bikes on offer as well as some suggested routes. Cycle Tours UK, based in Winchester, specialises in road racing and tour bikes but you can hire mountain bikes in Shoreham on Sea at M's Cycle Hire and also the Adur Outdoor Activities Centre. Head to Hassocks by train and pick up a bike at Hassocks Community Cycle Hire, and to explore the Seven Sisters Country Park hire bikes at Cuckmere Cycles. Cyclelife in Petersfield has two electric bikes to hire and is near Petersfield rail station. Crank Cycles in Alton is also within walking distance of Alton station and offers electric bikes too, as does Quench Cycles in the Alice Holt Forest along with plenty of family bikes to boot. Also near a station as well as the sea, you can hire hybrids, mountain bikes, children's bikes and tandems at Coastal Cycle Hire in Littlehampton, Lets Bike in Eastbourne, Brighton Cycle Hire and Rayment Cycles both in Brighton.
Cycling vacations in the South Downs National Park
---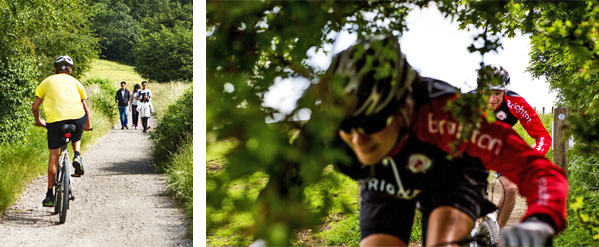 It is great to have a cycling vacation expert plan an itinerary for you, so that you can take in all the various aspects of the park – as well as pace yourself in terms of tough days and easier ones.
Zig Zag Vacations
is a South Downs based organisation offering guided cycles across the Downs and also short, all inclusive breaks. All the instructors are qualified mountain bike leaders through the Mountain Bike Instructors Award Scheme (MIAS), and as well as offering day trips, they cater for newcomers to mountain biking as well as those who want to push those muscles to the limit. They are based in Shoreham, just near Shoreham-by-Sea railway station.
Walk and Cycle
is also based in the South Downs and offers a variety of cycling breaks in the region, including the entire South Downs Way or, cleverly breaking it up over two weekends, heading from Winchester to Amberley one weekend, then head down for a week of work, and then back down to Amberley to do the last stretch from Amberley to Eastbourne. There are stations in each of these start and end points, so no tiring driving at the end of a day in the saddle. Bring your own bike, or chill out completely and hire one from the company.
Redspokes
offer a three-day cycle along the South Downs Way and unlike some, tackle it from West to East, starting in Eastbourne and finishing in Winchester. Bring your own bike, but lunches, snacks, B&B and luggage transfer provided.
South Downs Cycling
offers guided day and weekend long cycle tours out of Winchester, so super easy by train. And the rather aptly named
So Sussex
likes to explore the South Downs in ways that are slightly quirkier than others, catering not only for those who want to take on the South Downs Way, but also those who want to ease the pace a little. They have a cycling chip shop challenge and also a Night Riding session with nature spotting opportunities en route, using a powerful head torch for guidance, but still allowing you to appreciate the night sky.