Spain Cycling highlights
---
Our top places to pedal in Spain
Spain can be a bit misunderstood. We think of the commercial Costas and imagine the rest is rural, rustic and roasting hot. But so much of Spain is unspoiled, traditional and brilliantly set up for exploring by bike. You'll be cycling on quiet roads and cycle paths, and there are routes to suit every level of fitness. In Catalonia in May, there might be snow on the Pyrenees and 23°C on the trail, while the sunny south is dry and warm for winter cycling. With your luggage transported, detailed maps and lots of local advice, you'll be both totally free and fully confident to explore on two wheels.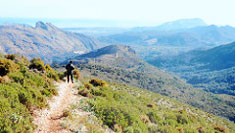 Alicante
Inland Alicante is beautifully unspoiled, full of Moorish history and tranquil mountain villages. Its broad choice of routes means families, road bike enthusiasts and hardcore mountain bikers are all in heaven. Pedal on the Alcoi Greenway, through Mediterranean forests and across high viaducts overlooking the Carrascal de la Font Roja Natural Park, or take on the Alpine-style switchbacks inland from the Costa Blanca.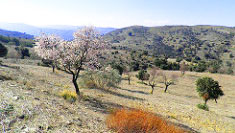 Almeria
From Malaga west, Andalucia's coast is very developed, but its eastern end is more authentically Spanish. Here, Almeria is the sunniest, driest region in Western Europe. There is great mountain biking in the Sierra de los Filabres, to the east of the Alpujarras and easy routes through the foothills. You'll stay in peaceful countryside, cycling out to villages, markets, tapas bars and archaeological sites, for a very Spanish experience.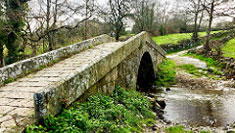 Camino de Santiago
For a combined physical and spiritual experience, join a group tour and cycle the Camino de Santiago. Pilgrims set aside a month or two to walk this ancient route, but you can cover the Leon to Santiago leg on a bike in eight days, passing through the lush valleys, mountains, monasteries and farming villages of one of the world's oldest pilgrimages. Vehicle support and a local guide smooth your way.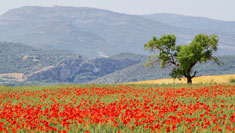 Catalonia, Mountains to Sea
Experience varied Catalonia on a four-day ride from the Pyrenees to the coast, following the disused carrilet railway which once carried coal and iron ore down from the mines. Ride from Ripoll to Olot to Girona, ending at the fishing village of Palamos. On the way, enjoy the volcanic landscapes of Garrotxa, follow the Fluvia River valley and pass through deep forests, with the mountains always in the background.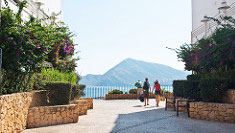 Costa Blanca
Excellent, quiet roads in the interior plus many off-road trails leading into the mountains are just part of Alicante and the Costa Blanca's appeal to cyclists. Add in the high quality rural accommodation on offer, gorgeous scenery, lovely spring and autumn temperatures and sun guaranteed for most of the year and it's obvious why this is a brilliant destination for all ages and abilities.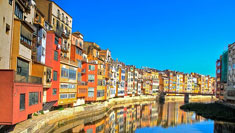 Girona Province
Catalonia's best cycling routes are clustered in the northeastern province of Girona, with the city of Girona or nearby villages making for the perfect cycling base. Ride out or get dropped at nearby trails, then explore the landscapes: extinct volcanoes, spring-fed lakes, prehistoric caves, rivers, sunflower fields and beaches – with manageable distances allowing time to relax in charming local villages and walled towns.


SPAIN CYCLING HOLIDAYS TRAVEL ADVICE
---
TIPS FROM OUR FRIENDS IN SPAIN
Why cycle?
---
Vivian Campbell, from our supplier Cycle Catalan: "A cycling vacation allows you to meet local people and you just don't get that opportunity in a car. Some people that came here got a bit lost and then got chatting with a farmer's wife. The next minute, she invited them in for a glass of homemade lemonade and gave them a bag of tomatoes to take away! It's things like that that make your vacation."
Fiona Smart, from our supplier Mas Pelegri in Catalonia: "This region is amazing for cycling. We are on the plain near the foothills of the Pyrenees. There are loads of Romanesque churches, Greek and Iberian ruins, and beautiful canyons and rock structures. Just within the province of Girona there are lots of different areas, from the high Pyrenees, down to lakes and the volcanic national park, and then dropping down to the lowlands next to the Mediterranean."
Packing tips
---
Vivian Campbell, from our supplier Cycle Catalan, shares her insights into cycling in Catalonia: "We always ask people to bring a mobile phone because it's really important that they keep in touch with us if there's an emergency, or if something happened with the bike – then we can pick them up. We do always say bring sun screen even in April or October because if you're out cycling all day you can get a bit of sunburn on your wrists. Also mosquito or insect repellent; people think that it's Spain and you don't really need it but actually you do in the evenings if you're out and about or at a restaurant. And a camera – always bring a camera or your iPhone; make sure you can take that nice photograph of the vineyard or the grapes and harvest. Capture that moment!"
Best time to cycle in Catalonia
---
Fiona Smart, from our supplier Mas Pelegri in Catalonia lifts the lid on when to visit: "People tell us they prefer Catalonia to Tuscany as there are fewer people. It's like Tuscany with mountains and much more going on. Tuscany is also too cold in the winter, whereas Catalonia isn't. We've had families over for New Year who went mountain biking and did walks every day, and had a lovely time."
SPAIN CYCLING HOLIDAYS TRAVEL ADVICE
---
TIPS FROM OUR TRAVELLERS
At Responsible Travel, we think the best people to advise our travelers are often... other travelers. They always return from our tours with packing tips, weather reports, ideas about what to do - and opinions about what not to.

We have selected some of the most useful Spain cycling vacation tips that our guests have provided over the years to help you make the very most of your vacation – and the space inside your suitcase.



"Don't worry if you go off the beaten track - just enjoy it!" – Margaret Steventon

"Pack a good pair of walking shoes or sandals because as well as cycling, the walks are excellent!" – Sarah Slade

"Come cycling in Catalonia if you are active people who love nature and do not like tourist traps. Make sure you wear suitable sports clothing on the mountain bikes." – Dorine van der Vloodt

"Biking in a gorgeous setting in Catalonia. There were enough rides on varied terrain for every ability level accessible right from the hotel, but it's best suited for the active traveler. Bikers, runners and swimmers will relish the ample options." – Mary Ann Pashigian

"Being able to cycle, self-guided, to some wonderful and challenging locations and experience the local culture was wonderful. Go now and be ready to challenge yourself, create memories and have fun!" – Sue Bound

"Make sure you can cycle off road on very rough ground. Not all the trails are smooth." – Jane Coward