Land based trips in Spitsbergen
"I went through every emotion that day. From anxiety – even getting all the kit on takes time – to nervousness, going out in the wilds again. Excitement because I like being on things like snowmobiles, and also a bit panicky putting my trust in a stranger, who has a gun, of course."
- Lyn Hill, our finance and office manager, spent a whole day snowmobiling across Spitsbergen on a land based vacation
Traveler interview:
Lyn Hill on her land based Spitsbergen adventure vacation
Responsible Travel's Lyn Hill chats with one of our travel writers, Catherine Mack about a land based Spitsbergen adventure vacation which she went on in March 2018. A very different experience altogether to the more common small ship cruises around this, the largest island in the Svalbard archipelago.
Read more about her adventure
here
.
Our Spitsbergen Vacations
'There be bears out there'
Most vacations to Spitsbergen take place on the water, looking back at the land. There are a few trips, however, which are the other way round. Explore the heart of these remote landscapes, glaciers, snow covered mountains and frozen rivers, using the same modes of transport used by its small population and visiting researchers: snowmobiles and husky dogs sleds in the frozen months and, during the polar summer, on foot or on husky driven summer buggies with wheels.
No matter which season you travel in, exploring Spitsbergen on land is a once in a lifetime adventure. This is polar bear terrain after all, and the presence of the world's largest land predator upstages all here. You certainly aren't guaranteed sightings, but there is a risk, and for that reason guides are armed on these trips. There are 'safe' zones in Longyearbyen, although bears don't generally read signs, so local people take precautions like never locking house doors or car doors so that you have somewhere to take cover – in the event of. We are not trying to scare you. We are trying to show you that land based trips on Spitsbergen are otherworldly adventures – and fantastic ones at that.
On a Spitsbergen winter adventure vacation you will often have the chance to go on a two day expedition, or more, traveling across the wilderness with the help of the famous husky: a working dog which is vital to Arctic communities. This is a full on experience, where you start off at the husky expert's center which has as many as 100 dogs, all like members of their family, and all desperate to get out running in the snow. So, be prepared for a veritable canine cacophony.

Once you have learned how to gather your team of dogs together, you are most likely going to ride your sled in pairs, taking turns to be in charge of your pooches. The minute they hit the hills, the barking stops and you are whizzing through a white wilderness in total, serene silence. You may stay overnight in the wilderness in Arctic tents, or head back to Longyearbyen at the end of the day, exhausted but exhilarated. In summer, these snow sleds are replaced by special, wheeled go-kart type vehicles, which are also pulled by huskies.
Our top Spitsbergen Vacation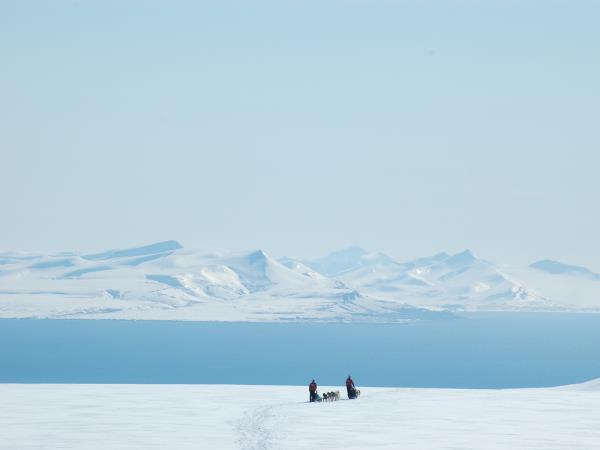 Explore the Telegraph route to Isfjord Radio
From
NKr

32590
5 days
ex flights
Small group travel:

If you'd like to chat about Spitsbergen or need help finding a vacation to suit you we're very happy to help.


Unlike jet skis, these machines aren't just there for you to have a quick spin. They are, in many cases, simply the only way to travel. You have to stay focused and on the ball to drive one.

Snowmobiles are vital during the frozen months in Spitsbergen. They get you from one side of the island to the other, speedily and safely, given that polar bears are unlikely to chase you on one of them. They are big machines though, and you have to have a full driver's licence to drive one.

From dehydrated food which is heated up with water while out on expeditions, to magnificent fine cuisine back at Base Camp, nothing is what you think it is going to be in Spitsbergen.

It is not something you would associate with an expedition in Spitsbergen; however, there are a couple of wilderness accommodations that specialise in fine cuisine. Using traditional, local ingredients however, such as smoked seal, reindeer sausage, meat hunted by licensed trappers and plenty of fish of course. It's all a bit like MasterChef has gone on a wild, winter tour.