We timed our visit to Togo for the Voodoo Festival in Glidji. And there were just a handful of foreign tourists. It's the real thing, and definitely one party I'll never forget.

Togo is typically tropical, with temperatures ranging from high to higher. The higher you go geographically the higher they turn up the heat too, with temperatures averaging 27°C on the south coast to 30°C in the north's sizzling savannah. Rains fall May-October although, in the south, there is a reprise mid-July and mid-September. Fazao-Malfakassa National Park is only open Nov-April. Togo is at its most torrid during March and April, making November to February the best time to visit. There is a different type of heat at its amazing festivals, however, such as Gbagba in August and the Voodoo Festival in September.
Things to do in Togo
Gain an understanding of voodoo. For many people coming to Togo, the capital city Lomé is usually the first stop. It is home to the world famous Akodessewa Voodoo market, also known as the fetish market which refers to the traditional definition of fetish, meaning an object that is worshipped for magical powers because it is inhabited by a spirit. So no whips and handcuffs, just piles of dead animal parts waiting to be crushed up and used as a spell, magic potion or in some complex ritual. Some trips will also take you to a full on Voodoo ceremony which isn't just for tourists. Authentic chants and trances are still very much part of Togolese life.
Meet indigenous cultures. For such a small country it is extraordinary to think that there are forty ethnic groups, the majority being the Ewe, who live mostly in the south. Their heritage can be learned about at the ancient town of Notsé, north of Lomé. In the north, the Kabye still inhabit traditional mountain mud hut villages which you can visit in and around Kara, and the very traditional Tamberma or Batammariba people's lifestyles have been protected by UNESCO, in a collection of magnificent fortress like settlements in a region called Koutammakou.
Things not to do in Togo...
This is not a country to go waving a rainbow flag, sadly, as homosexuality is illegal, and homosexual acts are punishable by up to three years in prison and fines of up to about US $1,000. As with other countries failing to recognise LGBT rights, international lobbying groups are always working to invite progress in this area. Don't ignore Togolese chit chat. They always say hello and goodbye, (in French, so most of us can manage that), and they shake hands all the time. Leave any reserve at home and go with the Togo flow. Be very careful where you swim as currents can be very strong along the coast of Togo. Go where there are lifeguards, which tends to only be on private beaches. Driving alone at night is not advised, and it is best to use the services of a local driver. Never go to the beach at night in Lomé as it is the favourite hangout for drug dealers and gangs. And sorry to say it, but the beach has been known to be used as a toilet at night. So, footwear is recommended.
If you'd like to chat about Togo or need help finding a vacation to suit you we're very happy to help.

Where to go tips
Marian Thompson from our leading Togo vacations supplier, M&J Travel and Tours:
"My personal favourite places to go in Togo are the UNESCO World Heritage site of Koutammakou, Glidji village which is home to the Voodoo Festival and also the blacksmiths of the Kabye region."
When to go to Togo
"My favourite time to visit Togo is between November and April."
Photography tips
"Don't take photos of official buildings or of anyone working in the security services."
Culture & food tips
"Be nice to local people as Togolese people are very hospitable."

"Local cuisine should be tried, especially with a local family in their home."
At Responsible Travel, we think the best people to advise our travelers are often... other travelers. They always return from our tours with packing tips, weather reports, ideas about what to do - and opinions about what not to.

We have selected some of the most useful Togo travel tips that our guests have provided over the years to help you make the very most of your vacation.

...the itinerary covers so much of West African culture, with particular insights into voodoo practices and life inside remote tribal villages.

I had one of my most eye-opening trips - and I have been on many. The tour delivered everything I had hoped for in a vacation that explores the more cultural aspects of West Africa. I now feel privileged to have done it... Traveling through the Somba country and seeing their fortified Tata houses - simply amazing!... Just go ahead and book it as the itinerary covers so much of West African culture, with particular insights into voodoo practices and life inside remote tribal villages - Mark Langer

Do not have high expectations about hotels or restaurants, but be prepared for a lot of experience and adventure – Annie Kreftin
More Togo articles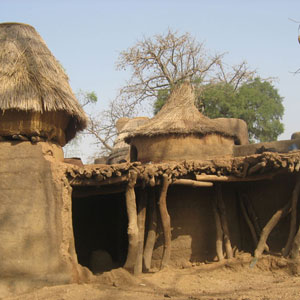 Togo is a fascinating, vibrant country, running from coast to forest covered mountain, that is totally eye opening...