West Africa overland tours
"The roads are pretty shocking, aren't they?" Charlie Hopkinson says to his team with a laugh. "Yeah, they're pretty bad. Have we ever had a truck stuck on some of those roads where it's like three days and they're still in the same place?" Marketing manager Alex Downing answers, "I think there's been a fair amount of digging on those roads, and those soul-destroying days when you spend six hours doing 10km!" Soul-destroying, but really quite cool, is the unanimous verdict from Charlie, director of our overlanding specialists Dragoman, and his team. They're discussing the time spent on the less-than-reliable roads while
overlanding in West Africa
.

Our aim is to get you genuinely off the beaten track. West Africa doesn't just tick that box, it blows the box to pieces.

Overlanding, Charlie explains, is all about the yin and the yang, the good times and the bad times. Nowhere, he emphasises, manages that quite like West Africa, where it's less about getting off the beaten track than getting back on it again – for a night spent off the jungle floor and your first shower in days. "Our aim at Dragoman is to get you genuinely off the beaten track," he says. "A West Africa overland tour doesn't just tick that box, it blows the box to pieces." The reward: beautiful deserted beaches, swinging vine rope bridges, tumbling forest waterfalls, and cultures barely touched by tourism.
It's this lack of infrastructure, argues Charlie, that offers travelers such an amazing amount of freedom; freedom to bush camp, freedom to change plans and routes. In fact, overlanding is often the only way to get around. But it's also by far the best way to experience countries that don't have the big highlights of west and southern Africa.
"It really is the people that make it," says Suzanne Alderton, travel consultant at Dragoman. "You have a lot of free time and they don't see a lot of tourists. So the local people just smile and welcome you, you end up learning about how they're living. It's something I've not experienced elsewhere
Our West Africa Vacations
Dakar to Accra itinerary & highlights

We've banned a word at Dragoman, and it's 'bucket list'. And this is definitely not a bucket list journey.

When it comes to overlanding, taking things slowly is as important as it is unavoidable: it allows enough time to do everything properly. "Throughout West Africa you've got some real highlights, but they're almost like a reward," says Charlie, "a reward for doing some real travel". It's less about what to see, than how long you want to spend on the road.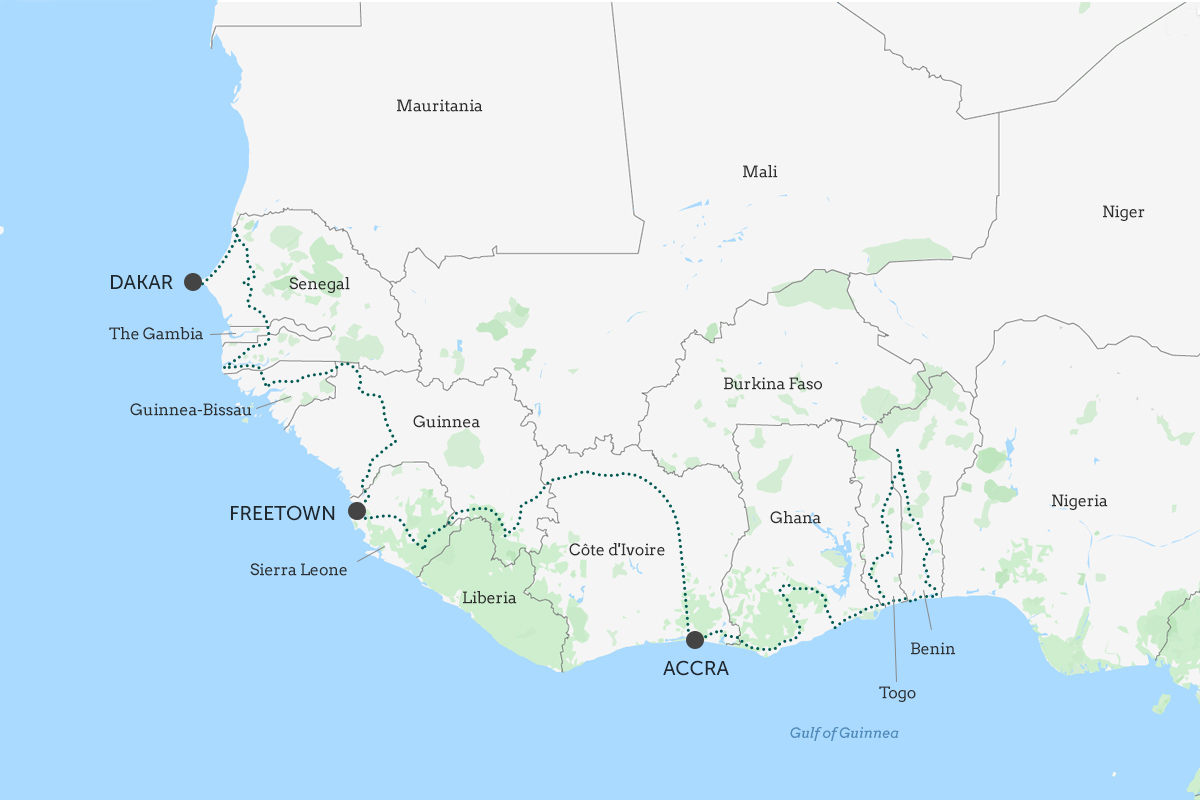 Benin
Benin is the birthplace of voodoo – vodun – where it's practiced by half of the population. But forget the dolls and dark sorcery fetishised in Western films. Visitors describe village ceremonies where participants perform magic tricks and dance to the rhythm of drums. Later, leave land behind and paddle a pirogue to Ganvie, a floating village on stilts, and spend a night surrounded by the waters of Lake Nokoué.
Gambia
Africa's smallest country is one of its best for birdwatchers. Split in two by the great Gambia River, it fits entirely within the river basin, filling it with wetlands and mangrove forests – and manatees, crocodiles and hippos. But the real stars of the show are the birds, almost 600 kinds of them, with everything from egrets and ibises to falcons and pelicans.
Our top West Africa Vacation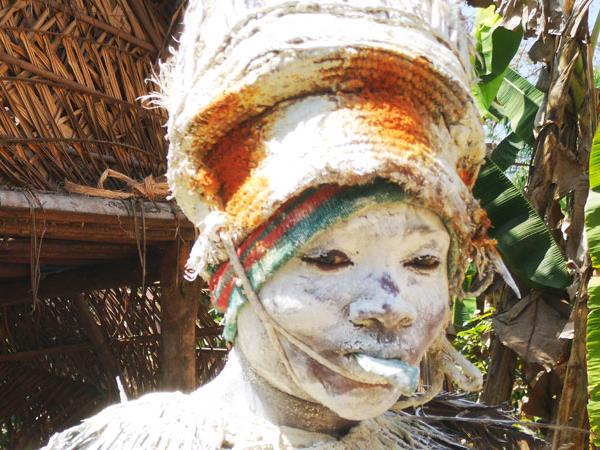 An epic journey from Morocco to the voodoo coast of Benin
From
£

15799

to

£

15999
8 weeks
ex flights
Small group travel:
2023: 18 Nov
2024: 7 Mar, 11 Nov
If you'd like to chat about West Africa or need help finding a vacation to suit you we're very happy to help.

Ghana
Ghana is known for its welcoming hospitality and is especially accessible to travelers. Starting in the coastal capital Accra, where shops, restaurants and nightlife make up for the lack of sights, wind your way north to Kumasi, the center of the Ashanti culture. Thick jungle in Kakum National Park can be viewed from canopy walkways, above, while Cape Coast's slave fort is a lasting reminder of West Africa's darker history.
Guinea
Remote dirt roads make getting around Guinea a challenge, but it's a great adventure. Four wheel drive will help you spend days exploring the Fouta Djallon highlands – a picturesque mountain plateau filled with tumbling waterfalls and natural lagoons that are perfect for swimming. Swinging vine bridges cross green rivers and dense foliage, where wild camping means falling asleep to the sounds of the jungle.
Guinea Bissau
Guinea Bissau is very rarely-visited by tourists, so expect some curiosity during your journey. Its capital, Bissau, is characterised by the fading, pastel-coloured facades of its buildings – a leftover from the country's time as a Portuguese colony. Further inland, charming city streets are replaced by vast mangrove forests that line the rivers, and tropical vegetation that twitters with the calls of hundreds of birds.
Ivory Coast
The Ivory Coast has a colossal surprise in store: the biggest Christian church in the world. The breathtaking basilica surpasses its Italian inspiration in the Vatican, its giant dome looming over an otherwise empty landscape. Ivorian culture can be best seen in the old French colonial town on the beach, Grand Bassam, and the craft workshops in Korhogo, full of painters, bead makers and cloth weavers.
Senegal
The starting point for many overland tours, Senegal is a fascinating introduction to West Africa. Sublime beaches at Cap Skirring and sunset boat trips through mangrove swamps are refreshing after the arid Sahel. Cities are just as diverse: the soaring towers of the Great Mosque dominate sacred Touba; horse-drawn carts clatter along the colonial old streets of St Louis; busy Dakar sprawls along the coast.
Sierra Leone
When you're not enjoying some well-deserved relaxation after days on the road, the beautiful beaches of the Freetown Peninsula serve as a base for exploring the Banana Islands by boat. Preserved as a nature sanctuary, the inland island Tiwai is populated by colourful primates and adorable pygmy hippos. A night in a tent, perched on covered platforms among the trees, is the best way of spotting these rare animals.
Togo
Tiny Togo, tucked between Ghana and Benin, is another stronghold of voodoo spirituality. In lakeside Togoville, near the capital Lomé, shrines and sinister fetishes (sometimes made of animal skulls) can be seen on the streets. Locals in Mont Klouto, in Togo's central mountains, will walk you along highland trails in search of colourful butterflies, before taking you to see a spectacular village show of drums and dancing.
"You need to be prepared for the bush camping side of things," says Charlie. While hotels, and camping in the grounds of hotels, will make up some of your accommodation, there will be some countries where it's mainly camping wild. "When we're bush camping it's just a random stop that we've found, so there are no facilities at all." Overall, even in locally run hotels, you may find facilities beyond running water and bathrooms are few and far between. Preparation, therefore, is essential, and a responsible tour operator will provide you with a packing list of everything you could ever need on an overlanding trip. "When you're doing an overland trip, you need to think: what do I need to take? What's the weather going to be like? What's going to cause discomfort?" explains Charlie.
There's no need to go the whole way – this is a route that can be broken into smaller chunks to suit your availability and interests, just pick the tour that suits you. The journeys themselves will be long, but as Suzanne says, "You don't get bored of the scenery because in every village you drive through you'll see something fascinating on the side of the road." There will be a day-to-day itinerary, but this is flexible to accommodate poor road conditions, weather and bureaucratic hold ups. This also allows trips to really be tailored to every group so that people can go at their own pace. Love the bush camping? Spend more time in the wild. Need to rest? Relax back at camp while others take a day hike.
There's no specific level of fitness needed and any walking is fairly leisurely. Out of five, Charlie describes the physical challenge as a two, and the lifestyle challenge as a four. "A two-hour trek to a waterfall or a three-hour boat trip down a river is a great experience. You haven't got to be Indiana Jones." Travelers come as couples, friends, family or solo and tend to be a real mix of ages, sometimes slightly older. "On routes that are off the beaten track, you do tend to get an older client that has already travelled a lot and is looking for something a little bit different."