Electric planes? The future of low emissions, electric, and electrofuels powered aircraft
A lot of us feel guilty about traveling by plane – currently, most jets run on kerosene, which is both polluting to make and polluting to use. Some of us might be trying to fly less or be going
flight free
. Lots of us are looking to the aviation industry for news on when we might be able to fly without contributing to climate change.
We see headlines about electric planes, hydrogen-powered planes, and planes that run with sustainable aviation fuels (SAFs). But how long will it be before these projects stop being headlines and start being used by airlines?
When will I be able to travel on a decarbonised flight?
This year…
You might be able to use an airline that uses a very small proportion of SAF alongside kerosene – but you will probably have to pay for the privilege.
Within the next three years…
Car, plane and ferry journeys may no longer be the only option in remote areas. Small electric regional seaplanes carrying a handful of passengers might be taking you along Canada's coast .
Hydrogen electric technology is set to take off. There could be small planes in commercial use with a 480km range – roughly the distance between Paris and Amsterdam.
By 2030…
Countries that have set 2030 as a target date to decarbonise their internal flights might be squirming in their seats. However, you might see that short haul and internal flights in some destinations have pivoted to electric tech, especially if they're already generating a lot of green energy.
You might use an electric plane for an internal flight in Iceland or have a fossil fuel free internal flight in Denmark or Sweden.
By 2050…
At the moment, the route from small planes and short flights to decarbonising a jumbo jet is still unmapped. The UK has set 2050 as its 'net zero' target, but how this will be done isn't clear.
The future of low-emissions flights
There are many projects around the world working towards hybrid, electric and hydrogen plane development, all of which would mitigate aviation's reliance on kerosene. There is also a great deal of work being done around 'electrofuels', also known as synthetic fuels. The race to the runway is on.
Electric planes
Battery-powered planes could be here sooner than you think, but they are likely to replace long car journeys before they replace current long-haul fleets.
All-electric propulsion could be coming to regional routes this decade. In Canada, Harbour Air flew the first all-electric commercial six-passenger seaplane in December 2019, fitted with an electric motor developed by magniX. The airline flies seaplanes along the coastline of British Columbia and Washington State.
European low-cost carrier easyJet – working with LA based start-up Wright Electric – aims to operate electric planes on some of its short haul routes of 500km or less (which could include routes such as London to Amsterdam) by 2027. A 186-seater plane, the largest battery-powered plane in development by any operator, is set to fly by 2030.
United Airlines wants electric planes carrying up to 30 passengers between cities by 2028, sourced from Swedish start-up Heart Aerospace. The Israeli start-up
Eviation
has developed 'Alice', a nine-seater battery electric plane using Siemens' high-power electric motors which will be used to fly regional US routes of up to 1,050km.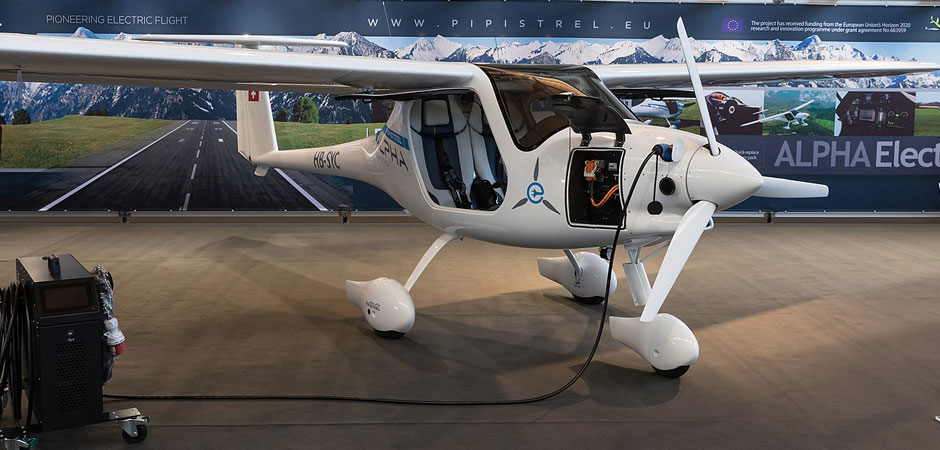 The planes in development are small. It is highly unlikely that we'll see wide roll-out of large battery operated planes on long-haul commercial routes any time soon. Writing in
Nature
, Carnegie Mellon University's Professor Venkat Viswanathan concluded that battery technology might be in place by 2030, but not for large aircraft.
Research co-commissioned by the UK government and the Climate Change Committee
concluded that all-electric aircraft will not be in service for commercial passenger aircraft until after 2050.
Two of the biggest hurdles to overcome in electric planes are the weight of batteries, and the weight of the cooling equipment required to stop the batteries overheating when cells are packed close together.
According to Stéphane Cueille
, Head of Innovation at Safran, the French aero-engine maker: "Batteries have an energy density 60 times less than kerosene. Even if you multiply the current density by five — beyond what labs say we can achieve in future — you would need 180 tonnes of batteries to fly an A320 single-aisle aircraft more than 3,000 nautical miles. The aircraft's take-off weight is only 80 tonnes, so that gives you an idea of the challenge."
The battery challenge is being addressed around the world and battery tech improving at incredible rates. in 2022, Contemporary Amperex Technology (CATL), China's largest battery company, which supplies batteries for Tesla, announced it had achieved the energy density needed for a
viable commercial electric aircraft
.
If electric aircraft were able to increase their range to 1,500km, data shows that they would mitigate
13 percent of UK aviation emissions
. Long-haul flights, which make up approximately 72 percent of the UK's emissions, need other solutions.
Hybrid planes
Hybrid planes could use electric power to take off and land, and cruise using conventional jet engines. In 2018, there were 30 hybrid start-up projects in development and, by 2020, US-based start-up Ampaire had run a test flight for a three-passenger plane. By 2023, UK-based company ZeroAvia had undertaken a test flight of a hybrid plane with a hydrogen-electric engine on one wing and a turbine engine on the other. It aims to be able to carry 19 passengers 560km – the distance between Munich and Budapest – by 2025.
Hybrid planes don't necessarily have to rely on kerosene at all. Hydrogen-electric planes use hydrogen fuel cells, which are lighter than batteries. Singapore-based HES Energy Systems has been developing fully hydrogen-electric aircraft. It hopes to eventually fly up to 5,000km.
Hydrogen's role in the aviation industry has a chequered past, thanks to the enduring memory of the Hindenburg disaster, but the real problem with hydrogen fuel cells is that they require new airport infrastructure for refuelling and existing planes would need to be adapted to retrofit these batteries in the place of the existing kerosene fuel system.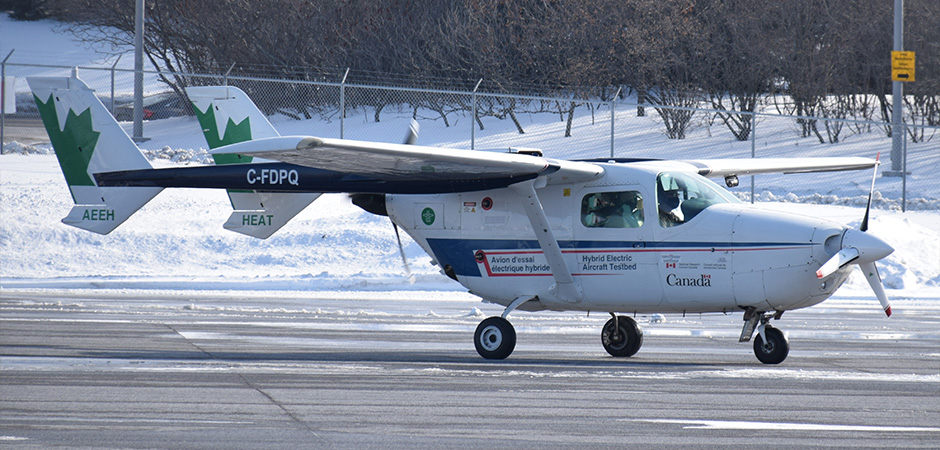 Electrofuels
Electrofuels, known as synthetic fuels or e-fuels, are a type of sustainable aviation fuel. They are mainly produced through extracting hydrogen from water through electrolysis, which is then combined with carbon - creating a hydrocarbon . When the hydrogen is produced using renewable energy it is known as 'green' hydrogen.
Electrofuels can be used with minimal or no modifications to the aircraft, engines or ground refuelling infrastructure. In 2021, KLM operated the
first passenger flight using synthetic fuel
. The fuel was provided by Shell, which announced the construction of Europe's
largest renewable hydrogen plant
in 2022.
Ecojet,
launching in 2024, aims to be Britain's first electric airline, and is looking to convert its fleet of small 19 seat and 70 seat planes from kerosene fuel to green hydrogen.
The problem is that the UK does not currently generate enough renewable energy to make 'green' hydrogen on any scale, and electrofuels are likely to cost considerably more than kerosene.
Biofuels
Overwhelmingly, the majority of sustainable aviation fuel in production today is biofuel. Biofuels are more readily produced using today's technology – fuel made from energy crops and waste matter is already used to power some buses and vans. In 2022, an A380 took off, totally powered by
used cooking oil
.
Again, the problem with biofuel is scale. A
Royal Society report
found that the UK would need to give over half its farmland to produce enough fuel to keep the aviation industry in the air.
The UK government backs green aviation technology, providing millions of R&D funding in partnership with the Aerospace Technology Institute. The UK's government's Jet Zero strategy aims to deliver net zero aviation by 2050, whilst the EU's Flight Path 2050 programme calls for a 75 percent reduction in carbon emissions per passenger kilometre by 2050.
Whilst technological advances are being delivered at an unprecedented rate, it's unlikely that any completely carbon-free solution will be in place for long haul flight by 2030. Country targets give an idea of the timeframes: Denmark and Sweden want all domestic flights to be
fossil-fuel free by 2030
; decarbonising long haul flights will take longer.
Boeing and Airbus have full order books of conventional fossil-fuelled aircraft,
equivalent to half
of today's operational civil fleet. These are likely to still be operating well into the 2040s. Moreover, aviation is an industry which prides itself on its safety record and is unlikely to be willing to compromise this without years of careful testing first.
With increased global investment and backing from governments and industry, the rewards are certainly high – the potential is there for cleaner, quieter, greener and – in the long run – cheaper flying for all. These big plans just need to get off the ground.
This article was updated August 2023