Who is responsible for overtourism?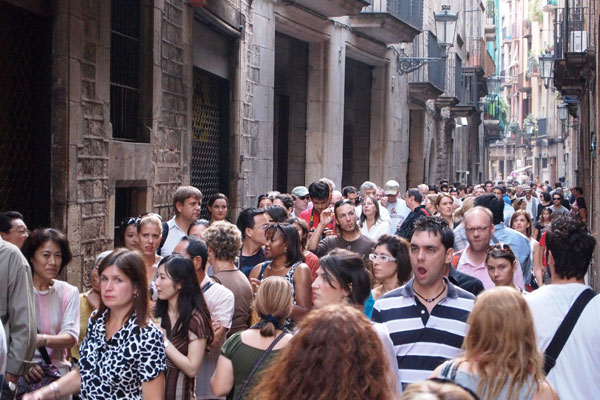 Crowds in Barcelona. Photo by
DDohler
We are all responsible for overtourism. We all need to own it
It's a big word, 'responsible'. So big that many people advised us against using it when we came up with the name of our company, Responsible Travel. But the reason we chose it is because it highlights the fundamental principle that we aim to adhere to. We are all responsible for the world we travel in. From grassroots to government, airlines to cruise lines, skiers to sailors, we all have a responsibility to travel in a way that benefits the places we visit. This is a flag we have been flying for a long time, and we can't help but be struck by the fact that the R-word is now becoming common place when it comes to tourism. Except this time it is being used to find someone to blame for the ever growing issue of overtourism. Who is responsible? Whom can we blame? Tourists are trash, say the protestors in Barcelona. Airlines are evil, says the green movement. Governments don't get it, say local communities. In debating this issue further, we want to take you back to basics. Which is to say, we are all responsible for overtourism. Think of the R-word as the OUR word. We all need to own it.
So, in no particular order, let's look at the major players in tourism who have contributed to overtourism:
Responsible Travel
At Responsible Travel we work hard to avoid overtourism but have to accept that we too can be part of the problem. However, we believe that we offer vacations that support local people, we take people off the beaten path and we strive to leave as little impact on the local culture or environment as possible. We endeavour to keep the other R-word, 'respect', at the core of what we do. In our
travel guides
we always highlight the peak times in certain destinations, warning about massive cruise ship crowds and so on. But we could do better. Should we be sending tourists to problem areas such as Dubrovnik or Reykjavik during peak season at all, for example? That is something that is undoubtedly worthy of debate, although it is often difficult to avoid overtourism hotspots when trying to access the quieter ones. And of course, we also feel for some families who have no choice but to travel in peak time due to school vacations, but we try to recommend itineraries that minimise time spent in the busiest places when we can.
The free loaders
Harsh, we know, but sometimes we need to wake people up to reality: tourism is one big freeloading industry. Travel companies (and we have already put our hands up to this one) have profited from creating pretty packages of culture and coast, lifestyles and landscapes. We don't pay for the sight of a French farmer selling his garlic at the local market; we often don't even buy from him. Instead, we like to take photos and feel satisfied by the fact that we have had an 'authentic experience'. For free. Meanwhile, Monsieur has to pay more for his market stall, parking and local tax.
We don't pay to hike in many of the stunning national parks in the world
, although many have cottoned on to this and charge entry fees. Not in Europe, however, where you can walk freely through the likes of Mercantour National Park in France or Peak District National Park in England. National parks are usually funded by central government so, ultimately, it is the taxpayer in that country who pays. Freedom to roam is wonderful, but it always costs somebody something at the end of the day.
If you do a
charity climb
on Ben Nevis, for example, few people realise that isn't even a national park. The summit is, in fact, owned by the John Muir Trust, the world renowned wild land conservation charity. And how many races donate to this charity? The climbers are up and down the mountain and onto the next peak too quickly to even think about it, offloading a lot more than their carbs in the process. Which volunteers have to clean up. The freeloading examples in tourism are endless.
"There is always a problem of 'surfrequentation' or overcrowding on the ascent as well as the Tour de Mont Blanc. But we believe that access should be free here on Mont Blanc. People just need to be respectful of the environment when they hike there, and the minimum they can do is to take away all of their waste. Most people are respectful, but some are not so careful."
- Bernard Marclay, Mountain Wilderness France
Cruise lines
The giant cruise ship companies
need to come out of denial. A rapidly growing industry, it is having a hugely detrimental effect on port cities where thousands of tourists disembark. At the 2018 Seatrade Cruise Global conference in Fort Lauderdale, Florida, leaders in the industry agreed that they
'could do a better job'
by managing the flow of passengers from ship to shore. In terms of overall responsibility, however, they threw that hot potato back to the destination, saying they needed better infrastructures to cope. Infrastructure for what, though? The majority of cruise liner passengers disembark for a wander, a photo, an ice cream, and then head back on board for dinner. More ice cream and coffee shops? Bread and circuses more like. We all know that it takes time to put the brakes on these giant behemoths, but brake they must. That also lies in the destinations' hands of course, where the powers that be need to be brave enough to say no to cruise tourism.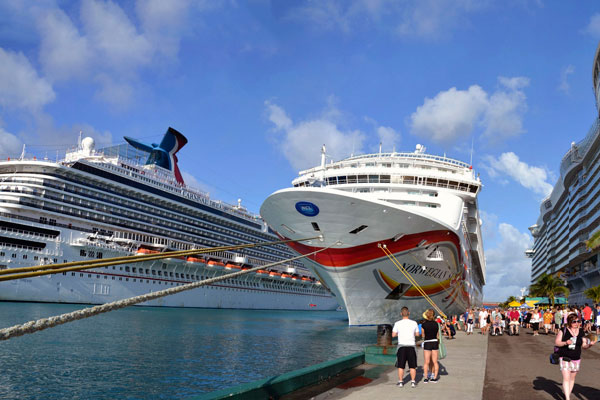 Destinations & tourist boards
Of course the destinations and tourist boards also have a huge role to play in overtourism. The current marketing campaign for Barcelona gives us a '100 reasons' to go there. Just a handful of those are about getting off the beaten track, in a city that has mountains and coast on its doorstep. It has taken Dublin a long time to move away from the pub crawl tourism that invaded its inner streets for years. Their latest campaign 'Dublin, A breath of fresh air' shows the wild swimming, rafting and cycling adventures to be had on its doorstep. This hasn't stopped tourists coming; quite the opposite.
Marketing or, as is needed in some countries,
demarketing
a destination is complex and varies in each country, depending on whether marketing funds come from central or regional government. And, of course, it becomes highly political if central government decides to fund the marketing of one particular region at the expense of another. Or if they decide to introduce a tourist tax per person, as they have in Spain's Balearic Islands for example. There are voters in all regions, after all.
"We have a finite environment—the planet. Anyone who thinks that you can have infinite growth in a finite environment is either a madman or an economist."
– Sir David Attenborough
The numbers nerds
One of the problems is that, at government level, the success of tourism is still measured in numbers. Bums on seats. A quality experience where both hosts and guests are happy with the vacation is hard to quantify for a Minister of Tourism. Show a year on year increase in people, be it on cruise ships, driving routes or packed coaches, and job done. Let's just turn a blind eye to what's going on behind the numbers. In response to anti tourism protests in Barcelona in 2017, the Secretary General of the UNWTO, Taleb Rifai, commented: "These people are going to be regretting what they are doing today." He added, "Tourism is not the enemy. Growth is not the enemy, numbers are not the enemy. It's how we manage growth that matters." So, we're adding UNWTO to the denial pile. Frequently, growth is the enemy. It's just that no one dares to be the one to shout, "Stop!"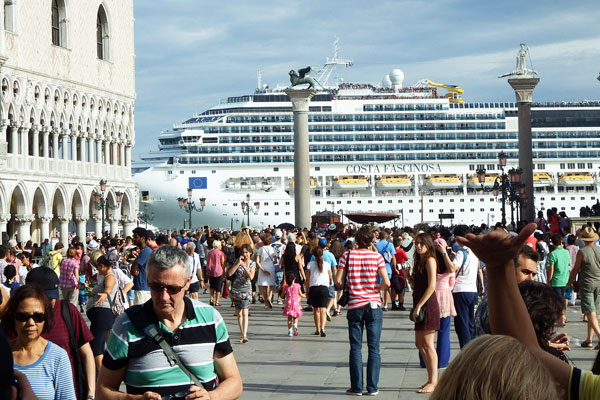 Airlines
No one is telling the airlines to stop, that's for sure. The global aviation industry sealed a deal in 1944 known as the Chicago Convention that gave them tax exemption for aviation fuel. The
lack of duty and no VAT on aviation
fuel results in a 'subsidy' that supports the boom in budget flights. In addition to tax free fuel, there have been allegations that
some governments pay airlines to land in their countries to attract more tourists
. You can read more of our thoughts on this debate
here.
It is also worth noting that cruise liners are also permitted to burn one of the most polluting diesel fuels, known as
'bunker fuel'.
This type of fuel, and its associated pollution and public health risks, would not be allowed on land. This fuel is also, literally, dirt cheap, which keeps the prices artificially low and, consequently, cruise passenger numbers off the scale.
Business travelers
Business travelers usually escape the overtourism debate, yet people traveling for work related events still contribute massively to tourism numbers. For example, according to Failte Ireland, the National Tourism Development Authority, "Business Tourism is big business for Ireland. In 2016, it was worth €715m to the Irish economy, reflecting a 35% increase since 2011… each business tourism delegate is worth an average €1,600 per visit; this is almost three times that of the leisure tourist." This is a positive story, and the same occurs in many destinations. However, business travelers must also take responsibility.
How often are all these valuable business tourists being directed away from the overcrowded destinations around the world? They flock into Times Square in New York, when a couple of hours away are mountain ranges and small towns awaiting business in New York State. London is one of the leading international cities for business travel, and yet small towns all around the UK are unheard of to many conference or event organisers. There are also many emerging destinations for business travel, such as Vietnam, given that its economy is growing and airlines are upping their flights there. This will, however, no doubt, lead to an overtourism scenario given that it is already an issue in certain tourism hotspots in Vietnam.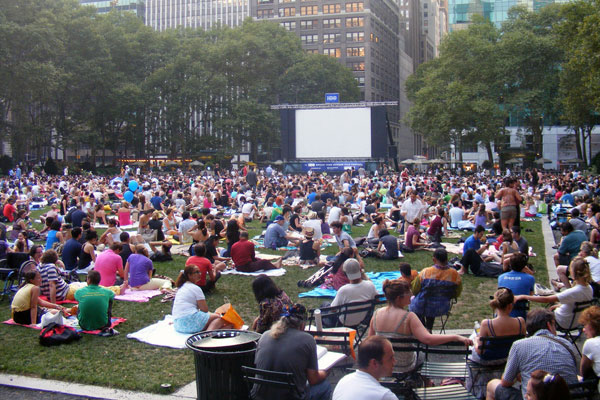 "It is worth mentioning the things we have chosen NOT to include on our itinerary – such as Halong Bay. Many people would consider this to be a highlight of Vietnam, but we do not feel that the current overcrowding on the bay makes this a responsible option. Despite being UNESCO protected the bay is becoming polluted and rubbish-strewn in part, so for a truly responsible itinerary we would not include this."
– Audley Travel.
The media
We have left the media until near the end because we feel that they are often the first to be blamed in so many difficult situations. In fact, when it comes to the travel media and overtourism, it is not always the case. Although some travel editors churn out the same old city breaks again and again, more often than not, travel editors want original ideas, the new place to go, the unheard of places, the weird, wild and wonderful. Crowded streets in Croatia?
So
last year.
However, the travel media don't get off that lightly, mainly because they are still resistant to publishing negative stories on their travel pages. They will seldom deter groups of tourists from running riot in Reykjavik in their articles. They are more likely to run an article on Croatia's top 10 beaches than their top 10 inland beauty spots. It's quick and easy copy to generate and, therefore, cheap. They are unlikely to tell you what months of the year to avoid cruise ships, because the cruise ship companies may advertise in the same travel pages. They are also unlikely to show photos of packed beaches in Sri Lanka or tell you about the music pumping out from certain all inclusive resorts on the same beaches. Idyllic empty beach shots with swaying palm trees all the way.
Last but not least… the vacationmakers
Bucket lists.
There is a ridiculous obsession with bucket lists in the world of travel, one that we are all guilty of buying into. Which cities have you done? Which mountains have you bagged? At Responsible Travel we are kicking the bucket of bucket lists. We think that the world is big enough to accommodate all travelers if we can just all stop believing that we need to go to the same places. We pride ourselves in our travel guides and vacations of offering gorgeous places that need and deserve more tourists. Where there is a big hole in the bucket, in fact, and where you will have an amazing experience filling it.
Film frenzy.
We are all to blame for jumping on the movie bandwagon, although the media and tourist boards are the worst culprits. Game of Thrones has attracted GOT fans to spots all over the world, following a strict trail to some already crowded spots. These include the Antrim Coast road in Northern Ireland, Dubrovnik, Vatnajökull National Park in Iceland and Essaouira in Morocco. The Star Wars brand is all over tourism too, with fans joining the crowds at Reynisfjara beach in Iceland or trying to access the remote monastic site of Skellig Michael in Ireland, which features in The Force Awakens. A site that is, in fact, only accessible during limited periods. The mass marketing of these films creates an opportunity for destinations, travel companies and editors to churn out copy quicker than you can say 'May the Force be with you.' Until they realise that, with mass tourism marketing, there is nearly always a dark side.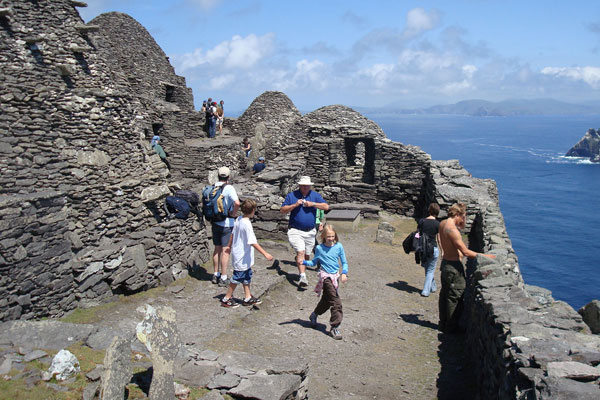 I blame the parents.
Isn't that how the cliché goes? Most parents find few things more annoying than this line. We know and lament the fact that law restricts parents taking their children out of school to enjoy the benefits of educational travel experiences, and that in many destinations this results in a ridiculous funnelling of tourists during the school vacations. There is little we can do about that, except when placing your vote at the ballot box. However, the one reason that we include parents in this list is because of
school trips
. Those quick and easy French market trips to an already overcrowded Berlin. The skiing trip to the already burgeoning Alps. The Spanish 'language' trip to Madrid that is often no more than a souped up city break with a lot of crowd controlling going on. Schools are guilty of opting for the easy, 'done to death' school package operators, and they could do so much better. And be much more responsible, too, when it comes to overtourism. But parents need to create that change and say "no" to over expensive, overcrowded and overhyped school trips, and to show schools that there are
alternatives out there.
How can we change?
"Man's ego is inflated, his laws are outdated, they don't apply no more. You can't rely no more to be standing around waiting."
- Bob Dylan, Slow Train
That is a much bigger debate, but for now, the biggest voices when it comes to finger pointing in tourism are the host nations. In the past, they stood back and let people clamber all over them. No wonder tourism is sometimes debunked as a form of neocolonialism. But in the 21st century, people living in tourism destinations now have a voice. Successful international social movements for change such as 'Me Too', 'Black Lives Matter' and 'Refugees welcome' show that important messages can be heard, loud and clear. And just as some tourists may claim that
'travel is their right'
, local residents are also claiming it is their right to say "enough is enough."
In so doing, they are challenging people's right to travel, saying that they need to earn that right, and we think that this challenge is a good thing. Residents need to keep asking tourists, tourism companies, airlines, governments, business travelers and the travel media, "what are you going to do for me?" They need to express their unhappiness with the impacts of overtourism in the ballot box, as that is when governments start to listen. Some commentators think that this anti tourism sentiment is a sudden turnaround, but it isn't. Irresponsible tourism has been giving local people in many places around the world a bad taste in their mouths for a long time. The expression of discontent has been a slow train coming, but it is gathering speed and letting its roar be heard.