"Travel across the island on this Cuba vacation, staying with local families, and experiencing coffee plantations & culture, nature walks & nightlife."
Highlights
Havana | Tours in classic cars | Vinales & tobacco plantations | Cayo Levisa | Soroa | Bay of Pigs | Playa Larga | Playa Giron | Cienfuegos | Trinidad | Sierra Escambray | Santiago de Cuba | Baracoa | Cacao plantation | Optional: snorkelling, diving, birdwatching, catamaran tour to Cayo Leguano, salsa classes and more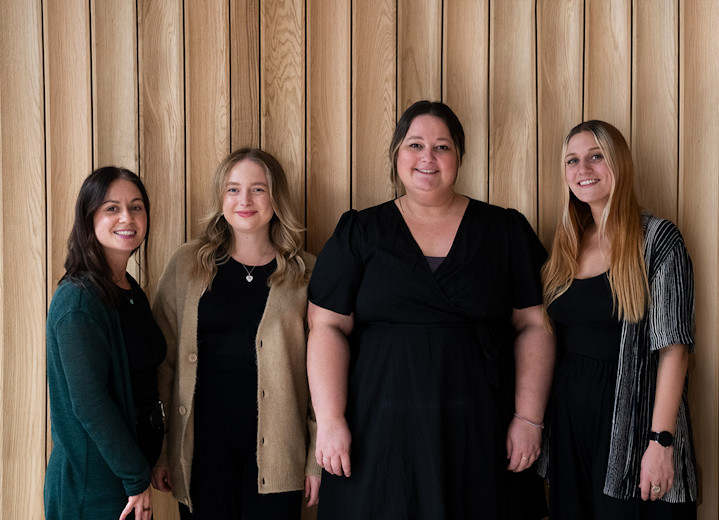 Check dates, prices & availability
Accessible tourism overview:
For us it is important to assist and help where we can with travelers that need special assistance. All our trips can be tailor made, allowing us to adjust the trips specifically to the individual. This is also dependant on the budget available.
Limited mobility:
We have already worked with several clients with limited mobility - we have organised for clients to travel via rental cars with private drivers for example. Before the trip we will contact the individual and find out what part of our trip needs to be adapted, this will also allow us to brief the local guides so they can focus on the particular needs of the traveler. Different day excursions can be provided when the activities do not suit the travelers' particular needs.
wheelchair:
We have worked with several clients that have been wheelchair bound, this has previously involved sorting out suitable travel, such as private taxi transfers, drivers and guides. We will need to contact the traveler beforehand to find out exactly how the trip needs to be adapted. Extra activities can be provided instead if a suggested one isn't suitable. Travelers with a wheelchair will need to be accompanied on the trip.
Blind or limited vision:
Information in braille is not available in Latin American destinations, this means all the information will be delivered verbally. We can provide a host taking care of the travelers, depending on budget. We have already guided a person with limited vision, so we know how to deal with the challenges. Local guides are trained and can be briefed on the specific needs of the traveler. Programmes can be adapted for ease of travel. Travelers with severe vision impairments should be accompanied on the trip.
Deaf or limited hearing:
All information before the trip starts will be provided in a written format. Lip reading will be essential for understanding the local guides explanations. A special host can be provided, dependent on budget. While not all our guides are trained in sign language, they have access to computer tablets for communication if necessary. We have guided a deaf person before, so we know the challenges involved.
'Free from' food:
Diet requests are communicated to all local operators involved that are included in the program and it should not be a problem to accommodate most.
LGBT:
Our Cuba trips are all about celebrating the LGBT community. In Havana you will have the option to experience the LGBT night scene. We can also request an LGBT guide, who will introduce you to people from the local LGBT community.
Responsible tourism
Cuba vacation, West to East
Carbon reduction
Your vacation will help support local people and conservation. We must also reduce CO2. Learn about the CO2 emissions of this vacation and how to reduce them.
Local providers make use of locally grown and produced food (with lower food miles) on the offered journeys where possible. We are offering vegetarian/plant-based and low dairy foods when requested and available (which reduce CO2 emissions). We reduce transport emissions by offering activities as daywalks, multiple trekking programmes, biking and horseback riding. Latinamerica Journeys offers walking vacations with an interesting blend of nature experience with cultural activities, bicycle vacations & full horseback riding journeys in the Andes. We make use of solar energy on the trekkings, and horseback riding journeys. Travelers are stimulated to use solar energy as well wherever it applies on outdoor travels. Staff & guides are locally contracted to reduce international travel. The staff in office, your private driver-guide and your tourguides for escorted grouptravels they love healthy vegetarian foods, they love the planet and participate in reducing CO2 emissions.
Environment
The program offers lots of adventure in the countryside and mountains with day walks, water- and beach activities. This Cuba group tour is designed and offered by guides who are certificated in the field of ecological tourism and have been guiding in the Caribbean & Latin America for many years. This Cuba group tour of 12-19 days gives a unique insight into the Cuban culture and nature. On our Cuba tours all walks are guided by local guides and organized by local organisations that respect and take care of nature. Your tour leader and local guides have an extensive knowledge of fauna and flora. As on Cuba a green pharmacy has been developed in the last decades you also may learn a lot about medicinal properties of Caribbean plants. A vacation to Cuba off the beaten tracks with local guides brings income to local Cuban people and their families. By making use of ecological responsible excursions during your travel on Cuba, you support the people to continue with taking care of their natural reserves.
Community
1) Roundtrip over Cuba from West to East, with expert tour leader and mainly private minivan transfers, staying in boutique homestay in Havana at beginning and end and the rest casas particulares to connect with the real Cuban life. Private Minivan transfers with your own driver have as great advantage that we will make beach & snorkeling stops along the way, that we can enjoy more of the real Cuba and that we have more freedom than with a regular bus trip. This trip can also be done all in style with American oldtimers out of the 50's on one stretch of the itinery or through the whole of Cuba with private operating drivers who were able to maintain their family car in a good state.

2) This group trip is exceptional in that we stay at homestays as a group, separated over different homes. It gives you more insight into the real Cuban life, an opportunity to improve your Spanish and access to excellent Cuban home cooking. We always dinner together at the casas particulares one or two nights to support the families and share this moment together in the cosy ambiance of a Cuban home. The income to the Cuban families goes directly into the Cuban society and support a whole family.

3) We work at all locations with local guides, some are working for the state some have started their own micro-enterprise which is allowed since 2011. They bring in their knowledge and Cuban feeling and form part of the Cuban experience. In two opportunities we work with guides who started their own business, they can tell us about the changes Cuba is going through and they can only survive as they are exceptional guides and contracted by us. In all cases a tip is essential to support the local guides and their families with their daily living.

4) We visit two times local mountain schools, besides being an interesting and beautiful experience to see al these children we can leave a donation for the school, teachers and kids. When we visit farmers during your excursion, we ask participants, if appropriate, to donate luxury articles like ballpoints, soap and shampoo, buy some coffee, handicraft and/or leave a donation. At Baracoa in East Cuba we collect clothes, shoes and toiletries to donate to a Cuban organization, which supports people from the countryside with no resources. You can also leave clothes, mountain shoes, toiletries or other articles with your local guides after the excursion.

5) Your tour leader has guided around 50 trips over Cuba the last 18 years and is an expert on nature and culture of this fascinating island in the Caribbean. Cuba has become like a family for your guide and it is not unlikely that you might experience the same. It is a special opportunity to travel with your guide and to be invited to take part in the Cuban rhythm of life on all parts of the island! This trip is for all ages from young to old, families with children, couples and singles alike. We have several free days and the program can always be modified to specific needs and wishes on location between the traveling moments
Your guide is also a certified PADI Advanced Open Water Diver and can help you with all your questions about diving in Cuba. He supports several families with children with clothes, medicaments, books, second hand luxury articles, purchases of their handicrafts, and donations for constructing materials and improving their housing.

6) With booking whether a group or individual Cuba tour you receive a Cuba Manual with all kind of information on Cuba, esp. handy for the individual traveler.

This operator empowers a womens coffee cooperation and NGO in the Andes of Venezuela. Their vision is to provide solidarity to the entire coffee community in the area, striving to improve the quality of the life of children and families of the coffee communities. With this vacation and all our tailor made travels in Latin America you support local families on your destination of travel and you make it for us possible to support mothers and children in the Andes of Venezuela through this cooperation and NGO. Through their different programs the cooperative aspire to offer training technique in administration, management, accounting, among others and offer scholarships to students and subsidies to primary schools in rural coffee communities, as well as inspire to new forms of community economic organization.
3 Reviews of Cuba vacation, West to East
---
Reviewed on 06 Jun 2017 by
Judy Raven
1. What was the most memorable or exciting part of your vacation?

Staying in casa particulares; meeting friendly and welcoming people; learning about Cuban history in context; visiting Havana


2. What tips would you give other travelers booking this vacation?

Stay in casa particulares. Use Transtur buses as they are comfortable and efficient. Take plenty of cash to change in banks. Restaurants are relatively expensive. If you want to keep in touch with home, use text messaging as WiFi rarely works.


3. Did you feel that your vacation benefited local people, reduced environmental impacts or supported conservation?

In the main, yes, as casa families and local taxi drivers benefit. Excursions were led by local guides so we were able to tip; excursions usually offered
opportunities to buy local products. We reduced environmental impact through using buses for the long journeys.


4. Finally, how would you rate your vacation overall?

Enjoyed the experience of being in a friendly, welcoming country, and the diverse range of activities (cycling, walking in the Escambray mountains; thought-
provoking museums in Havana and Cienfuegos)
Read the operator's response here:
We are very happy that the vacation has been a great journey for our travelers and that loved meeting the Cuban people and stay in their homes – casas particulares. They shared with us that they would like to explore also now East Cuba with Santiago & Baracoa so they are very welcome. We just wish to add a comment for new travelers to Cuba about Wifi connections and locating Wi-Fi hot spots which is very easy in fact. In the evenings the Wi-Fi hot spots at public squares might get overloaded by all the Cuban users and tourists. Therefore we recommend that it is best to connect in the early morning or during the day and try to avoid the super busy evening hours. The Wifi connection at the 4 and 5 star hotels seems to function better also in the evening. It is common that by using the Wifi connection inside a hotel that you are asked to consume a drink. At homestays close to Etecsa Wifi communication points it is possible that you can capture the Wifi signal at your homestay. With your own rental car, private taxi or a Cuban Adventure Tour with your own driver you can even drive to a public hot spot, connect and download all your messages in the shade of some trees, directly reply where necessary and then continue the trip. We recommend buying directly a bigger amount of internet cards on the first Etecsa shop - when possible - as the cards are not always available in stock. And to be very sure that you have logged out correctly otherwise you lose the rest time of your card. One card gives you 1 hr access.
Wi-Fi is now available at most boutique hotels along classical itineraries through Cuba (Havana, Viρales, Cienfuegos, Santa Clara, Trinidad, Camaguey, Santiago, Baracoa) and in most of the important squares in all the Cuban cities. You can recognize Wi-Fi hot spots by the concentrations of people chatting and mailing at public squares. When the wifi signal can still be received outside a hotel, you see people around the hotel using their smart phones or sitting against the wall with their laptops. It does not mean that Wi-Fi is always functioning or that it is a quick connection as foreigners are used to but at least it is a first step to a broader use of Wi-Fi and Internet in Cuba. You buy Internet cards at the hotel with WI-FI connection, at the telecom offices of ETECSA and homestay owners can also help you with obtaining internet cards for you. At Etecsa offices you have to present your passport as identification before you can purchase any card.

---
Reviewed on 01 Apr 2014 by
Genevieve Isherwood
1. What was the most memorable or exciting part of your vacation?

Visiting Santa Clara and seeing the Che Guevara Mausoleum and statue.


2. What tips would you give other travelers booking this vacation?

Book all buses in advance. Having someone to pick you up from the bus station is also preferable as the amount of people waiting outside can be intimidating.


3. Did you feel that your vacation benefited local people, reduced environmental impacts or supported conservation?

We only stayed in Homestays with local Cubans. This definitely gave the trip an
authentic feel.


4. Finally, how would you rate your vacation overall?

10/10. Absolutely perfect. I had wanted to vising Cuba from being a little girl. Marcel was the only tour operator who listened to what I wanted and helped me to create the tour I wanted. It was a dream come true.
Read the operator's response here:
When customers travel by regular bus Viazul, we take care of all bus tickets and they will receive them on the briefing in Havana. When they also book homestays – casas particulares via us, we take care that the families, or a personal driver of the family waits for them with a name board and takes them to the homestay. Customers receive a worked out itinerary with all addresses and programme information. In this way it is pretty easy on the bus stations: you see someone with your name board, you give a sign that you have arrived, you pick up your luggage and you double check the name of the family who is waiting for you and you are on your way.
---
Reviewed on 10 Apr 2014 by
Alan Shelton
1. What was the most memorable or exciting part of your vacation?

Hard to pick out a most memorable part of our vacation. We were bowled over by the variety of experiences, landscapes, music and architecture Cuba has to offer. If pushed I would say that Trinidad is the stand out location in Cuba - you feel as if you've travelled back in time. The city is over 500 years old and is just beautiful. Not to be missed.


2. What tips would you give other travelers booking this vacation?

We stayed only in Casa Particulares. In general they were great, enabling us to meet local people and gain from their knowledge of the area. The food was also much better in the Casa's than in state restaurants where service is poor and the food even worse.

If you are going to use Casa's you need to realise that they can be very basic.
We knew this before we embarked on our trip but even so we were surprised by just how basic some Casa's were.
"All Casa's are basic - but some are more basic than others."
However they can also be extremely good. Stand outs for us were:
Cienfuegos - Hostal Colonial (Myriam y Gladys Fernandez Portillo
Havana - Casa Ana y Surama (truly magnificent 3rd floor apartment)

Marcel at was excellent. Lots of useful information and advice. Our contact whilst in Cuba, was also superb.

3. Did you feel that your vacation benefited local people, reduced environmental impacts or supported conservation?

We hope so. We paid Casa owners directly and mostly ate with them which put much needed CUCs in their pockets. We mainly used private Taxis and local guides so I'm sure we did our bit to improve the lives of local people.


4. Finally, how would you rate your vacation overall?

We really enjoyed this vacation. We had a fantastic range of experiences and met some wonderful people. We've travelled extensively, but Cuba is pretty much a unique destination. If you do visit Cuba don't make the mistake of thinking that it is just a beach destination. Havana is amazing and the rest of the island has so much to offer. Architecture, history, landscape and fantastic music. The people are wonderful. We never once felt threatened or uncomfortable. Try it. You wont regret it!

---
Popular similar vacations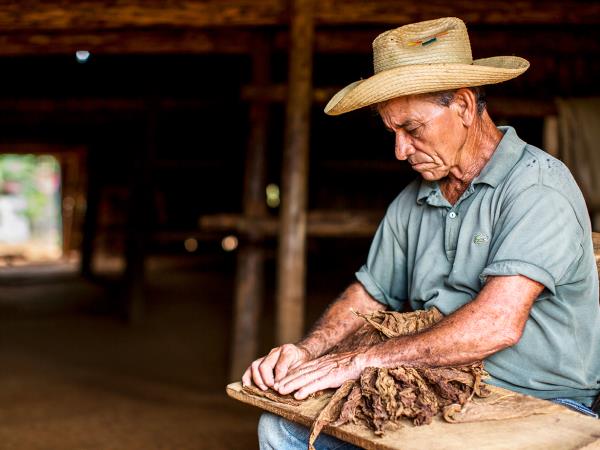 Immerse yourself in Cuban culture on this 8 day adventure
From US $690 8 days excluding flights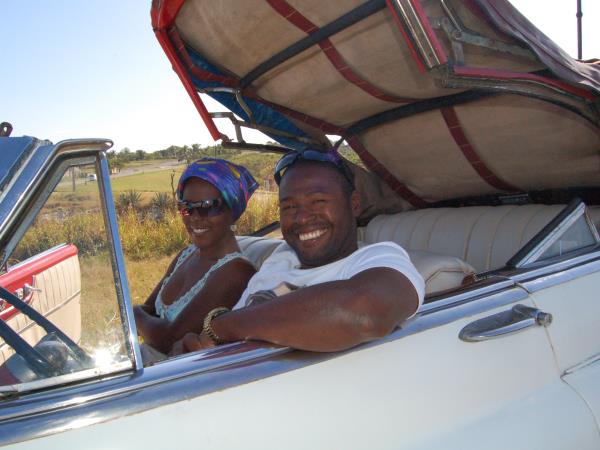 Tailormade vacations in the pearl of the Carribean
From €995 15 days excluding flights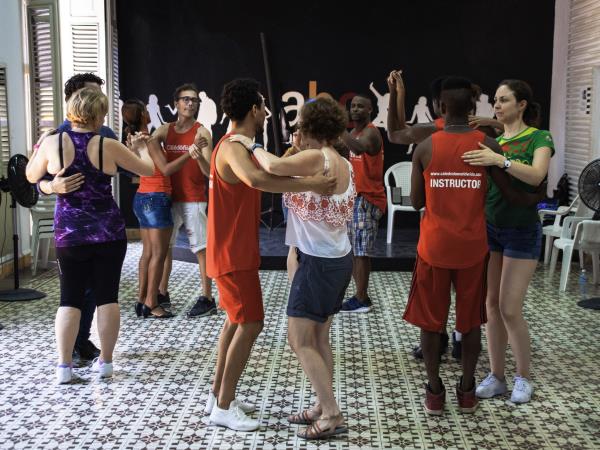 Salsa dance vacation of a lifetime in Cuba
From £1560 15 days excluding flights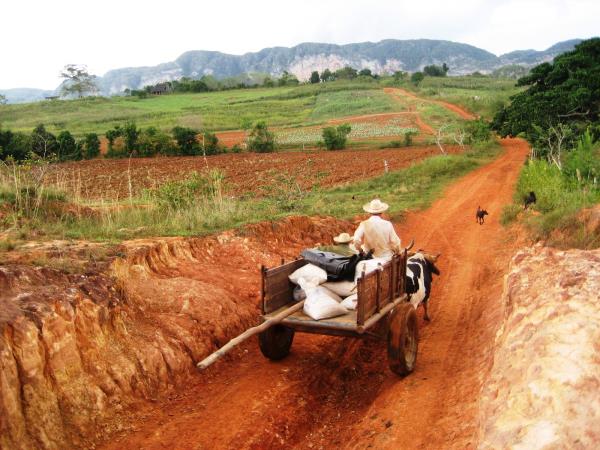 Explore Havana, visit tobacco hills & doze on dreamy beaches
From £895 8 days excluding flights