Africa overland routes & highlights
---
POPULAR AFRICA OVERLAND ROUTES
The 54-piece Africa jigsaw is flanked by Atlantic and Indian Oceans where incredibly varied coastlines fuse with salt pans and sand dunes on top of vast lakes, rivers and the national parks of Kruger, Etosha and Chobe. Starting an Africa overland tour in South Africa opens borders into Namibia, Botswana, Zimbabwe, Mozambique and Swaziland, with Cape Town to Victoria Falls (or vice versa) a classic overland route via the Namib Desert and Okavango Delta. Continuing an overland tour northeast of Zambia takes you into Tanzania, Kenya, Rwanda, Burundi and Uganda with the possibility of following the River Nile through Sudan and into Egypt just one of infinite overland Africa possibilities.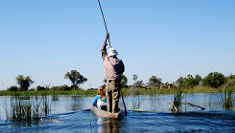 Botswana
Nearly three quarters of Botswana is Kalahari and overland tours do nothing to dampen the remote and wild nature of southern Africa's smooth savannah plains. Chobe National Park boasts one of Africa's highest concentrations of wildlife whilst Mokoro canoe rides along the Okavango Delta open up Africa's greatest oasis, with the annual migration and nearby Victoria Falls adding to the attraction.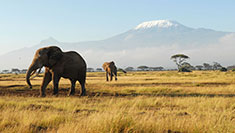 Kenya
Kenya's borders with Tanzania, Uganda and the Indian Ocean make it an essential part of any East Africa overland itinerary with Amboseli National Park and the Great Rift Valley lakes, Nakuru and Naivasha, jam-packed with wildlife. The Masai Mara National Reserve is another of Kenya's quintessential highlights with a visit to a local village adding to the thrill of the annual wildebeest migration.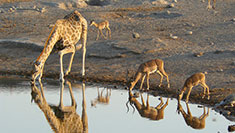 Namibia
Flanked by four countries and the Atlantic Ocean, Namibia is an archetypal overland destination with extensive wildlife to be found in Etosha and Waterberg National Parks, and the Cape Cross Seal Reserve. The Namib Desert, featuring the Skeleton Coast and the red dunes of Sossusvlei, offers some superb sand dune surfing whilst the 160km Fish River Canyon is all about hiking over rough and ruthless terrain.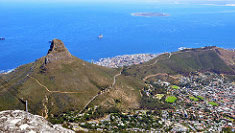 South Africa
Admire the entirety of Cape Town from the top of Table Mountain with the V&A Waterfront morphing into the Atlantic between Lion's Head, Signal Hill and Devil's Peak. Overland tours will take you out of the capital and along the 300km Garden Route to the Wild Coast, KwaZulu Natal and Drakensberg Mountains before heading to one of Africa's most prestigious national parks, Kruger, or on into Mozambique.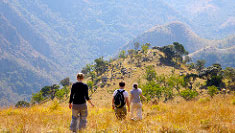 Swaziland
One of Africa's tiniest countries, Swaziland isn't lacking when it comes to landscapes with rainforests, grasslands, and mountains, carved by river canyons, offering dramatic overland backdrops. Malolotja National Park is one such Swaziland wilderness that encapsulates the country's natural diversity with overnight stays in mountain cabins ideal for early morning safaris.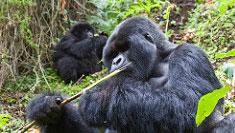 Uganda
Many of Africa's Great Lakes, including the source of the Nile, Lake Victoria, can be found in Uganda alongside rainforests providing sanctuary for endangered wildlife and half the world's mountain gorillas. National parks, such as Bwindi Impenetrable, Queen Elizabeth and Murchison Falls, are incredibly diverse with Volcanoes National Park, in neighbouring Rwanda, adding to the options for overland explorers.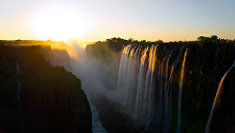 Victoria Falls
Gushing from the Zambezi River like a sheer white curtain of spray, smoke and sound, UNESCO's Victoria Falls is double the height of Niagara and the largest waterfall on the planet in terms of overall size. Straddling two countries, Zambia and Zimbabwe, Victoria Falls is a mainstay of most southern Africa overland vacations with Cape Town and Nairobi both popular points to start or finish a tour.
Sample Africa overland routes
---
Cape Town to Vic Falls (20 days):
Cape Town ► Cederberg Mountains ► Springbok ► Gariep (Orange) River ► Fish River Canyon ► Namib-Naukluft NP ► Sossusvlei ► Swakopmund ► Khorixas ► Himba village ► Etosha NP ► Windhoek ► Okavango Delta ► Makgadikgadi Salt Pans ► Chobe NP ► Victoria Falls

South Africa & Swaziland (17 days):
Johannesburg ► Kruger NP ► Malolotja Nature Reserve ► Zululand ► Drakensberg Mountains ► The Wild Coast ► Addo Elephant NP ► Tsitsikamma NP ► whale watching in Hermanus ► Fernkloof Nature Reserve ► Stellenbosch ► Cape Town

Cape Town to Nairobi (71 days):
Cape Town ► Fish River Canyon ► Sossusvlei ► Swakopmund ► Etosha NP ► Okavango Delta ► Makgadikgadi Salt Pans ► Hwange NP, Zimbabwe ► Victoria Falls ► South Luangwa NP, Zambia ► Lake Malawi ► Zanzibar ► Mount Kilimanjaro ► Ngorongoro Crater ► Serengeti ► Masai Mara ► Gorilla tracking in Rwanda ► Chimp tracking in Uganda ► Murchison Falls NP ► Nairobi
Africa overland travel advice
---
TIPS FROM OUR FRIENDS IN AFRICA
What to expect
---
Ralph Foulds from our supplier Encounters Travel shares his experiences of overland touring in Africa:
"You are in a truck. It's not a sports car! Expect average speeds of around 80kph. However, there are roads where we are forced to reduce to speeds of 30kph due to bad roads or safety concerns. Distances between highlights are often on a bigger scale than those at home. Often there is absolutely nothing between focal points except vast open deserts. Most tours average around 350 km per day. However, there can be stretches of up to 650km in a single day, that's a long way! Be prepared."
Tips on optional activities
---
Ralph Foulds from our supplier Encounters Travel: "All our overland tours have an 'activity package' option. This includes some activities as well as some accommodation upgrades. Although it is highly recommended, it is the traveler's choice to purchase this or not."
Trip styles – from food to lodging
---
Tom Harari, from our supplier, Exodus, talks us through his experiences of overland touring from Cape Town to Victoria Falls:

"Our camping trips are all non-participatory which means the camp is set up for you and the cooking is done for you. Some trips the camping is quite luxurious with proper beds, others are with cots or mattresses. For those who want more comfort then we do also have some accommodated trips staying in lodges, hotels and guesthouses."

Ralph Foulds:
"Due to the nature of our overland trip, the majority of your meals will be prepared by our cook and eaten beside the vehicle. Meals will not be eaten within the accommodation. The reason we run our trips in this way is that we feel it fits in better with this type of trip and it also helps to keep our prices competitive with other companies offering similar tours."
Jayne Harley, from our supplier, Sunway Safaris, shares her tips on what their participatory trips involve: "Our Cape Town to Vic Falls overland is a participatory trip, so the clients are expected to help out with meal preparation – things like stirring the pot, or chopping veg. Our departure briefings liken it to when you have a dinner party at your house; everyone ends up in the kitchen anyway, helping out and chatting over a glass of wine and it's where you get to know people. Camaraderie is a vital part of this trip, and being part of a group and feeling part of a group is an essential element of the overall experience."
Africa overland travel advice
---
TIPS FROM OUR AFRICA OVERLAND TRAVELLERS
At Responsible Travel, we think the best people to advise our travelers are often... other travelers. They always return from our tours with packing tips, weather reports, ideas about what to do - and opinions about what not to.

We have selected some of the most useful Africa overland travel tips that our guests have provided over the years to help you make the very most of your vacation - and the space inside your suitcase.
"Read the trip notes and take an elastic camping washing line with hooks on the end, and a head torch." – Wendy Pountain

"There are some long days in the truck, so I'd suggest getting up early to walk or run as it's also a beautiful time to be up and about." – Christina Stephenson

"Use your ATM card to change money. Even with the charge by your bank it is much cheaper than the commission charged by the exchange places or banks." – Patricia Ruble in Southern Africa

"Don't pack too many things, as you are in a different location almost every night (though you will have plenty of storage room)." – Suzanne Irving on a Victoria to Nairobi overland tour

"Remember that this is Africa and everything does not work all the time. Be patient and positive and make friends along the way." – Louis Carroll

"Take thermal underwear with you when going on this trip in Africa's winter. The temperature at night was sub zero and mornings and evenings were cold as well." – Sigrid Pach

"Come with open mind and interest in photography - be prepared to muck in but better than most overland trips in that we had a cook, spacious vehicle and tents."– Wendy Taylor