Alaska small ship cruising highlights
---
MORE THAN ONE ANCHORAGE
The most popular small ship cruise in Alaska travels around the Alexander Archipelago in the south, during the summer months, when you can go hiking in Tongass National Forest, exploring the caves; snorkelling around Prince of Wales Island; bear watching on Admiralty Island; and see whales in the famous cetacean cocoon that is Stephens Passage. This is all part of the larger channel that stretches down this Northern Pacific coast known as the Inside Passage, and some cruises also take you further south to natural nirvanas such as Misty Fjords National Monument and the historic Wrangell Island.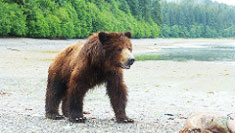 Admiralty Island
One of Alaska's ABC Islands (Admiralty, Baranof, and Chichagof, in the Alexander Archipelago), it is almost fully protected by the Admiralty Island National Monument wilderness designation. This habitat is particularly favourable to brown bears, with the highest concentration in North America. Anan Creek has a photographers' viewing blind at water level, while a bear viewing stand lets you watch bears pounce on salmon.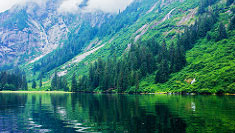 Misty Fjords National Monument
The USA's designated National Monuments are a lot like national parks, but with different small print. This wonder is sometimes called 'Yosemite of the North', with glacial valleys instead of canyons, 900m cliffs that rival the dramatic granite rock faces of Yosemite, as well as black and brown bears. Sea kayak around its shores and be ready to take lots of deep breaths. This is heart stoppingly beautiful.
Prince of Wales Island
Take on one of many hiking trails on this wild idyll, one of the largest islands in the USA at over 5,770km2. Because Alaska does big and beautiful, as you will see in these wildlife filled, forested landscapes that wrap around coves, lakes and straits. With much of it karst limestone, there are over 850 grottos and caves, the most famous being El Capitan, one of the largest in the Americas.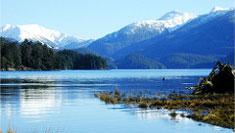 Sitka
A fascinating small city on Baranof Island. The indigenous population is Tlingit, but it was also capital of Alaska under Russian rule. Visit Sitka National Historical Park and, at sea, explore Sitka and Hoonah Sounds, where the shores are home to sea otters, bears, whales, and superb birdlife. The east of Baranof is packed with beauty spots as is nearby Chichagof Island, with kayaking in Tenakee Inlet a must do.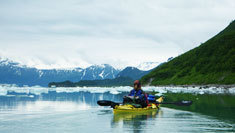 Tongass National Forest
Cruise through the Tongass Narrows to reveal the largest national forest in the USA, spreading over mainland and islands. Kayak or stand-up paddle board around its shores to gain perspective on this temperate rainforest, with a vast canopy of hemlock, spruce and cedar. Prince of Wales Island is a wonderful place to explore it, albeit just a tiny bit though, given that this forest covers 69,000km2 – about the size of Ireland.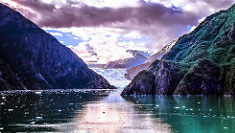 Tracy Arm-Fords Terror Wilderness
If you think that the name of this alone is overpowering, just wait until you see the real thing. A protected wilderness area, its main features are Tracy Arm and Endicott Arm, two narrow fjords with sheer granite sides, calving glaciers, plunging waterfalls and ice floes. It is home to bears, deer and superb birdlife and scenery that can and does, in many cases, move you to tears.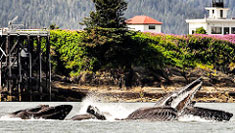 Whales in Stephens Passage
Stretching along the coast for 170km, the Passage touches the shores of Admiralty Island and Douglas Island, as well as the mainland as far down as Frederick Sound. This dramatic, mountainous seascape has the largest concentration of humpback whales in the northern hemisphere during summer feeding season. Orca, porpoise, stellar sea lions and shoreline foraging bears also make regular appearances.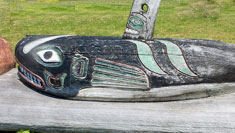 Wrangell
On Wrangell Island in the Alexander Archipelago, Wrangell is one of the oldest towns in Alaska. Like many of these remote outposts, it was occupied by Russians and British in the past, but is now home to a small indigenous population. In fact, it is the only Alaskan city governed by four indigenous nations, and it is a wonderful place to learn about the region's Tlingit and Haida cultures.


Alaska cruising vacations travel advice
---
INSIDE PASSAGE KNOWLEDGE
Powell Ettinger, Director of our leading Alaska small ship cruising vacations supplier, The Small Cruise Ship Collection:
Why go on a small ship cruise
---
"How would you like to see Alaska – through binoculars from the observation lounge of a large cruise behemoth a mile or two off-shore? Or to be close enough while drifting silently to be able to hear the crunch as a bear chews a fish? Traveling on small ships will introduce you to an Alaska that others never see, much less experience. You'll do more than just see Alaska through an observation lounge; you'll be an active participant in all that it has to offer, from Zodiac rides around impossibly blue ice to savouring locally caught seafood at dinner."
What to pack
---
"The weather is changeable and sunshine does certainly happen – so pack layers so that you can easily remove them when out doing activities such as hiking or kayaking that will warm you up. Hiking trousers that unzip into shorts are great, as are moisture wicking base tops, because the air is pretty damp up here, and that doesn't work well with cottons. Good waterproofs are a must and do remember an extra pair of gloves, as they nearly always get wet. Same goes for socks. Get moisture absorbing ones, and bring plenty of them. And if you are brave, pack a swimsuit for a polar dip. The less brave will enjoy the on deck hot tub though."
Advice for families
---
"For families, small ship cruises are great because you only unpack once, and yet you still get to explore different places. But of course, these boats aren't adapted to have things like kids clubs and that kind of thing. The kids clubs are getting off the boat, exploring and seeing what's out there. There are age restrictions with some boat operators, however, so we always check that."
Accessibility tips
---
"Some of our boats are old Russian expedition ships and just don't have the access, but a lot of the newer ships do, so it is great that people with accessibility issues don't have to do the massive cruise liner thing. They want the different experience that we offer on small ship cruises, and to actually get off the boat and not just point to a destination from on board – which is completely what we don't agree with. The boat is just a means to get from A to B and it is all about exploring and getting off the boat, more than anything."
And a review from one of our travelers
---
"If you love scenery, wildlife and relaxing with a great crew book it tomorrow... The whole trip was outstanding from start to finish. The boat was great - large enough to give everyone space but small enough to be personal...We saw killers whales, black and brown bears catching salmon and had amazing interaction with the humpback whales. Most important of all it was all done intimate and sensitive manner so it felt like we were part of their world without intruding on it." – Sarah Taylor