Alaska vacations travel guide
---
2 MINUTE SUMMARY
Talk to people who have visited Alaska and their face turns into one large grin. Then they take a large breath. And then they grin again. Because people have an emotional reaction to Alaska that they can't put into words. Most Alaska travel guides reel off all the usual clichés. It's enormous and exhilarating. An expedition into one of the earth's last wildernesses. And they are right, of course. For example, Wrangell–St. Elias NP is the largest in the USA, at over 32,000km². The highest peak in the USA, Mt. McKinley, is located in Denali National Park. So with giant glaciers and myriad mountains, Alaska is a place to embrace the extreme. Go ice climbing, kayak through fjords, hike the frozen fantasias of the tumultuous taiga and sub-arctic tundra with its resident wildlife wonders such as whales, grizzly bears and wolves. The fact is that Alaska hovers somewhere between real and surreal. Maybe that's why people just can't find the words. But the grin says it all.
Alaska is...
VAST.
Biggest state, biggest national parks and biggest mountain.
And
they have polar bears. The biggest carnivores on earth.
Alaska isn't...
great if you get motion sickness.
Long transits and boat journeys are all part of the Alaskan adventure.
Alaska map & highlights
---
MAKE THE MOST OF YOUR TIME
Alaska is not to be hurried. It is the biggest state in the USA and the most sparsely populated. It is also one of the most inaccessible, which is why it has maintained its title as American beauty queen. Albeit a wild and alternative one. There are some roads, but far off spots such as Kachemak Bay or Katmai National Park are only accessible by boat or plane. One pretty exciting way of starting your journey through Alaska is by taking the legendary Alaska Railroad to Anchorage, glacial gateway to Denali NP, home to USA's highest mountain, Mt. McKinley. Just to make sure you don't peak too soon. There's a lot more of Alaska to discover after that.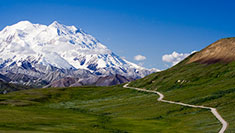 Denali National Park
Denali means 'high one' or 'great one', the indigenous name for Mount McKinley, the Park's and also USA's most towering peak. It is also home to some wildlife greats too such as grizzly bears, caribou and wolves. Go in search of the wilderness' wonders by dog sledding, rafting or hiking its myriad trails. Camping here is supreme. You don't get nights under as many stars as this in many places in the world.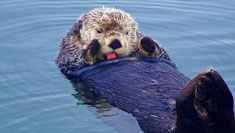 Kachemak Bay
The map of this 64km-long section of Cook Inlet Bay looks like it's been put through crimpers, it twists and turns so much. Which is why kayakers and campers love it, always finding cosy hideaways. Designated a State Wilderness Park, it's only accessible it by boat or plane. Or by swimming, if you are one of the prolific population of sea otters, seals, porpoise or whales. Homer is the main hub.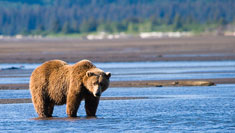 Katmai National Park
Only accessible by plane or boat, it'll blow your mind. And given that it has 18 volcanoes (the park's named after its centerpiece one, Mt Katmai), seven of which are active, Katmai has explosive capacity. Another very active aspect is its bear population, coming out in droves in autumn to feast on migratory salmon. Nearby Kodiak Island also incredible spot for ogling grizzlies. Big spot, mind; it's the second largest island in the USA.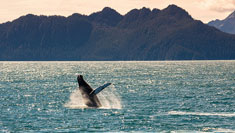 Kenai Fjords NP
The pretty fishing village of Seward, where turquoise waters segue with green forested Kenai Mountains, is gateway to this coastal arcadia of fjords, whales, glaciers and icebergs . One of the most sought after experiences is the challenging hike to the Harding Icefield – an eight-hour trek to catch views of Narnia like Nunatuks, Inuit for 'lonely peak'. Or just chill on a wildlife sailing cruise and take in all the animal magic.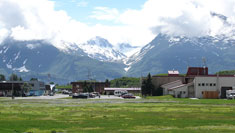 Valdez
With a dark history, having been wiped out by an earthquake in 1964 and then revived by the controversial Trans-Alaska Pipeline in the '70s, it is actually one of the most uplifting places to visit in Alaska. Tucked into the heart of Prince William Sound, and enveloped by vast coastal mountains, kayaking out to the foot of Shoup or Columbia Glacier is THE way to watch Alaska's fragility in action.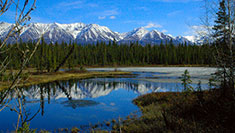 Wrangell-St Elias NP
The largest of all, this magnificent Alaskan expanse is the same size as Switzerland. With 150 glaciers, all enveloped by the most stunning coastal mountain range, you certainly will get high on this trip. Walk along glaciers, try ice climbing or take on one of the snow peaked mammoths that overlook this frozen fantasia. Take some time to learn about the mining history here too. And hope that it stays history.