Camping vacations in Alaska
Camping vacations to Alaska go a little like this. Waking up to the sound of a calving glacier and sitting around a campfire in broad daylight at 10pm. Epic road trips between campsites and kayaking in orca country. Rooting around abandoned gold mining towns and meeting people whose daily commute is by float plane.

It's all a bit weird and wonderful – a bit like the state itself. Camping pairs long, light days ideal for hiking and photography, with landscapes that range from iceberg inlets to wide-open tundra.

Alaska camping trips take you into remote regions that can be just outside your comfort zone (and phone signal range). But never fear. On a small group vacation you'll be in the hands of a guide who'll reveal the best off-trail hikes and frontier towns. You'll also be provided with roomy tents, your three squares a day (salmon burgers and blueberry pie, anyone?) and the freedom to forget about national park fees or whether to book a spot at Denali in advance. It'll all be sorted out for you.
Our Alaska, USA Vacations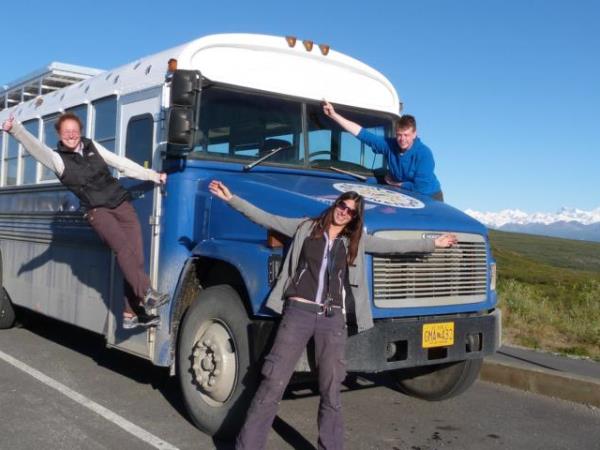 Active small group adventures in a retrofitted school bus
From
US $

4880

to

US $

4980
20 days
ex flights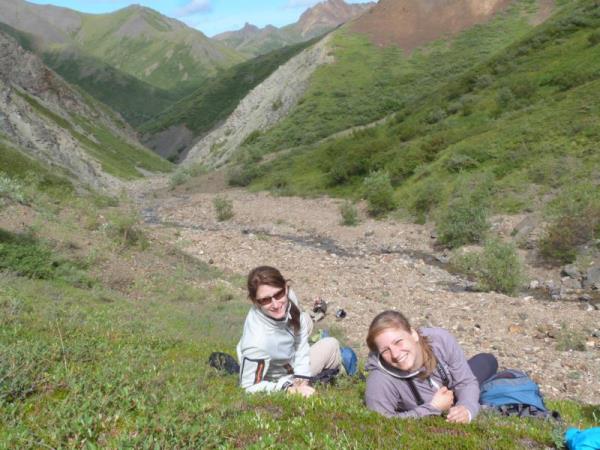 Experience untouched wilderness off the beaten path
From
US $

2990

to

US $

3090
12 days
ex flights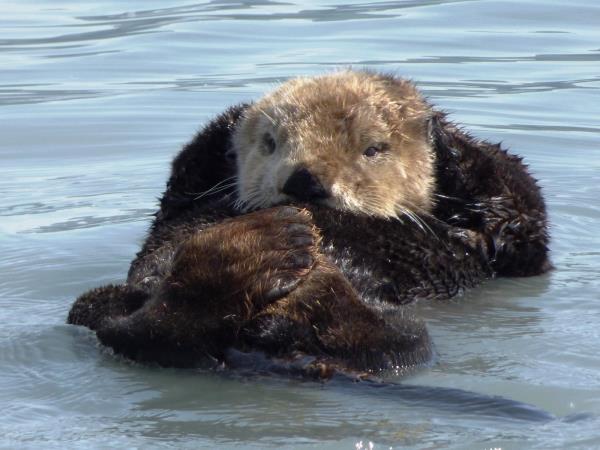 Orcas, Humpbacks and Glaciers: Experience Alaska's coastline
From
US $

2890

to

US $

2990
9 days
ex flights
Top 3 camping spots in Alaska
Denali National Park
You'll sleep surrounded by some of the highest peaks in North America when you camp in Denali National Park. It's one of the only parks in the USA where you're encouraged to pack up your tent and turn off the trail. This is a land of no cars and no phone signal. The only curious onlookers you'll get are the caribou, moose and Dall sheep that graze the tundra and boreal forests. Embark on a float plane flight over the glaciers to get a true sense of the stupendous size of this park.
Kenai Fjords National Park
Kenai Fjords National Park is the sort of place where you can hear an iceberg calving from your tent. Kayak through an assault course of sea otters and icebergs on Prince William Sound, a royal name for a royally good waterway framed by zebra-striped mountains and forested islands. On Resurrection Bay, you can set up camp right along the shore. Head to Hope (population: 192) to see one of the first gold mining towns in Alaska or hike the Harding Icefield Trail.
Wrangell-St Elias National Park
Wrangell-St Elias National Park is around six times the size of Yellowstone, making it the biggest national park in North America. An end-of-the-road campsite sits on a pebble beach with views of the Root Glacier and Kennicott River. This is wilderness camping, so it's no showers and back-to-basics toilets. Once settled into your camp, you can explore the rickety copper mining town of McCarthy or head out for ice climbing and river rafting.
Things to do on an Alaska
camping vacation
Hiking
Alaska is the stuff trekking dreams are made of. The Harding Ice Trail near Seward is often rated as one of the most spectacular hikes in the world, while in Denali you can walk off-trail under the gaze of North America's tallest mountain. There, it's a case of pick a landmark and go, crossing creeks and meadows until you get to the glacier or elk forest you're aiming for.

Remembering the way back through vast, unmarked tundra is the tricky bit, so make sure to choose a vacation that matches you up with an expert guide. They're also invaluable for advice on everything from where to store your Hershey's to how to make sure you don't surprise a grizzly bear. Plus, they'll keep you running to schedule. The sun can shine until 11pm in Alaska in high summer, making your grumbling stomach your only alarm call.
Kayaking
Kayaking in Alaska puts you right in your place. In Valdez, for instance, you'll be a mere speck paddling at the foot of the Shoup and Columbia glaciers. Experienced kayakers can take a trip down the Maclaren River, where meltwater makes for a speedy ride. The best vacation companies work with local businesses, so you might be lucky enough to get an Alaska Native guide who'll fill you in on the state's hidden history.
Wildlife watching
Small group camping is one of the best ways to see Alaska's wildlife. You'll witness moments that larger groups would scare away – a bear storing her cubs up a tree, perhaps, or a curious sea lion bumping up against your canoe. You might camp by a river where king salmon are struggling upstream to their ancient spawning grounds. Or see bowhead whales breach while sitting at your beach campfire. A great tour guide will make sure you never miss a twitch of an antler in the woods or a far-off bear pondering the horizon.
Stargazing
Camping under wilderness skies is a bit like going off-planet. Go at either end of the season for horizon-to-horizon stars that make you feel like you're sitting in a planetarium. Dark, unpolluted skies also mean that your chances of seeing the Northern Lights crank up.
Our top Alaska, USA Vacation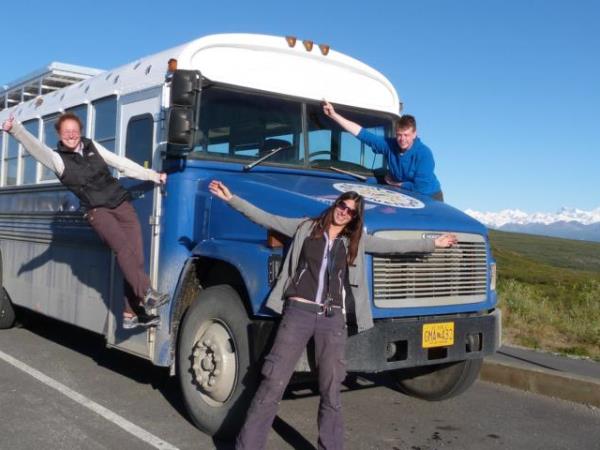 Active small group adventures in a retrofitted school bus
From
US $

4880

to

US $

4980
20 days
ex flights
Small group travel:
2023: 3 Jun, 24 Jun, 15 Jul, 5 Aug
2024: 8 Jun, 29 Jun, 20 Jul, 10 Aug
If you'd like to chat about Alaska, USA or need help finding a vacation to suit you we're very happy to help.

The Alaskan camping season usually runs from June to August, when the temperatures rise and the days lengthen to almost 20 hours of sunlight. Most camping vacations are small group tours of between six and 13 people. You'll have one or two guides on hand around the clock to drive, help prepare camp and lead the hikes. Anchorage will probably be your start and finish line, but you'll spend the rest of your vacation off the edge of the tourist map. Due to the outdoorsy nature of the trips, a reasonable level of fitness is required, especially if you'd like to bolt on optional extras like canoeing and ice climbing. Some camping vacations are more adventurous than others. Choose to bed down under the stars every night for two weeks or alternate luxury adventure camps with wilderness lodges and hostels. Getting there is half the fun. You might putter over Denali by float plane, catch a water taxi into town or bump around the spit-and-sawdust roads in a revamped school bus. The bumpier the ride, the slower the journey – and the more time you get to watch the lonely roads for Alaska's wildest residents. Best of all, your transport between campsites is included in an organised tour. Don't overpack. It's the golden rule of camping, but often needs repeating. Do you need an umbrella if you've got waterproofs? Do you really need that extra pair of shoes? Check whether the tour provider supplies things like hiking poles, rubber boots and even books; tents and food are always included. Some trips spend a night or two at campgrounds with laundry facilities, in which case you'll only need to pack for a maximum of seven days' hiking – even if you're adventuring for 20. A campfire will dry out rain-soaked clothes in no time, so you'll rarely need doubles. If you're traveling in from out of state, consider throwing your suitcase in storage and hiring camping equipment like bed rolls and sleeping bags in your starter city. Your tour operator will be able to recommend an outfitter. Also consider spending a little more on a sleeping bag that's both light and warm, as well as zipped compression bags for organising your rucksack. If you're wilderness camping, be prepared for pit toilets and days without access to showers and running water. Try and think of it as part of the adventure; after all, who needs a phone signal when you've got campfire stories and a creaking glacier laid out before you?