Angkor Wat travel guide
---
2 MINUTE SUMMARY
The entire Angkor archeological park is vast, in fact 160sq km vast, and if you're thinking of tackling it all in a day then you're probably missing the point. This is an experience that takes strategic planning to help you explore outside of tourist timetables in order to capture an unobstructed observation or uniquely personal pocket of peace.

Arming yourself with a well-thumbed reference book or an equally useful local tour guide gives you every opportunity to expand your understanding of what religion means to the Khmer people, with chances to simply stop and stare adding to an overriding sense of spirituality. Creeper covered playground for photographers, or testament to the industry and devotion associated with Hinduism and Buddhism; whatever you discover whilst exploring Angkor, you'll never look at Cambodia in quite the same way again.
Angkor Wat map & highlights
---
MAKE THE MOST OF YOUR TIME
Approaching Angkor from Siem Reap takes around 15 minutes and it is often the time that you arrive and where you visit first that will give you the best chance of avoiding the hordes. For instance, after breakfast and over lunch you'll find much more space, and as the crowds return for sunset on top of the hill at Phnom Bakheng, head for the outer wall of Neak Pean or the west wall of Angkor Thom for a much more unique experience. There are over a thousand temples and although some are deemed more important than others (Angkor Wat and Angkor Thom) it is well worth investigating off the traditional circuit (Roluos and Ta Nei) as you'll unearth just as much without as many selfie sticks.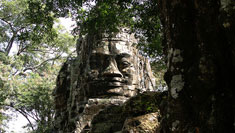 Angkor Thom
Just over 1.5km north of Angkor Wat, Angkor Thom can be entered via the South Gate which is flanked by 54 devils and gods locked in an eternal tug of war with a huge snake. Inside the high walled citadel you'll discover all roads lead to the Bayon with the 350-metre Terrace of Elephants making a definite 'must see' whilst en-route.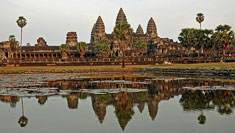 Angkor Wat
Angkor Wat is the first temple you'll find from Siem Reap and forms a symbolic representation of the mythical Hindu home of the gods, Mount Meru. Despite receiving around two million visitors a year, the capital of the Khmer remains relatively intact and provides a 'popular' spot at sunset and sunrise with reflective views over the moat always a slightly less touristy highlight.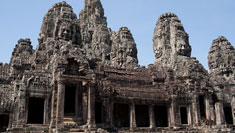 The Bayon
Surrounded by Angkor Thom, the Bayon is a much more intense experience with giant smiling faces watching your every move in order to unsettle even the least or the most spiritual of visitors. A giant stone Buddha draped in traditional orange robes sits between the Bayon and neighbouring Baphuon temple providing a pertinent rest stop or photo op.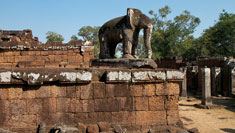 East Mebon
One of the first known temples built in the region, East Mebon is slightly dilapidated however it still holds some of Angkor's most impressive sculptures with a wealth of wild animals intricately carved in honour of the Hindu god, Shiva. Sunset is the best time to visit as the masonry takes on a russet red hue with fewer crowds than Angkor Wat.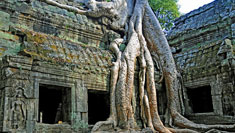 Ta Prohm
Aside from the undeniable ingenuity of Khmer architects another side to Angkor is the quick silver tree roots that slither and drip over crumbling temple walls such as Ta Prohm. Unlike other temples, Ta Prohm has been preserved pretty much as it was found and is a very popular site, particularly for fans of the 2001 Tomb Raider film.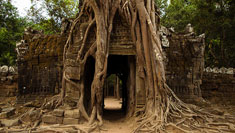 Ta Som
Ta Som is a kind of mini version of Ta Prohm with a well-photographed strangler fig which has allowed its roots to languidly occupy an intriguing looking entrance way. Approach from the east and you'll find a solitary shrine carved with female deities and if you're searching for silence, Ta Som may well be the answer to all your prayers.