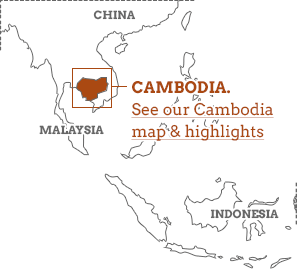 Our Cambodia vacations take you beyond the magnificent temples of Angkor Wat, showing you fresh sides to this chaotically charismatic country. In fact, whether traveling as part of a small group tour or a tailor made trip, the detours are often the highlights of the vacation. You'll mix with local people throughout: shopping at markets for cookery lessons, staying overnight with families in their Khmer stilt houses, or getting to know your guide as you cycle around villages well off the beaten track. Savour a taste of the real Cambodia – one that happily also provides valuable tourism income for remote communities.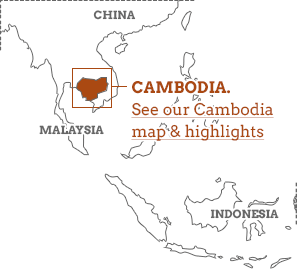 Our top Cambodia vacations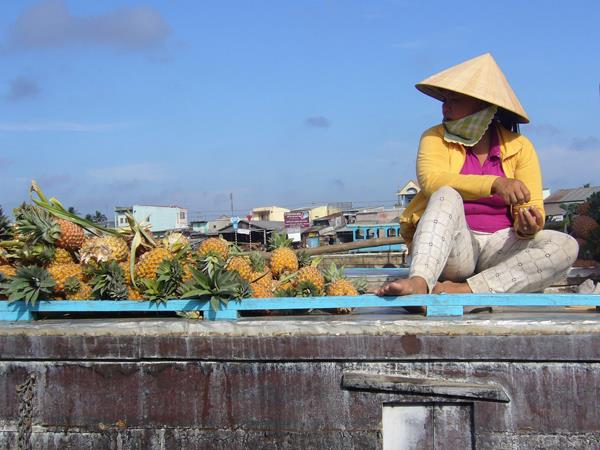 15 days
ex flights
See two wonders of the world in just two weeks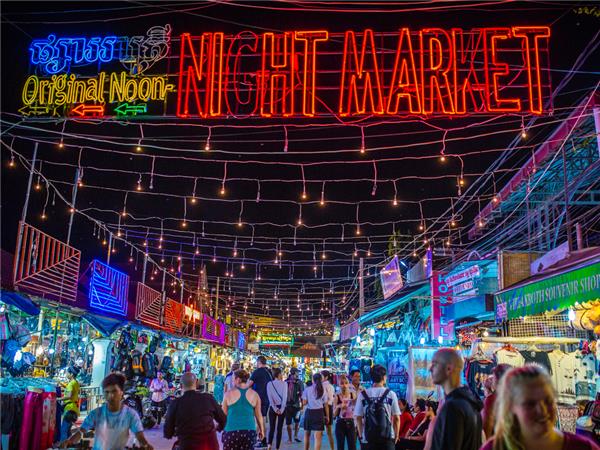 From
US $

1280

to

US $

1710
9 days
ex flights
Discover Cambodia's unique, ancient and exotic food culture
Small group
2023: 12 Oct, 9 Nov, 16 Nov, 21 Dec, 28 Dec, 2024: 18 Jan, 15 Feb, 14 Mar, 4 Apr, 16 May, 20 Jun, 18 Jul, 12 Sep, 10 Oct, 24 Oct, 7 Nov, 14 Nov, 28 Nov, 19 Dec, 26 Dec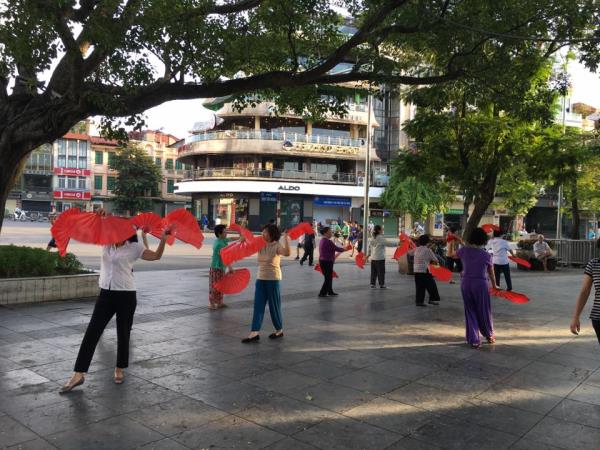 14 days
ex flights
Adventure your way through Vietnam and Cambodia
About our Cambodia vacations
Angkor Wat, Cambodia
The towers of Angkor Wat seen across their placid water surroundings at sunrise are a high point of a Cambodia vacation.
Angkor Wat
is the crowning centerpiece of a wider archaeological park filled with temples built in what was the city of Angkor, the capital of the magnificent Khmer Empire. Their statues and carvings are enhanced by their evocative jungle setting, where vines and trees slowly replace the walls and floors. A lot of tours also spend time seeing Angkor Thom and the rest of the park. You could spend at least three days here, basing yourself in the resort town of Siem Reap, 6km away.
The Killing Fields in Cambodia
Under the extreme Khmer Rouge communist regime in the 1970s, some 24 percent of Cambodia's population was believed to have been killed – and a million of them were executed in the
Killing Fields
, a series of sites in an area just outside Phom Penh. Visit the Tuol Sleng Museum of Genocidal Crimes, a former school which became the regime's torture center, and the village of Choeung Ek, where a stupa made of 8,000 human skulls marks the place where countless atrocities took place. It's a sober portion of recent history, and a distressing visit, but the government encourages tourists to make the stop.
Family vacations in Cambodia
Indiana Jones has nothing on your intrepid kids, especially when it comes to clambering all over temples – you'll be surprised to find that kids are allowed to explore as they please around some of the remoter and more ruined temples in the Angkor Archaeological Complex. In fact, Cambodia is all-round excellent for
family vacations
. The Khmer people are very welcoming, and little kids will love the colourful food markets (watch out for durian fruit) and the 'floating' fishing villages at Tonle Sap. There are few long car journeys. Instead, enjoy gentle cruises down the Mekong River and rattling rides in Battambang's bamboo train.
Cycling vacations in Cambodia
Cambodia isn't a challenging place to cycle. Fuelled by healthy rice and fish dishes, you'll enjoy wheeling through brilliantly green paddy fields, and passing through little fishing villages and crumbling temples.
Going by bike
takes you off the usual tourist trail, and gives you a better chance of immersing yourself in local life. What's more, bike is a great way to explore Angkor Wat. You can get from Siem Reap under your own steam, pass through places too narrow for tuk tuks, seeking out the less crowded parts of the park with ease.
Types of tours & vacations in Cambodia
Traveling as part of a
small group
can be a great option if you're going solo, and it's useful having some fellow taste-testers at the food markets so you know what to try next.
Tailor made tours
can be adapted to suit your needs and budget, and for something a little different, consider a
cycling vacation
. Cambodia is a great, friendly place to explore by bike, and you can even go into Vietnam on your adventure. You don't have to be particularly fit to take to two wheels. Expect to plunge off the beaten track, and discover some lesser-visited parts of the country.
Vacations in Cambodia & Vietnam
For those who want to see more of Southeast Asia, there are plenty of tours that combine Cambodia with Vietnam, its neighbour to the east. Most
Cambodia and Vietnam tours
start with Vietnam, seeing Halong Bay, Hanoi and Ho Chi Minh City, before entering Cambodia by simply crossing the Mekong River at Chau Doc to reach Phnom Penh. The countries are similar – but different. The limestone karsts that you find at Vietnam's Halong Bay make a natural counterpoint to the man-made towers of Angkor Wat. The Mekong River, which divides the two nations, is a great place to cruise and compare.