Angkor Wat travel advice
Dave Tucker, from our supplier The Beyond Tourism Co., shares his Cambodia travel advice on how best to visit Angkor Wat:
"Ask your operator how they will do sunrise at Angkor Wat differently. Everyone goes for dawn, so sometimes it's not quite the special, serene experience you're expecting. For example, we approach through the back gate, or you can go a bit later when the tour groups have left. Everyone wants to see the famous sunrise over the towers of Angkor Wat so there can be a lot of other people trying to do it at the same time."
Itinerary planning advice
Lesley Schofield, from our supplier All Points East, shares her Cambodia travel advice for arriving in the country:
"You can actually start your journey to Cambodia in Ho Chi Minh City. You can get up the Mekong by boat from Vietnam and end up at the port of Phnom Penh, and that's a lovely place to start, a really nice way to get there."
Phnom Penh advice
Our supplier, Nathan Horton, lives in Phnom Penh and leads photography tours around the country. Here's his Cambodia travel advice:
"According to the travel brochures Phnom Penh has got a handful of tourist attractions, so most people who come here are very pleasantly surprised about how nice it is. It's rapidly growing out of its turbulent history and growing into a beautiful city. There's a very nice riverfront, it's got bars, restaurants, nightclubs – but more than that, it's just really interesting to walk around. It's a real city just teeming with life, and that makes it a dream for anyone who likes street photography. That sets it apart from Siem Reap – nearly everything is there to support tourism – whereas Phnom Penh is very much a real city and a window into the lives of Cambodians. You'll be constantly surprised and entertained by walking around aimlessly."
Advice on finding the world's best coffee
Lesley Schofield, from our supplier All Points East, shares her top caffeine tip:

"They do the nicest coffee in the world in Cambodia as far as I'm concerned, in Phnom Penh's Russian market. It's just a little stall with a handwritten sign that says "Probably the best iced coffee in the world" and they've probably never been anywhere else in the world – but they're not wrong!"
Cultural travel advice
Liddy Pleasants, from our supplier, Stubborn Mule Travel, shares her Cambodia travel advice:
"The towns up in Kratie, in the north, are really friendly, laid-back places. You can go out onto the bamboo thatched huts on the Mekong River, and go on boat trips to look for the Irrawaddy dolphins. There's towns on both sides of the river so you can get a small wooden ferry that shuttles from one side to the other and go wandering through really pretty scenery of paddy fields and little temples and small villages; it's a good glimpse of rural life that you don't necessarily get if you're sticking to the main tourist routes."
Our top Cambodia Vacation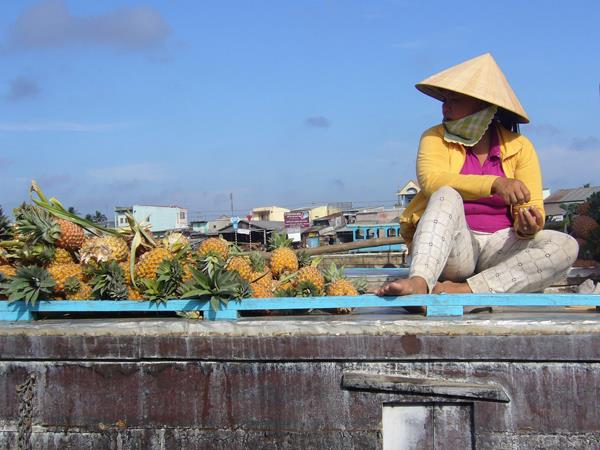 See two wonders of the world in just two weeks
From
£

2075
15 days
ex flights
Tailor made:
Everything is tweak-able, giving you the freedom to build a unique and personal trip for your chosen date. Upgrade your accommodation for all - or just part - of your trip, slow down the pace with few extra nights here and there or add a few more active adventures along the way.
If you'd like to chat about Cambodia or need help finding a vacation to suit you we're very happy to help.

Health & safety in Cambodia
HEALTH
Several vaccinations are advised before traveling to Cambodia; consult your GP or travel clinic six to eight weeks before departure to ensure you have time to complete all the series of injections.
Malaria is also present, so you will need to bring anti-malarial medication. Be aware that the malaria strain here is resistant to some forms of medication, so be sure to bring the appropriate type. Wearing long sleeves and trousers is also advised, as well as insect repellent. This also protects against dengue fever. Remember, malaria can develop up to a year after exposure, so keep an eye on any symptoms.
Tap water is unsafe to drink - also be wary of ice in drinks and unpeeled fruit and vegetables.
Schistosomiasis - also known as bilharzia - is a disease which can be caught in freshwater. It is present in Cambodia, so avoid swimming or bathing in lakes and rivers. Symptoms may not occur until after you return home; be sure to visit your GP if you are unwell. Take note of the emergency number: 119.
Local hospitals are not of a very high standard, even in Phnom Penh; private hospitals are better equipped but may be costly. Ensure that your travel insurance covers medical evacuation and repatriation in case of an emergency.
Pharmacies may also have limited supplies, so if you are likely to need any medication, be sure to bring it with you.
SAFETY
FCO frequently advises against travel along Thai border due to ongoing fighting over disputed land. See the FCO website for up-to-date information about the safety situation in this region.
Violent crime is rare but be aware of petty theft, particularly along Phnom Penh's riverfront and the more touristy areas of Sihanoukville, as well as on public transport. Do not leave valuables on display, and wear your bag across your body and away from the roadside to prevent bag-snatching from passing motorcyclists. Likewise, keep your bag out of sight and out of reach if riding tuk tuks or motorcycle taxis to deter thefts; items have been stolen while on the move.
On that note, motorcycle taxis ('motodops') are the most dangerous form of transport. Drivers rarely drive safely and you won't have a helmet.
Do not leave drinks unattended, particularly in Sihanoukville's more touristy bars. Incidences of spiked drinks have been reported.
Many roads are in poor condition; avoid traveling at night when there is a greater chance of accidents.
Unexploded landmines are still found across the countryside. Keep to marked pathways in rural areas and national parks, and always keep an eye on children. Be extremely careful in more remote regions and always consult a local guide before trekking in less-visited areas of Cambodia. Mined areas are not always marked away from the tourist trail.
Life jackets are not routinely provided in Cambodia, so do check if they are available on your boat, particularly if traveling off the coast to the islands. This is especially important when traveling with children.
Cambodia travel advice from our reviewers
At Responsible Travel, we think the best people to advise our travelers are often... other travelers. They always return from our tours with packing tips, weather reports, ideas about what to do - and opinions about what not to.

We have selected some of the most useful Cambodia travel advice that our guests have provided over the years to help you make the very most of your vacation - and the space inside your suitcase.

To my surprise, given that I went solely to see Angkor, the most memorable part was eating real food in local places.

"Have plenty of small banknotes. You need them every day for tipping." - Iwona Montel-Krasucka

"Don't take too many clothes as laundry is easy. What you do take, give away at the end – they are needed." - Margaret Still

"To my surprise, given that I went solely to see Angkor, the most memorable part was eating real food in local places. I am not a foodie and my experience of Asian food is limited to takeaways from the local 'Chinese' – what a pleasure it was to eat zingy, fresh food that Cambodians eat." - C Beels

"We were not sure about doing a small group tour, but we had underestimated the impact of traveling with a guide. We packed in the experience and really felt we saw Cambodia." - Anna Bradley

"Use your free time wisely and explore on your own - I regret not doing more of this." - Alison Lambert

Be prepared for the sobering reality of the past history of the country, humbling/emotional but enriching at the same time.

"Relax and go with the flow. Cambodians love to chat, they take time out, go to a temple, dress up for the festival... This is great - just do the same." - Francine Asonibare

"You only need US Dollars - no need to get local currency beforehand! I went in the wet season (July) and packed waterproofs and warm clothes - I didn't use them! When it rains you can generally stay undercover until it is passed!" - Heather Reynolds

"Take tons of pictures but ask permission. Every time I bought something, I asked if I could take the seller's picture. It made my purchase memorable." - Virginia da Costa

"Be prepared for dress code in temples. Thin long pants and T-shirt are must." - Iwona Warszawska