Best time to visit Cambodia

Everyone has a different favourite season in Cambodia – it all depends what you want to get out of your trip.

The dry months of November to February would seem like the best time to visit Cambodia - and they certainly are if you're heading to the beach, particularly blue-skied December and January. However, the monsoon season from June to October offers lush green paddy fields, dramatic skies and wonderful reflections in the pools around Angkor Wat, with the soggy stones revealing deeper colours. In between the late afternoon showers, you'll also find fewer crowds and cheaper prices. The air is also clearer at this time, as the rain washes away haze and smoke. Heat-fearers should head down during the second half of the rainy season, when temperatures are lower and sightseeing more pleasant.
The start of the year, January and February, offers one of the best times to go to Cambodia if you're heading to the coast as there's hardly any rain and blue skies all the way. March and April find temperatures starting to rise and although there's not that much in the way of rain, it's certainly getting a bit more sticky in terms of humidity. Monsoon season starts around late May and early June, with Cambodia's coasts, in particular, seeing the worst of the torrential downpours. July, August and September are still a bit soggy however, lush foliage, vivid green paddy fields and incredible sunsets more than make up for the occasional cloud burst. Cambodia's wet weather season is also less busy so grab your brolly and head for Angkor Wat. October and November still find a few rainy days but in the main things are starting to dry out with December often thought of as one of the best times to visit Cambodia before the Xmas vacations.
Phnom Penh, Cambodia Weather Chart
Our top Cambodia Vacation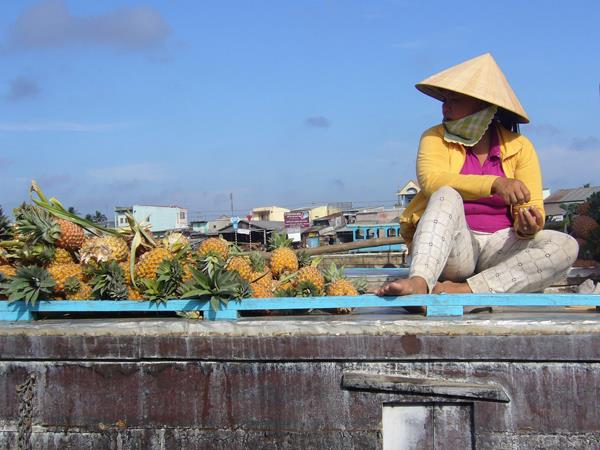 See two wonders of the world in just two weeks
From £2075 15 days ex flights
Tailor made:
Everything is tweak-able, giving you the freedom to build a unique and personal trip for your chosen date. Upgrade your accommodation for all - or just part - of your trip, slow down the pace with few extra nights here and there or add a few more active adventures along the way.
If you'd like to chat about Cambodia or need help finding a vacation to suit you we're very happy to help.

Responsible Travel recommends
Nathan Horton, from our supplier Nathan Horton Photography, lives in Phnom Penh and runs photography tours in Southeast Asia. He shared with us his best time to visit Cambodia, especially for photographers:
"A lot of people are afraid to come in the rainy season, but it's my favourite time of year. Typically we get very dry mornings with long, drawn-out cloudy afternoons and rain for around one hour. The dry season does have its advantages, certainly in terms of good sunrises and sunsets, but the paddy fields are dry. Towards the end of the rainy season you get the beautiful, lush paddy fields, green trees... everything looks a lot prettier. My favourite time to visit Cambodia is October, which is immediately after the rainy season, but before the dry season's kicked in. So it's still really beautifully green, but hopefully not raining a lot."
Our sports pick:
Angkor Wat International Half Marathon
A most unusual race is held each December. The annual half marathon traverses the immense sprawl of ruins around Angkor Wat, including Angkor Thom and Beng Melea. The marathon supports several Cambodian charities working with disabled athletes, underprivileged children and education.
Festivals & events in Cambodia
Bon Chaul Chhnam
Bon Chaul Chhnam marks the end of the harvest and the start of the New Year with three days of brightly decorated streets and cultural and sporting events. Cambodians clean and decorate their homes, make offerings at temples and throw water over each other as a blessing.
Royal Ploughing Day
The land and agriculture are highly significant for Cambodians, and the ox plays an important spiritual role in farming. Each May, next to the Royal Palace, an ox is given a choice of foods, and what he eats is interpreted as a prediction of the success – or otherwise – of the following harvest. Look out for people in colourful Khmer clothing.
Tonle Sap River is the only river in the world whose flow reverses at certain times of year, depending on the level of the Mekong River. The change of direction in mid-November is celebrated with the Bon Om Touk Water Festival – three days of boat races, fireworks, parades, music and dance.