Photography vacations in Cambodia
Cambodia is a wonderful destination for the photographer: it combines an interesting, turbulent and often very moving history that can be well-captured through a lens, and a colourful, contemporary culture where visitors are always welcome. You'll return with wonderful images of hefty water buffalo in rice paddies, Buddhist temples buried in dense mangrove forest, extravagant royal palaces, and beautiful French Colonial architecture. But while appealing landscapes are everywhere, on a Cambodia photography trip the focus is very much on the people and the culture.

From bustling cities to sleepy fishing villages, the chance to record scenes of daily life is sheer catnip for photographers.

There is no barrier when it comes to experience. You don't need to know what every setting on your camera does, because trips are accompanied by professional photographers ready to show you, providing hints, advice and feedback. Some itineraries might involve themed days, focusing on handicrafts for instance, or nighttime street photography. They frequently feature useful workshops too on topics such as editing and post-production techniques. More experienced photographers will be able to take advantage of these trips, too, as they take you to the best spots, at the right time of day, and allow plenty of time to set up your shots.
It's important to remember that these are vacations, not photography boot camps. All lessons and workshops are entirely optional, and there will be free time set aside for you to find your own inspiration. Itineraries follow a set structure, but are flexible enough to deviate if something interesting, such as a parade or a troop of curious monkeys, turns up spontaneously.
Our Cambodia Vacations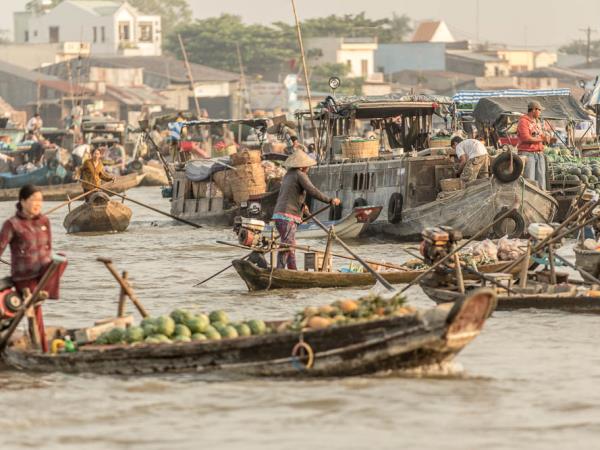 Cambodia and Vietnam tour with a professional photographer
From
US $

3520
16 days
ex flights
What does a Cambodia photography vacation entail?
These are all small group trips, with anywhere from two to 16 people; larger groups are often accompanied by two photographer guides to ensure that everyone gets enough support and tuition. Moving around as part of a group means that not only do you enjoy the social side of it, especially good if you're a solo traveler (solos are common on these trips!), but you can also benefit from the tips and advice of others, and get positive feedback from your peers on your photography.
Professional assistance
Vacations are always led by a professional travel photographer, and usually one that actually lives in the country. Their local knowledge is invaluable, as you will benefit not only from their insider advice on everything from timing to compelling angles, but also relationships they've built up over the years in villages and temples. They can advise on technique, through optional workshops, as well as on the ethics of travel photography and how to engage with subjects. They will sometimes offer one-on-one sessions, too.
"The spontaneity of events was the highlight. Although the route was planned and certain visits were structured, our tour leader and guide made things happen when they were least expected. Never a dull moment. Travel light, pack one camera and a couple of lenses. Be prepared for a few early morning starts and enjoy the journey. We were introduced to many local inhabitants and the cultural exchanges were beneficial to both sides. We have developed a profound appreciation for Cambodia and her people and we should love to return." – Paul Byrne, in his Cambodia photography vacation review
Practicalities
You will generally stay in a mix of small, locally owned accommodations and, in the cities, boutique hotels that are likely to have a swimming pool. Transport will mostly be via private vehicle, with some use of boats in rural areas, and tuk tuks in the cities.

A camera can help break the ice with local people in many situations, but in others it may not be immediately welcomed. Always ask permission before snapping away, and if your request is declined, you can just say thank you and move on. Requesting permission is especially important when you're photographing monks or nuns, and this is another area where having a local guide that regularly visits the temples will come in very helpful. In some cases groups will send copies of their prints to the subjects afterwards.
Itineraries are crafted to suit all levels of experience, and are designed for those with DSLRs or advanced compact or 'bridge' cameras wanting to enhance their technique under different conditions. The electricity supply in Cambodia can be unreliable at times, particularly in rural areas. Bringing along a spare, charged battery is recommended, just in case.
If you'd like to chat about Cambodia or need help finding a vacation to suit you we're very happy to help.

Cambodia photography vacation highlights
"Prepare for traveling in a non-conventional way: you won't see the monuments or hotspots. You will mix among the local people, and see their daily routine. You will take more portraits than the typical travel photography. Forget about massive tourism! ... My first time traveling alone, and was a really authentic and different vacation." – Hector Mainar, in his Cambodia photography vacation review
You'll want to bring several memory cards, because you'll find your camera is rarely out of your hands, so prevalent are the photo opportunities. One day you might be up early to make the most of sunrise over Angkor Wat, the next might find you recording the scenery on the bamboo train outside Battambang.
Angkor Wat
This sprawling, ancient temple complex is an absolute treasure trove, especially Ta Prohm, draped in tree limbs and probably the most photographed site in Cambodia. The advantage of knowledgeable local guides becomes quickly obvious here, as you'll be able to discover lesser known temples, and capture unique angles of the most famous areas. Find out the best viewpoints during sunrise or sunset, and perhaps even splash out on a flight in a tethered balloon for a seriously impressive aerial shot.
Tonlé Sap
The floating villages and markets of Tonlé Sap, the largest freshwater lake in Southeast Asia, are another regular highlight of Cambodia photography tours. Houses resting on stilts, flooded forest, fishermen plying their trade and a notable bird sanctuary all make for a ludicrously photogenic location. Boat trips take you into the heart of the lakeside communities, and in the many villages on the shore where you can watch – and photograph – skilled artisans working on handicrafts.
Silk Island
Koh Dach, otherwise known as Silk Island, lies in the Mekong River just north of Phnom Penh and makes a popular daytrip from the capital, especially for photographers. This picturesque island is a world, and a time, apart from chaotic Phnom Penh, and here you can find some exquisite shots of traditional silk weaving, with people that are used to being in front of the camera.
Cities & villages
A big part of any Cambodia photography vacation is street portraits. Many Cambodians will be perfectly willing to pose, and asking if they are happy for you to take their picture will allow you to capture more natural scenes, as people are at ease in front of the lens. The cities of course are fantastic for this, but photography vacations tend to skip rapidly through the main sights. Instead you can expect to head off the beaten tourist track and into more rural communities where it's not only your photography skills that will be enhanced, but your understanding of Cambodia's people and culture.

Street photography is easy here. Most people are friendly and don't mind you taking their pictures.

– Helen Smith on a photography tour of Cambodia and Vietnam
Indochina photography vacations
A photography trip in Cambodia can be easily combined with Vietnam or Laos. So the landmarks of Angkor Wat and the glamorously faded French architecture of Siem Reap can be complimented by the fascinating Cu Chi Tunnels, and the atmospheric Mekong Delta in Vietnam, or the sight of monks collecting alms and the lively night markets of Luang Prabang in Laos. The contrasts between countries and the experiences you find in each will result in portfolios with more dimensions and greater depth.
"Amazing. A definite must go destination. One gets a new point of view when the focus of the trip is photography. Get to visit sites when lighting is amazing and local guides know when and where to go to get amazing shots. Our photographer was very informative and there to help whenever we needed. I really benefited from all the tips and instructions I received on this trip." - Julie Andrade on a photography tour of Cambodia and Vietnam
When to go on a Cambodia photography vacation
Most Cambodia photography vacations take place between August and February, thereby avoiding the hottest months, and also the heaviest rains of the wet season. Trips range in length from five-day itineraries that focus on one location, such as the temples of Angkor, to far more comprehensive routes lasting nearly three weeks that may also dip into other parts of Indochina.