Food vacations in Cambodia

Somehow people donít realise that Cambodian food really is incredible - perhaps because there arenít Cambodian restaurants back home. Khmer spices, Khmer curry, Khmer beerÖ all incredible.

Black pepper is one of the most important spices in Cambodia, and, just as it is known as the King of Spices, the culinary wonders of Cambodia are the countryís crowning glory. It is also a stimulating spice, and traveling the length of this stunning country using food as your focus is certainly energising. In fact, it really is the most delicious way to immerse yourself in Cambodian culture, especially given that Khmer cuisine goes back to very ancient times. Fish from the Mekong River which cuts through the heart of the country has been feeding the country for ever, along with rice from the well watered paddy fields, as you will see during the June to October monsoon, when the countryís staple food becomes the glistening green emerald within this crown.
Phnom Penh is at the meeting point of the Mekong and Tonle Sap rivers, so taking in riverfront life with its food stalls and traditional Cham fishing communities that spread out from it, is a wonderful way to experience this city. And an equally wonderful place to start your scrumptious sojourn around Cambodia. You can even book a small group vacation which is focused on Khmer food and cooking, in between all the classic Cambodia sites. These trips explore the markets of Phnom Penh, the French colonial cafes and pepper plantations of Kampot and Kepís crab markets Ė with plenty of time for dinner in a traditional Khmer homestay.
Our Cambodia Vacations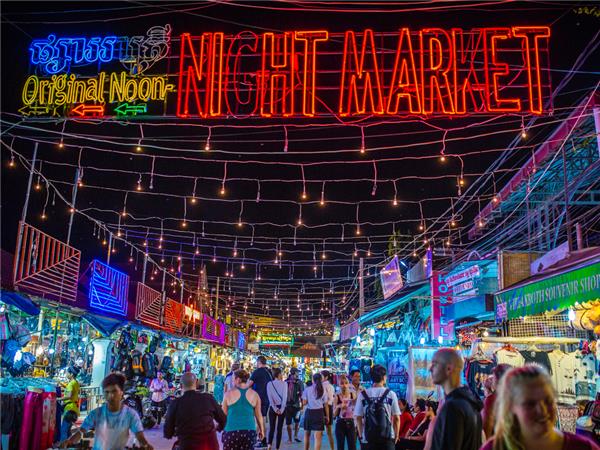 Discover Cambodia's unique, ancient and exotic food culture
From
US $

1377

to

US $

1605
9 days
ex flights
Fresh, healthy & delicious
Ingredients in Khmer cuisine are as varied as the cultures that have influenced it. First of all, take the staples of rice and fish, and add local spices of lemongrass, lime leaves, turmeric, galangal (a bit like ginger) and garlic. Chillies do also feature but less so than in other Asian countries. The Chinese ruled the country from the 13th century onwards, and left rice noodle knowledge behind them. The Portuguese brought preserved lemons, chilli and peanuts, and the French brought baguettes. Or nom pang as they are called in Khmer. To give credit where itís due, the French also brought beer and broccoli, coffee and chocolate, so they must have made a few friends along the way with those ingredients. Well, maybe not the broccoli. In terms of vegetables, Chinese influences still remain, with gourds, water spinach, mushrooms, cabbage and bamboo shoots all to be found on the market stalls here. Or in a stir fry.
Pickling, preserving and fermenting is another feature of Khmer cuisine, with key ingredients like pahok, a fermented fish paste, or kapi shrimp paste, making their meals so tangy and tantalising. Another classic paste is kroeung of which there are many varieties and colours, but these pastes are what make their sauces so darn sexy. To use the technical term. You will see a lot of mortars and pestles in action in a Khmer kitchen, with aromas of lemongrass, lime, turmeric and more evaporating just after you get to enjoy that aromatic apex.
You will never tire of fruit stalls in Cambodia, the very smelly durian being the infamous one, as well as tropical treats such as mangosteen, sapodilla, kuy, mango and rambutan. And bananas. There are a lot of bananas. Cambodians like to mix their fruits with savoury, with mango or pineapple sometimes served with fish.
Our top Cambodia Vacation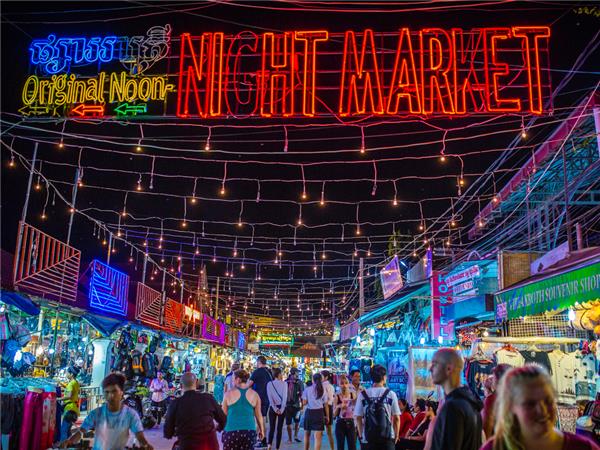 Discover Cambodia's unique, ancient and exotic food culture
From
US $

1377

to

US $

1605
9 days
ex flights
Small group travel:
2022: 29 Dec
2023: 16 Mar, 23 Mar, 6 Apr, 18 May, 22 Jun, 20 Jul, 14 Sep, 12 Oct, 26 Oct, 9 Nov, 16 Nov, 21 Dec, 28 Dec
If you'd like to chat about Cambodia or need help finding a vacation to suit you we're very happy to help.


I donít eat curry generally but I ate Khmer curry because it is very sweet. It has big chunks of vegetables, and big cubes of chicken. You pour the sauce all over the rice, mix it up and it is really lovely. Itís about £4 for a huge bowl.

Amok
Or to give it the full name, amok trey, is a fish and coconut curry often served in a coconut shell, with lemongrass, turmeric and lime leaves. And fish such as catfish which is steamed in banana leaves and then served with rice. Just ask for fish amok and be prepared to sink into a pescetarianís paradise.
Bok líhong
A popular savoury salad made with unripe, green papaya, which is a wonderfully refreshing palette pleaser. Using the fresh flavours of shredded papaya, the sourness of lime juice, some salty fish sauce, a little sugar and a touch of chilli, this is an explosion of Cambodian flavours. There is a lovely mango salad on most menus too.
Char siu
Strips of pork fillets that are roasted or grilled with spices in wood ovens or barbecue-style grills. This smell of burning wood often permeates the air in Cambodia.
Trokuon
This vegetable is omnipresent in Cambodia and goes by various terms. Part of the ĎMorning Gloryí family, it is also known as water spinach or swamp cabbage as it grows in wetlands. It has thin stems and long thin leaves and shrinks on cooking, like spinach. It is full of goodness, vibrant green and delicious in a stir fry or soup.
Kuy teav
This ubiquitous noodle soup can be served any time of day including breakfast. Made with a perfectly clear, pork broth, with meat, a few greens such as water spinach, and then some bits on the side to throw in to your taste. The usual side bits are chilli sauce and limes. You will work out what to do with those, just watch and learn. That is all part of the foody fun.
Banh chok
These Khmer noodles are the cheapest, easiest and most memorable street food you will find. On the spot, the vendors will pick out ingredients from their baskets like jewels from a treasure box. The gold is the noodles themselves, which are usually arranged in a beautiful spiral in the basket. Other gems of shredded banana leaf, bean sprouts, cucumber, fresh beans and herbs such as mint are then added. Itís heaven in a basket.
If you are invited into someone's home to eat, it is important to know about some of the protocols before sitting down to eat. Here are a few tips:

Do take off your shoes before entering anyone's home. Bringing a small gift to the home is a tradition when invited for a meal, such as fruit or flowers. Chopsticks are the norm, but don't leave them sitting vertically in a bowl of rice. It's bad luck. Forks and spoons are usually on offer too, but knives aren't so omnipresent.
Hierarchy in terms of age is important in Cambodia, so let the most senior person at the table be seated first and also start their meal first.
In restaurants and cafés, extras are often put on the table that you haven't ordered, and you will be charged for them. Tea is usually free.
Use your right hand for lifting bowls or passing food around, and don't point. It's considered really rude. If you need to make a point, or use hand signals to try and be understood, use your whole hand with an open palm.
Don't be afraid to join in the slurping fun. Cambodian food is liquidy. Slurping is par for the course.
And most importantly, don't worry. Ask your tour guide or just watch what other people do around the table, and then just enjoy.