One of our colleagues in the Responsible Travel office, used to pronounce Angkor Wat (as in 'wot') as Angkor Wat (as in 'bat'). He doesn't any more, but it just goes to show, you can't assume that just because this incredible temple complex has been a film set for Lara Croft and Indiana Jones, everyone knows all there is to know about one of the world's most exciting archaeological parks.
Firsly, the size of the Angkor complex can't be underestimated; it's huge and encompasses an area roughly the same size as Vienna. Tours can last two or three days, or more, with coaches, bicycles, taxis and cyclos (three-wheeled bikes with passenger space on the back) ferrying tourists back and forth from Siem Reap to catch the sunrise, sunset or just to make the most of one of the world's largest ancient temple sites. Monkeys, street kids, hawkers and orange-robed Buddhist monks line the roads but nothing really prepares you for what lies ahead so do some research, travel with a guide and find some space to truly appreciate Angkor, at a time and pace that suits you.
A BRIEF HISTORY OF ANGKOR WAT
The Hindu-Buddhist Khmer Empire, also known as the Angkor Empire, ruled Cambodia and large parts of Thailand, Vietnam and Laos, from the 9th to the 13th centuries. Their legacy was one of agriculture, primarily rice farming. The irrigation techniques which they developed, in the form of canal networks and hydraulic engineering, were pivotal to maintaining rice paddies, fruit orchards and fresh water reserves, filled with fish, to support local villagers and the vast armies protecting Khmer kings.
From the 10th to 15th centuries, the capital of the Khmer Kingdom was Angkor, in the area now known as Angkor Archaeological Park. This huge city encompassed a forested area roughly the same size as Vienna (400km2). Angkor was an incredible feat of engineering and ingenuity, and its mind-boggling size and incredibly decorative places of worship, carved deities and walled citadels, reveal not only the might of the Khmer Empire but also the importance of religion across the whole of Southeast Asia. The centerpiece of Angkor was a vast temple complex which was initially built under the instruction of the Khmer king Suryavarman II to worship the Hindu god Vishnu. This was unique as it broke with the tradition of worshipping the Hindu deity Shiva.
The decline of the Khmer Empire started at the end of the 13th century with royal in-fighting, religious intolerance and aggressive attacks from neighbouring nations, all leading to the inevitable. Although Angkor was still inhabited after the 15th century by Japanese settlers and Khmer villagers, the temples, canals and incredible architectural designs slowly started to crumble and succumb to the elements as the finger-like grip of surrounding creeper fig trees took hold.
Towards the end of the 12th century, the main temple became the main wat; which wouldn't have taken too much redecorating as the architecture had originally been created to represent Mount Meru, a mythical, five-peaked mountain, which is hugely significant in both Hinduism and Buddhism. Angkor Wat continued to be a Buddhist place of worship right up until the 17th century but it wasn't until the French explorer, Henri Mouhot, came across Angkor in the middle of the 19th century, that one of the world's most important archaeological sites was brought to the attention of the rest of the world.
Restoration work began in the 20th century, mainly clearing the build up of earth and the all-consuming jungle. However, anything of significant artistic worth or financial value was ransacked in the 1980s and early 1990s before Angkor came under the protection of UNESCO in 1992. Tourism would come soon after with an increase of annual foreign visitors rising from just 7,650 in 1993 to over 2 million in 2015.*

Today, the Angkor Archaeological Park encompasses Angkor Wat as well as the equally impressive ruined temple complexes of Angkor Thom, Ta Prohm and Phnom Bakheng amongst others. These offer insight into the devotion of the Khmer Empire as well as an exciting adventure into a crumbling ancient world.

*Source: APSARA (Authority of the Protection & Management of Angkor and the Region of Siem Reap)
How to get to Angkor Wat
Angkor Wat is a 20-minute drive from the gateway town of Siem Reap. On organised tours, you'll be picked up by private vehicle with a local guide who will stay with you throughout the tour. There's also the opportunity to explore by bike or by remork (Cambodia's version of a tuk tuk). Journeys out to nearby Tonlé Sap Lake, to see the floating villages, are definitely recommended after exploring Angkor Wat.
Our top trip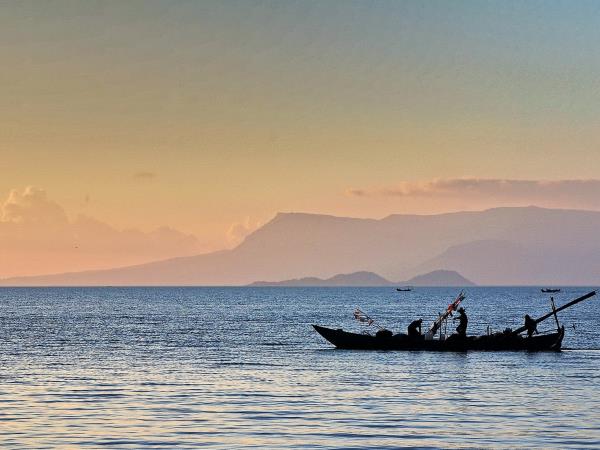 World Heritage Sites plus off the beaten track Cambodia
From
US $

1860

to

US $

1895
12 days
ex flights
Small group travel:
2024: 1 Jan, 30 Jan, 18 Feb, 4 May, 2 Jun, 7 Jul
If you'd like to chat about Cambodia or need help finding a vacation to suit you we're very happy to help.

BEST TIME TO VISIT ANGKOR WAT
Angkor opens from 5am to 6pm and pre-dawn pickups can be arranged so that you can witness the sun rising over the temples. Many larger tour groups will head back directly after sunrise for breakfast so it's a good idea to take some snacks and stick around before they return mid-morning. Another top tip is to do the traditional temple circuit of Bayon in the morning, Angkor Wat in the afternoon and Phnom Bakheng as the sun sets, in the opposite direction. And, although the peak season for visiting Angkor falls within the drier, cooler months of November to March it's still worth braving the humidity between June and October because there are far fewer crowds. Also, it usually only rains in the afternoon so you can visit Angkor in the morning and head back to Siem Reap to enjoy a beer, book and brief tropical rainstorm from the shelter of an open-sided bar.
Mark Ord, Southeast Asia specialist for our supplier All Points East, explains how to avoid the crowds:
"If the central area of a particular temple looks too crowded then walk around the outside. You don't need to go far to avoid the crowds. This isn't a beach vacation so the occasional shower shouldn't be a disadvantage – it'll cool you down and there are plenty of cafes to shelter in for 20 minutes so I'd strongly advise visiting in low season months of say May, June, July and September."
RECOMMENDED ANGKOR WAT TOURS
There are some excellent small group vacations and tailor made alternatives for travelers looking to experience Angkor Wat, with foodie adventures, wildlife expeditions, cultural heritage trips and photography vacations all combining with guided temple visits. Spending time in Phnom Penh and learning about the atrocities that befell Cambodia under Pol Pot is also highly recommended, as is getting off the beaten track and visiting the port town of Kampong Chhnang or taking a boat out to Rabbit Island, both of which are rarely seen by 'in and out of Angkor' tourists.
HOW TO TRAVEL RESPONSIBLY
Although the adage "when you've seen one temple you've seen them all" might work for slightly jaded gap year students, it's certainly not the case for wiser travelers. Giving yourself the time to visit temples with a guide is always going to put a really unique and interesting spin on things so don't be fooled into thinking that you're going just to tick a box; an Angkor experience should be far more than just that.
There may be few restrictions in place, despite the constant crumbling, but please do resist the urge to clamber all over the temple ruins, exciting as it may look.
Water is in scant supply around Angkor, mainly due to the increase in tourists, so make sure you book with a company that uses accommodation with a sustainable water use policy. Go easy on the long showers and report any leaky taps.
Finally, unfortunately, begging is big business around Angkor Wat and don't be surprised if you're mobbed by kids asking for cash and often using way too familiar Western phraseology, including advertising slogans, to entice you to part with your Cambodian Riel. Best advice is to learn how to say "no thank you" in Cambodian – min ei te arkoun haey – and ask your tour operator the best way to help get Cambodian kids off the street. Visit the Save the Children Cambodia website for more information on this issue.

Make the effort to spend time with the local people and to visit the places where they are helping the local community. Cambodia is an incredible country.

- Trisha Burdett, a traveler on one of our Cambodia vacations