Traveling in Cambodia with kids

The Khmer are famed for their friendliness and constant smiles – and those traveling in Cambodia with kids will be even more welcome than most.

Despite its shroud of mystery and lingering memories of civil war, modern Cambodia is actually a smile-filled destination, and children will be enchanted by the ancient, forest-filled temples, shuddering tuk tuks and markets with skewered, deep-fried spiders. Khmer children are as friendly as their parents – little ones will find new playmates in no time.
Boat rides along the fishing village-lined rivers provide a relaxing break for both kids and their parents, as they watch the world float by. Older children will soak up the history – ancient and recent – and learn about a truly different way of life.
Our Cambodia family Vacations
Activities for families in Cambodia
Unlike many of the world's historical monuments, Cambodia's temples are there to be discovered physically – which means kids can play hide-and-seek and come face to face with ancient statues hidden in the undergrowth while discovering the secrets of this lost empire. Obese tree roots and encroaching jungle inspire a sense of adventure and exploration.
The characters of the thriving markets are almost as colourful as the crazy fruit and veg. Show kids there's more to food shopping than sterile supermarkets with trips to the marketplaces of Phom Penh or the floating markets of the Mekong and Sangker Rivers. Curiosity works both ways – the locals will be just as interested in your kids!
Landmines may seem like an odd topic for fun-seeking families, but the Landmine Museum near Siem Reap is a fantastic introduction to Cambodia's history – and the selflessness of local people in clearing mines and caring for those wounded by them. It's an uplifting encounter, and older kids will be inspired, as well as appreciating their own privileged position.
Our top Cambodia family Vacation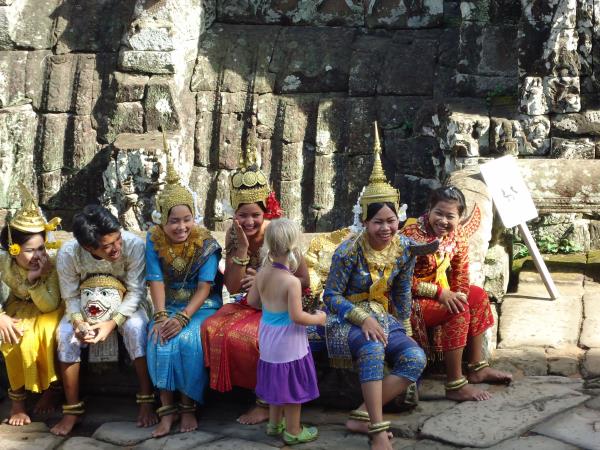 A fabulous family vacation including the best of Cambodia.
From
US $

1750

to

US $

2400
14 days
ex flights
Tailor made:
This trip can be tailor made throughout the year to suit your requirements
If you'd like to chat about Cambodia or need help finding a vacation to suit you we're very happy to help.

Travel advice for families in Cambodia
Lesley Schofield, from our supplier All Points East, shares her tips for traveling in Cambodia with kids:
"Cambodia is very popular with families; there's quite a lot to do. At Angkor Wat, people think the children will get "templed out" but with some of the more remote ones, because they're so ruined, there's not a problem with kids climbing up over them or being on the stones – it's quite Indiana Jones-y.
With kids you don't want them trailing round after you getting bored with all the history, so we like to spread it out. See sunrise at Angkor, then once things start to get hotter you go back to the hotel, lounge around the pool, go to the market for lunch, then go back later on in the day when most of the crowds have gone That also allows you to avoid the heat of the day, and there's less crowds. If you're lucky, at some temples you'll be the only people there. It's a real, wild jungle experience."
Liddy Pleasants, from our supplier Stubborn Mule Travel, spent a month traveling around Cambodia with her children, then aged two and five. She shares her advice for traveling in Cambodia with kids:
"The bamboo train near Battambang is amazing for children. It's an old, French railway which is no longer used by trains. The locals use what they call a "bamboo train": two sets of wheels with a bamboo platform on top. You sit on the platform, shooting along the countryside at about 30 or 40mph, but because it's single gauge, if there's anyone coming in the opposite direction you stop, and whoever has less stuff on top of their platform has to unload it, take the bamboo platform off then take their wheels off so the other one can go past. Kids are completely fascinated by it. The whole thing's powered by a little motorbike engine, but they go surprisingly fast! It's exhilarating and extremely fun."