Austria winter sports travel guide
Austria gives good winter. Up in the Alps, the air is fresh, the sun feels warm and the mountains wear a thick coat of snow. Vacations here celebrate mountain culture and cooking, but most of all, they get you out there. A tempting smorgasbord of winter activities exists, which seek to make the most of the natural environment in its pristine state, rather than changing it. So forget ski slopes and try snowshoeing, cross country skiing, winter hikes, ice climbing and tobogganing.

Winter means a white out in Austria, but it also means so much more than downhill skiing. So get out there, get active and get seriously off piste.

Small group trips that include tuition and guides are the way to get the most from the mountains, learn a new skill and stay safe, and each day the leader will choose routes and activities according to conditions and forecasts. You don't need to be an experienced winter sports person, either; just someone with a love of big peaks and big fun in the crisp outdoors. Keep reading our Austria winter vacations guide for more.
IS AN AUSTRIA WINTER HOLIDAY FOR YOU?
Go on an Austria winter vacation if...
… you want an authentic slice of Austrian life. You won't be confined to a crowded ski resort, but will be living in a mountain village where life continues as it has for centuries.
… you're desperately seeking a proper winter. Leave the dark and drizzle behind and get your fix of deep white snow, mountain views and fresh air.
… you have a short attention span. Winter activity vacations pack in a broad mix of fun experiences so you won't get bored: winter hikes, cross country skiing, snowshoeing tours, sledging and tobogganing are just the start.
… you are reasonably fit. You don't have to be a mega athlete, winter sports nut or adrenaline junkie. So long as you have basic fitness and healthy knees, you can get out and enjoy the natural beauty of the mountains.
Don't go on an Austria winter vacation if...
… you love life on the piste. While some vacations include the option of downhill skiing, they focus on a wide range of activities and a more authentic experience, from sledging and snowshoeing to cross country skiing.
… you want to travel in December. Most winter activity vacations run from January, when snow is most dependable and there's no need to rely on resorts that manufacture the environmentally damaging fake stuff.
… you are vegan, or even vegetarian, and hoping to stay in a traditional hotel. Tyrolean cuisine is big on meat and massive on cheese. Be sure to ask your vacation company instead about accommodation where the food emphasis is on healthy rather than regional.
… you're after a family vacation. Some group activities and winter vacations have a minimum age – often 16 or 18 years. Others accept younger children, so do ask.
Our Austria winter Vacations
If you'd like to chat about Austria winter or need help finding a vacation to suit you we're very happy to help.

AUSTRIA WINTER HOLIDAYS MAP & HIGHLIGHTS
The Tyrol, in western Austria, delivers textbook Alpine scenes, with soaring snowy mountains, pine forests dusted in white, gleaming lakes and picturesque villages nestling in valleys. Here, cosy chalets offer the promise of Schnapps by the fire and some Oom Pah Pah to warm you after a day on snowshoes or cross country skis. Traditional towns and villages such as Achenkirch and Seefeld offer a taste of authentic mountain life, free of manufactured ski resorts, and although they're off the beaten track, they're easy to reach: you can land in Innsbruck and be up in the mountains in an hour.
1. Achensee
The largest lake in the Tyrol, Achensee is surrounded by the Karwendel and Rofan mountains, in the heart of the Alps. There are over 200km of cross country skiing tracks, or loipes, in and around the Achen Valley, or explore around Pertisau on the western lakeshore, which borders the forested valleys and white pastures of Karwendel Alpine Park Nature Reserve, the largest in Austria.
Hone Tauern National Park
2. Hone Tauern National Park
The biggest national park in Austria and the European Alps, Hohe Tauern is also home to Grossglockner, Austria's highest peak. Soaring up to 3,798m, it's a mountain drenched in local legend, surrounded by more than 300 other peaks over 3,000m, plus glaciers, rivers and waterfalls, lakes and wildlife. Hike through it on snowshoes, looking out for bearded vultures, Alpine ibex and chamois.
3. Innsbruck
Many winter vacations to Austria feature free time in the capital of the region, Innsbruck. Don't miss its late medieval old town, impressive Habsburg palace and baroque cathedral, and pop into the Tyrolean Folk Museum, too. Then just drink in the mix of urban and outdoors, with the peaks of the Nordkette range so close it's possible to go from city center to 2,000m altitude in 20 minutes.
4. Kals
Kals is still very much a farming community, surrounded by unspoilt beauty. It's also one of the most snow-sure regions of the Alps, so if you're keen to ski and snowboard, you can usually do it here on the real thing, not on manufactured snow. There are several restored water mills, dating from the 1700s, in the valley, and great views of the big peak, Grossglockner.
5. Seefeld
Seefeld is one of the top regions for winter sports and has hosted the Winter Olympics twice. It has more than 256km of immaculately prepared cross country skiing trails that suit all abilities and, as it sits at an altitude of 1,200m, gets plenty of snow all winter. Come for some winter walking, too, on paths and forest tracks, many of which don't require snowshoes.
6. Winter activities
Snow doesn't stop play in the Austrian Alps, it starts it, and there are plenty of ways to enjoy the wintery outdoors. Learn to cross country ski or take it to the next level with a week of skate skiing. Strap on snowshoes and walk to a dramatic spot for a panoramic picnic, try some winter hiking, hit the pistes or channel your inner child with tobogganing and igloo building.
More about Austria winter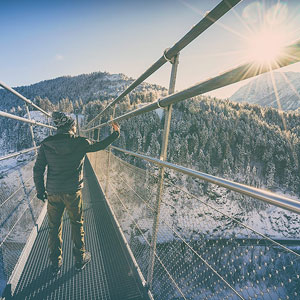 The best time to go on a winter vacation in Austria is, unsurprisingly, winter.