Marian Thompson, from our West Africa-based supplier, M and J Travel, shares her travel tips for visiting Benin:
Itinerary advice
"Benin has a lot of wildlife – several of the Big Five live here, and you can see them in Pendjari National Park. Ghana just has elephants, so if you combine it with a trip to Benin you can see elephants, lions, cheetah, hippos… it's a good way to combine the culture with wildlife. We usually spend two nights in Pendjari to have time to go on safaris. And at Ganvié you have the "Venice of Benin" – a village on stilts in the middle of a lake. It's very authentic; the people you see there are just living their lives. You can stay in a hotel that is actually out in the middle of the lake, it's totally unique, and one of the best experiences in Benin."
Health and safety
"The tip is to be well prepared. You must have all your injections, there is malaria so you must have tablets, and mosquito spray as well. And be sure to take out travel insurance – if you can find one which has a local agent that is good, that will help you out a lot."
Shopping tips

There is a lot of metalwork in Benin. There are markets in every town but the best place to go is the craft market in Cotonou.

Jim O'Brien, from our Benin supplier Native Eye, shares his Benin travel advice:

Fetishes
"There's a really interesting fetish at in Savalou called the Dankoli fetish. It is the most powerful fetish in the whole country, so you get a lot of pilgrims coming there to make sacrifices. I don't know what it was originally but so many people have made sacrifices here that it's just this mound of blood and feathers and wax and just congealed, rotting matter that they pay homage to. Voodoo is the state religion; it doesn't have the same connotations in Benin as Hollywood has given it. It's almost like a fairytale world. I'm slightly in love with Benin!"
Being prepared
"No one comes to West Africa as a first time visitor to the continent; everyone tends to start off with East Africa or Southern Africa. West and Central Africa are much harder, and the attractions are less well defined, so you have to look for it and you have to be prepared for a bit of adventure, and to be honest a fair few problems along the way. We do our best to mitigate any problems that there might be but we always tell people to travel to Benin with a sense of humour and expect things to go wrong from time to time – and be patient while we sort it out!"
Our top Benin Vacation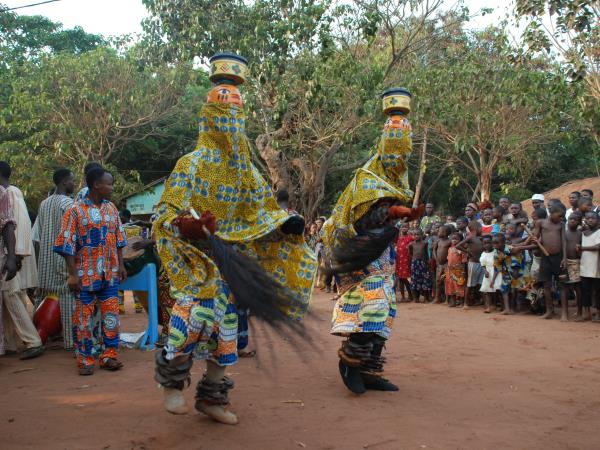 Traditional villages and voodoo in Ghana, Togo and Benin
From
£

3099

to

£

3299
14 days
ex flights
Small group travel:
2023: 23 Jul, 11 Aug, 19 Oct, 16 Nov, 26 Dec
2024: 8 Feb, 21 Mar, 2 May, 25 Jul, 11 Aug, 5 Sep, 19 Oct, 28 Nov, 26 Dec
If you'd like to chat about Benin or need help finding a vacation to suit you we're very happy to help.

HEALTH
Visit your GP or travel clinic 6-8 weeks before departure to ensure you are up to date with any necessary vaccinations. A Yellow fever certificate is required to enter Benin, and malaria is present.
Take our comprehensive travel insurance including emergency repatriation.
Medical facilities are poor in Benin even in the cities, and even more so in rural areas. Take a basic first aid kit, all prescription medicines and any over the counter drugs you think you may need.
Do not drink the tap water in Benin, and sure the seal is not broken on bottles of water you have bought. Be careful too with unpeeled fruit, salads, ice and so on which may have been washed or prepared with tap water.
Benin is located very close to the equator and the sun is fierce. Always wear high factor SPF, and cover up as much as possible, even on overcast days. And keep well hydrated, too.
The harmattan wind blows down from the Sahara in November to March. It is a very hot, dry wind that brings a lot of dust – you'll appreciate having plenty of moisturiser and lip balm. Contact lens wearers may need to use eye drops or think about using glasses, and keep a bottle of water handy for a tickly throat.
SAFETY
Petty crime and pickpocketing is the greatest threat in Benin, so take the usual precautions, don't carry valuables and use a moneybelt. Avoid walking round the cities alone at night, and don't walk along the beaches by yourself. Visitors should also be very vigilant in Cotonou and in particular in its Dantokpa market.
Public transport is always a full on immersion into a new culture – but be aware that driving standards are poor, as is vehicle maintenance. If you are really keen to try Benin's buses, take a short minibus ride around the city, rather than an intercity bus or taxi.
The long, empty, sandy beaches are incredibly enticing, but the sea is rough with large waves, strong currents and dangerous undertows and riptides. Do not swim in the sea here. If you do happen to get caught in a riptide, swim parallel to shore and never against the current; most deaths occur when the victim exhausts themselves by trying to swim back to shore. Wait until you come out of the rip (and you will), then swim back.
You generally won't experience much hassle in Benin as tourism is still rare– but women in particular can reduce the amount of attention they get by wearing modest clothing, covering shoulders and knees, at least. The more rural the community, the more conservative – so cover up as much as possible, even though it is hot. Loose scarves around the shoulders or sarongs are a good idea.
Homosexuality is legal but still a taboo in many communities; same sex couples should act discretely.
There is no British Embassy in Benin. Note down the contact details for the British High Commission in Accra, Ghana, should you require assistance while in West Africa.