Budget Bhutan map & highlights

Bhutan's mystic religious heritage, awe-inspiring mountain scenery and tranquil atmosphere are an intoxicating invitation to the intrepid traveler.

This is the Land of the Thunder Dragon, but while the wind may rush over the steep mountain passes, you won't. Bhutan might be the epitome of a slow travel destination where even if it was possible to get around faster, the blissfully serene atmosphere would discourage it anyway. Most trips begin in Paro and then continue to the capital, Thimphu, before heading further east to Punakha and beyond. It's not uncommon to meet holdups on the road, but traffic jams here are more a cause for celebration than frustration. Get out and stretch your legs, soak up the majestic scenery and get to know your fellow travelers – the time will fly.
1. Bumthang
Even in a country renowned for its serene and gentle way of life, Bhutan's religious heartland is a laidback place. You will find some of Bhutan's most ancient temples in the Bumthang Valley, many linked to Guru Rinpoche, who introduced Tantric Buddhism to Bhutan, including Jambay Lhakhang. Here also is the fabled 'Burning Lake', a sacred pilgrimage site surrounded by fluttering prayer flags.
2. Paro
Bhutan's only international airport is located just outside this charming little town – the descent between snowcapped peaks into a green valley is a real wow-worthy moment. The Ringpung dzong here with its beautiful central tower hosts one of Bhutan's most well-attended tshechus, yet it is the cliffside Tiger's Nest temple that garners most attention. The hike up takes a few hours, but is lined with picturesque viewpoints.
3. Phobjikha
Late October sees flocks of black necked cranes arrive in the Phobjikha Valley from the Tibetan plateau, circling the Gangteng Monastery three times in what some view as a form of blessing. The popular Crane Festival follows in early November. You can also see many other forms of wildlife in this attractive valley, several of them endangered, including barking deer and Himalayan black bears.
4. Punakha
Home to Bhutan's most impressive dzong at the confluence of the Father and Mother rivers, Punakha has a lower altitude than Thimphu and serves as the country's winter capital. Also worth seeking out here is Chimi Lhakhang, a small monastery said to have been blessed by the Divine Madman, a curious monastic missionary whose biography makes for an eyebrow raising read.
5. Thimphu
The Bhutanese capital is a beguiling mix of ancient and modern, not only in architectural styles but atmosphere, too. There are many important Buddhist landmarks here of course, but Thimphu is also quite a cosmopolitan city, where you can grab a cappuccino while catching up on your emails in an internet cafe. Don't miss the morning ritual at the National Memorial chorten.
6. Trongsa
Enveloped dramatically with mountain peaks, the sleepy, whitewashed town of Trongsa is situated in central Bhutan overlooking a gorge and surrounded by forest. Once the royal capital, it is now best known for its dzong, and the annual tshechu held in December or January, celebrating Guru Rinpoche's arrival in Bhutan.
Our Bhutan budget Vacations
If you'd like to chat about Bhutan budget or need help finding a vacation to suit you we're very happy to help.

Tips from our vacation reviews
At Responsible Travel, we think the best people to advise our travelers are often... other travelers. They always return from our tours with packing tips, weather reports, ideas about what to do – and opinions about what not to.

We have selected some of the most useful budget Bhutan vacation tips that our guests have provided over the years to help you make the very most of your vacation – and the space inside your backpack.

The most memorable moment has to be the Tigers Nest Monastery outside Paro - lovely climb through the trees, then such a beautiful set of temples.

"All visitors pay a 'levy' to the Bhutan government as part of their tour entry cost - this goes to pay for provision of schools and health services as well as building/upkeep of roads etc " – Andy Clapham

"The most memorable moment has to be the Tigers Nest Monastery outside Paro - lovely climb through the trees, then such a beautiful set of temples. Makes the trip to Bhutan worthwhile just by itself. Some of the ATMs and card readers read the magnetic strip on your card rather than the chip. This can trigger blocking of the card by your bank. Make sure that you are contactable so that the card can be unblocked. A beautiful relaxing country to visit. Scenery and sights are fantastic. Our driver and guide were top class. No complaints whatsoever." – Stephen Osgerby

"Bhutan is a wonderful country to visit although clearly more expensive than its neighbours due to the government's pricing policy. That said, it is generally much cleaner than other countries nearby and there is less hassle. One or two of the hotels were slightly disappointing for the price paid but that doesn't detract from the fabulous views and memories from this vacation." – Mike Carson

Go to Bhutan if you want to be immersed in a spiritually rich, beautiful and authentic nation with a captivating history and road to modernisation. Their way of living could teach the west a lot!

"Bhutan provides an opportunity for adventure like no other place I've visited. Don't let the price put you off. Bhutan is not somewhere you travel to just to snap a selfie, grab a souvenir and add a stamp to your passport. Go to Bhutan if you want to be immersed in a spiritually rich, beautiful and authentic nation with a captivating history and road to modernisation. Their way of living could teach the west a lot!" – Renee Summers

"You should probably consider bringing the equivalent of up to $50 per day to cover drinks, tips and souvenirs." – Roisin McArdle

"For an independently-minded traveler, I found Bhutan a little strange as you have a guide with you at all times and there is clearly an itinerary which most tour guides follow...though very few tourists overall and no big groups: Great! This way of traveling isn't specific to this company but is how tourism works in Bhutan and busy itineraries do have the benefit of ensuring that you see a great deal in a limited amount of time. Try to speak to local people and ask your guide to take you somewhere where locals go to get more of a feel for local life." – Julia Rosenbaum

"Make sure you understand the visa systems for these countries - it could cost you lost time as well as money" – Edwina Hughes
More about Bhutan budget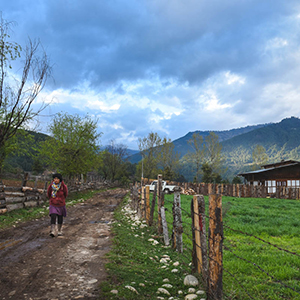 Bhutan is the poster child for 'high yield, low impact' tourism that, to date, appears to tie in exceptionally well with the government's Gross National Happiness policy, while also preventing the scourge of overtourism. So what you'll find in our Budget Bhutan vacations guide is that this is one destination which will never be cheap, but rarely will you find anywhere that gives you so much value for your money.