With just six dead flat kilometres between Siem Reap and Angkor Wat, cycling tours aren't just feasible, but an enjoyable way to explore the vast archeological park. You'll have the freedom to escape the crowds and avoid the coach trips, explore paths that the tuk tuks can't reach – easing the pressure on the site itself – and know that you're not adding another fume-belching motorcycle into the mix. A report in 2014 revealed that air pollution from the hundreds of tuk tuks, and aging tourist buses operating around the site is a serious problem, with the temples at significant risk of acid rain erosion as a result.
What does an Angkor Wat cycling tour entail?
Most guided cycling tours of Angkor Wat form part of a longer itinerary through Cambodia – and some even into Thailand and Vietnam. If you're on one on of these trips you can expect to spend a couple of days exploring the highlights of the site. While one day will be guided, you'll also generally enjoy a free day to get out to some of the more minor temples.
Usually you'll have the option to explore on your own, or join a guide as you cycle around the site on a free day. Most people tend to opt for the latter. Having an Angkor expert on hand not only brings the temples, their stories and significance to life, but can be invaluable for unveiling the back-entrances, side gates and quieter spots to help you enjoy the site away from the coach-trip hordes.
Andrew Appleyard, from our cycling experts Exodus Travels says:
"It's a fantastic day, escaping from the crowds and with no real planned schedule, if a temple's busy we just go to another one".
Independent or guided, either way your entry pass into the archaeological site will allow you access all over, so there's no need to worry about additional entry fees to access different areas of the site. If you're cycling around the main Angkor complex – including Angkor Wat, Angkor Thom and the temples and monuments nearby – you can expect to cover around 12 to 20km in one day. Generally if one place is too busy when you arrive you'll have the freedom to simply hop back on your bike and visit somewhere else first. When you do hop of your bikes to explore you'll usually not have to worry about locking up – our small group cycling experts say they've never had bikes stolen from the site – but they do carry locks in case.
If you're heading out to the more remote Banteay Srei – an intricately-carved, red sandstone Angkor-in-miniature that is also included in the main Angkor entry permit – it's a 35km ride there and back. The route is beautiful though, taking you out into the Angkor countryside past paddy fields and through quiet rural villages.
You'll need to make sure you're leaving the park before sunset – and ideally you want to be cycling on the busy road back into Siem Reap in daylight. Most small group cycling tours will have a back-up vehicle on hand to pick you up should you leave it a bit late, or if you have any problems while cycling around the site.
If you're going to be visiting Angkor as part of a tailor made, bespoke vacation then your Cambodia vacation specialist will be able to arrange bike hire in Siem Reap and a guide if you want.
Eric Beasant from our supplier World Expeditions on the advantages of seeing Angkor Wat by bike: "The best part of cycling around the Angkor Archaeological Park is there are many trails which bicycles can access but not cars, and especially not the large tour buses. We can also enter and leave some temples from the rear or side entrances, letting you appreciate the quiet corners away from the large crowds. For sunrise, everyone wants the quintessential 'sun rising behind the towers of Angkor Wat with pond reflection' shot, which is taken from behind the northern reflection pond. There will always be crowds, but if you're up early you can get the best spots. This also applies to temple touring in general. If you arrive at Ta Prohm when it first opens, you will have the place pretty much to yourself for the first half an hour."
Our top Cambodia cycling Vacation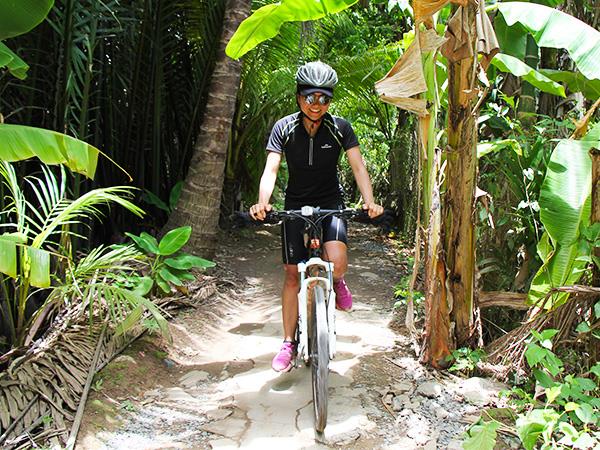 Explore Phnom Penh to Saigon and everything in between
From
AU $

2790
12 days
ex flights
Small group travel:
2023: 19 Jun, 17 Jul, 21 Aug, 18 Sep, 16 Oct, 20 Nov, 25 Dec
2024: 13 Jan, 29 Jan, 19 Feb, 18 Mar, 20 May
If you'd like to chat about Cambodia cycling or need help finding a vacation to suit you we're very happy to help.

While you're not going to be pedalling flat out, it's still going to be relatively hot work cycling around Angkor. Happily there's plenty of shade to be had in the temples themselves, especially those overrun by the jungle, and at roadside snack bars and restaurants where there's plenty of opportunity to buy a drink and grab a bite to eat. If you prefer, you can head back to your hotel in Siem Reap for lunch – and cycle back to the site in the afternoon.

Be aware, that while it can be hot and humid this is still one of the most significant religious sites in Southeast Asia. A strict new dress code has been enforced since 2016 to combat a spate of nude photo stunts – and you won't be allowed into the site in skimpy shorts and strappy, backless tops. You'll need cool, breathable clothing that covers knees and shoulders and be aware that simply wrapping a scarf or sarong around short cycling gear is unlikely to be sufficient. The dress code is particularly strict if you want to access the top levels of Angkor Wat itself – the most sacred part of the site.
Best time to go on an Angkor Wat cycling tour
Cycling tours run year round, but for the best conditions at Angkor you're best off avoiding the rainy season from May to October (or just after it) when the unmade roads – particularly the quieter, more rural ones – can become muddy and make for difficult pedalling. On the plus side, the temples are quieter at this time of year (although never empty), keen photographers will enjoy the dramatic skies and while you can expect rain, this often falls in short but torrential bursts rather than continually. Temperatures soar in April, while November to March are much drier, as well as a being cooler and less humid and generally offer better conditions for cycling tours. You'll need to be prepared for crowds – this is when the majority of people visit – but your bike and guide will help you help you find the quieter spots.
More about Cambodia cycling