The ancient ruins of Angkor, once capital of the Khmer Empire, form the jewel in Cambodia's crown. It's difficult to emphasise how magnificent they really are unless you've seen them for yourself. Angkor Wat is the world's largest temple complex; it's roughly the size of Vienna, a UNESCO World Heritage Site and – it goes without saying – an awe-inspiring architectural masterpiece. Located just a few kilometres outside the city of Siem Reap, it's also easy to reach, and to explore, by bike.
Over 1,000 temples and other ruins draped in jungle are spread out across mostly flat terrain, linked by shaded paths. Traveling by bike offers a time-saving advantage as well as a unique perspective – many of the routes are too narrow for larger vehicles such as tuk tuks, so you won't encounter as many people.
Our Cambodia cycling Vacations
Need to know
Seeing Angkor Wat may well be on your personal bucket list. Unfortunately, it's also on a lot of other people's bucket lists too. During Cambodia's peak travel season from November to May, the
most popular sites of Angkor Wat
can be jam-packed all day long, even at sunrise. The ruins are unquestionably at their most beautiful during the rainy season when the vegetation is thick and green, and the moats full of water, but even the threat of regular downpours doesn't put much of a dent in visitor numbers. Luckily, your tour leader is bound to know the quietest times of day, as well as the and spots to get the best photos while avoiding the crowds.
Cambodia cycling itineraries typically feature just a day, or a day and a half at most in Angkor Wat, so you will really only have time to see the main points of interest. Cycling saves you plenty of time getting around, however; and just pedalling gently between locations is immensely enjoyable in itself. Do remember that in Angkor Wat, as at other religious sites, appropriate attire is required – knees and shoulders must be covered.
Our top Cambodia cycling Vacation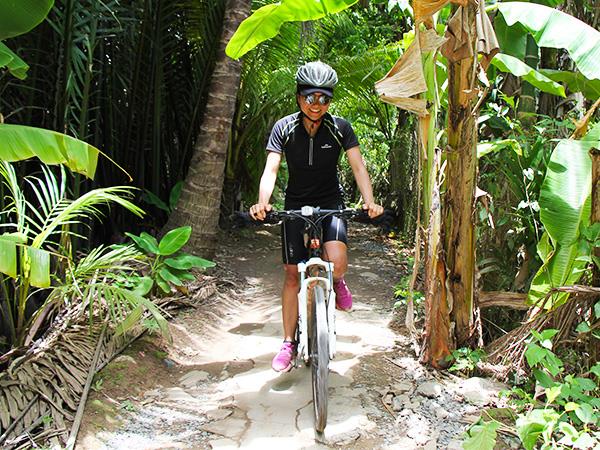 Explore Phnom Penh to Saigon and everything in between
From
AU $

2550
12 days
ex flights
Small group travel:

If you'd like to chat about Cambodia cycling or need help finding a vacation to suit you we're very happy to help.

Angkor Wat cycling highlights
The most recognisable site in Angkor Wat is Ta Phrom, the eerie 'Tomb Raider' temple shrouded in tangled tree roots, which has been left largely undisturbed since discovery due to its aesthetic appeal. If there are 1,000 people wandering around it at any one time, you can bet at least a dozen of them are humming the refrain from 'Indiana Jones'. Slightly to the north of Angkor Wat, Angkor Thom is a fortified city with a moat that was once full of crocodiles. There's probably none left, but best to try and not fall in anyway. The bas reliefs here, depicting scenes from 12th century life, are particularly impressive, while the Terrace of Elephants is a must for a photograph. All paths in Angkor Thom eventually lead you to the Bayon, the state temple of Buddhist King Jayavarman VII. The stone carvings here are astonishingly intricate, most notably the multitude of giant smiling faces that seem to watch your every move. East Mebon is not as busy as Angkor Wat, and it's especially attractive at sunset when the stone takes on a reddish glow. It dates back to the 10th century, making it one of the oldest temples here, yet many of its sculptures remain in excellent condition.
Eric Beasant from our supplier World Expeditions on the advantages of seeing Angkor Wat by bike:
"The best part of cycling around the Angkor Archaeological Park is there are many trails which bicycles can access but not cars, and especially not the large tour buses. We can also enter and leave some temples from the rear or side entrances, letting you appreciate the quiet corners away from the large crowds. For sunrise, everyone wants the quintessential 'sun rising behind the towers of Angkor Wat with pond reflection' shot, which is taken from behind the Northern reflection pond. There will always be crowds, but if you're up early you can get the best spots. This also applies to temple touring in general. If you arrive at Ta Prohm when it first opens, you will have the place pretty much to yourself for the first half an hour."
More about Cambodia cycling