Best time to visit Cameroon

Head to Cameroon from November to February for cooler, drier weather – but watch out for the dusty Saharan
harmattan
wind.

Tropical Cameroon spans the dense, lush forests in the south, to the far drier north, nudging up towards the Sahel. Rains fall across the country from May to November, with July onwards seeing the heaviest downpours; part of the Ring Road simply disappears at this time. Mount Cameroon is by far its wettest region (particularly the western slopes), along with the coast – expect uncomfortable humidity here, too. The drier north can reach 40°C in the hottest months of March – May, and the rainy season is shorter, from around May to September.
Things to do in Cameroon
Though Cameroon's gorillas and chimpanzees can be seen in the wild, your best bet is the excellent sanctuaries that battle the bushmeat trade. Limbé is the best known, but they can also be seen in large enclosures at Mfou Primate Sanctuary in Mefou National Park. Pongo Songo, a reserve, specialises in rescuing baby chimps, who are fostered by the older chimp residents. They live without enclosures on an island. Reintroduction into the wild is, sadly, rarely possible – so closer interaction with humans may be permitted.
Spend time with tribes. With 250 ethnic groups, you'll never meet all of Cameroon's peoples – but the Ring Road is a good start, linking numerous small kingdoms, traditional villages and artisan workshops. In the Mandara Mountains, the Koma are some of Cameroon's most fascinating people. Having fled here to escape colonial and tribal invasions, they remained unknown to outsiders until the 1980s. The Fulani are elegant and striking – nomadic cattle herders of North African origin, who you'll likely encounter on your Cameroon travels.
Jim O'Brien, from our Cameroon specialist Native Eye, recommends staying in a hunter-gatherer village: "I stayed in a village near Kribi and went out into the forest with them, and collected honey. They're very marginalised, they don't really play much part in mainstream society unfortunately. The people are really, really friendly and they like to have a drink and party, which is quite interesting! You get more accepted the longer you stay with them."
Things not to do in Cameroon...
Ignore the plight of the Baka people. The Baka have been displaced from their native forests by conservation projects, which assume that people cannot live sustainably alongside forest ecosystems – despite the fact that the Baka have done so for millennia. If they hunt to feed their families, they risk being shot by anti-poaching squads. Survival International explains more here. The term 'pygmy', which has been used to describe several Central African hunter-gatherer tribes, is considered pejorative by the tribes themselves, such as the Baka people, who prefer to be known by their tribe's name.
Buy bushmeat. We always encourage travelers to experience local cuisine, but we do draw the line at encouraging poaching – especially of endangered species. The scale of the trade here is quite shocking, with tentative steps having been taken to regulate it – but monkeys, pythons, porcupine and pangolin are a common sight in markets – with bigger primates occasionally making it to the table, too. Don't support it – and avoid souvenirs made from animal parts, too.
Give inappropriate gifts. Responsible tour companies will compensate traditional communities, like the Koma people, for hosting travelers – but these payments are well thought out in order to complement their traditional lifestyles. Items such as sugar and tea can be given to the elders, who can share it out amongst villagers; cash, clothing, sweets and pens may well be inappropriate tokens. While we have no issue with traditional communities adopting more modern ways of life, we do think they should be able to do it on their own terms, without it being thrust upon them through tourism.
If you'd like to chat about Cameroon or need help finding a vacation to suit you we're very happy to help.

Culture tips
Jim O'Brien, founder of our West Africa specialist supplier Native Eye Travel, shares his top tips for travelers in Cameroon:

"One of the highlights is the Mandara Mountains. They're on the border with Nigeria and there are a lot of animist ethnic groups. I went to a place called Rhumsiki and they've got a guy there who they call the Crab Sorcerer who predicts the future using crabs. He puts them in an urn along with some sticks, and depending on how the crabs move around and move the sticks, he'll tell the future or answer your questions from that.
The surrounding landscape is volcanic plugs, so the lava's come up and solidified and the mountains have eroded around them so you've got these striking outcrops. It's a beautiful area, it's really, really nice with lots of little villages, and the ethnicities change very, very quickly."
Take the train
"One thing I really enjoyed doing in Cameroon is taking the overnight train from Yaoundé to Ngaondere in the far north. The north and the south are terribly connected in terms of roads, so the only real effective way to get there is by train. It's quite an atmospheric journey because you go through the forest at night and you're surrounded by these big trees. When I went through there was this big thunderstorm, so you've got these towering trees above and lightning coming down. The train is quite comfortable, a nice sleeper train – it's a different element, you get to meet local people outside of the tourism experience. It takes something like three days to drive the journey that it would take the overnight sleeper train to do, so most people take the train or fly. The trains work quite well in Cameroon, there's not a massive network but what they have works reasonably well."
Advice on seeing primates
Advice on seeing primates
"There's a sanctuary near Kribi called Pongo Songo for chimps rescued from the bush trade. It's on the banks of a river and there are a couple of islands where they've reintroduced these chimps to a semi-wild environment. They're accustomed to humans because people are coming in to see them; the baby chimps are running around and they're quite curious – sometimes they run up and jump on you! Because they're orphaned they need some sort of adult contact before they can be reintroduced, they need looking after. When they get to a certain age they are reintroduced into the semi-wild environment with the adult groups. It's very difficult to take an orphaned chimp and reintroduce it into the wild, especially if it's been kept for the pet trade; it's used to humans and it's not going to have that fear of them that they really need. So at Pongo Songo they live as wild a life as they can."
More Cameroon articles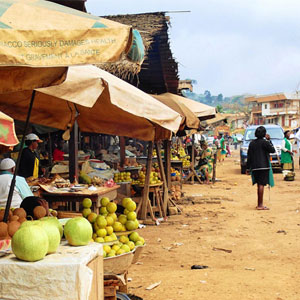 Cameroon, which straddles Central and West Africa, really should be better known by tourists outside Africa.