Polar bear watching in Churchill

It's not a fair weather activity, watching polar bears. So get your layers ready and think 'Brrr' rather than 'bear' in most cases. It is, however, totally brrrrrrilliant.

Best time to go polar bear watching in Churchill
As the song goes, it's not every day you can get to see the bears having a picnic. October to November is, however, the best time to see polar bears in the totally way-out-there wilds of Churchill, Manitoba, as they cross this vast open tundra where they have spent the summer en route to catch seals. This is because Hudson Bay starts to freeze over, providing perfect perches for seal hunting and winter feeding fests. However, they must go somewhere in summer, right?

The Seal and Churchill Rivers are the summer hangout of polar bears making for a very different bear viewing experience, but combined with beluga whales and extraordinary birdlife, is a wildlife winner. You can see polar bears in the Arctic regions of Svalbard/Spitsbergen and Greenland but these are trips that take place on the water, and you don't get a chance to be as up close and personal there. On Churchill trips you feel as if you are part of the picnic. Albeit safely tucked inside bear proof tundra buggies, otherwise you would be.
Mothers & cubs
It is possible to witness one of nature's most beautiful sights, and that is the emergence of polar bear cubs from their dens, where they have been hibernating for several months since birth, with their mothers. Also known as COY's (cubs of the year), this is their first step into the outside world, and they will stay close by their mothers' sides for up to two years as they learn to survive alone. This spring awakening takes place in March, and a handful of specialist wildlife operators do organise trips during this time, staying in remote lodges near Churchill that are close to denning sites. However, these trips only accommodate a few people, and often book up a few years in advance as they are so spectacular. Don't let that put you off though. It is worth the wait.
Beluga & birdlife beauties
If you go to Churchill to see polar bears in July and August, you will be able to combine it with some beluga whale watching and also some binocular at the ready bird watching frenzies too. Because there are at least a hundred species of birds to be seen here in summer, such as ptarmigan, Smith's longspur, and jaegers.

Beluga whales are also a sight to behold at this time, as they gather in Hudson Bay with not only tourists ready to pounce with their cameras, but polar bears sometimes perched on rocks ready to take a shot at supper too. And whatever your mission, it certainly is something to feast your eyes on, with over 57,000 belugas basking and brooding in the Arctic waters at this time. Brave tourists can even don dry suits and go swimming with them, when supervised by responsible whale watching experts, of course. But although summer day are long, don't assume they are warm; temperatures only stop being sub-zero between late May and early September – with the warmest months of June and July scraping (barely) into double figures.
Our top Canada Vacation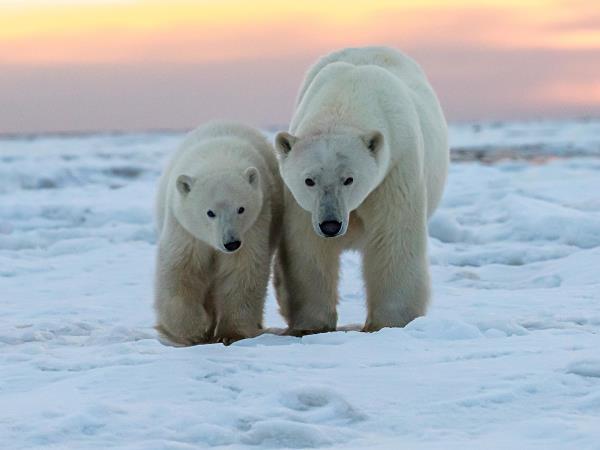 Week watching Polar bears in the Canadian Arctic
From
£

4995
7 days
ex flights
Tailor made:
This trip can be tailor made throughout the year to suit your requirements
If you'd like to chat about Canada or need help finding a vacation to suit you we're very happy to help.

The Northern Lights
Churchill is also one of the best places in the world to see the Northern Lights and they are doing their Borealis best during December, January, February and March, into early April. However, you might also be lucky enough to catch them during the summer months, although the nights are much shorter during this time. And also if you are polar bear watching in October and November, as they may start to shimmer around this time.