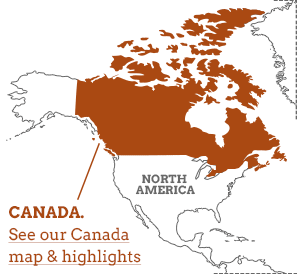 You're never far from the wilderness in Canada, and our Canada vacations are all about immersing yourself in it, with spectacular wildlife encounters near-guaranteed. Small group and tailor made tours prioritise animal welfare, with expert guides ensuring you get amazing views while abiding by codes of behaviour. Admiring grizzly bears in British Columbia, kayaking with whales off Vancouver Island, hiking with elk in the Rockies or spying polar bears from Manitoba – Canada is a wildlife-watcher's paradise. Our partners also bring First Nations stories and traditions to the fore, acknowledging the roles their communities often play in sustainably stewarding the wilderness.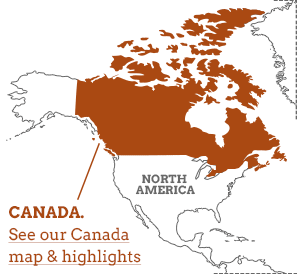 Our top Canada vacations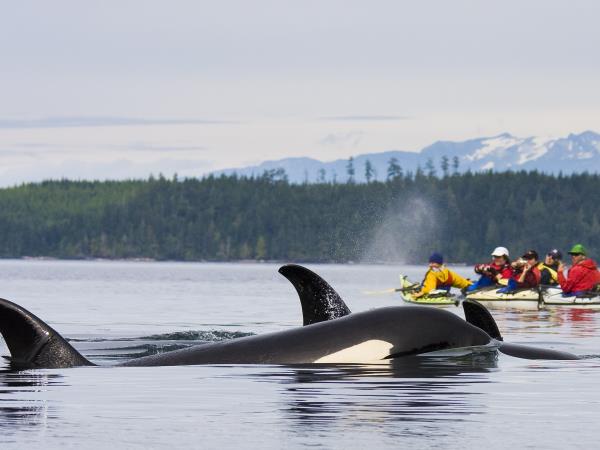 6 days
ex flights
Kayak with orcas and humpbacks in beautiful BC
Small group
2024: 7 Jul, 14 Jul, 21 Jul, 28 Jul, 29 Jul, 1 Aug, 4 Aug, 5 Aug, 11 Aug, 12 Aug, 19 Aug, 25 Aug, 26 Aug, 1 Sep, 2 Sep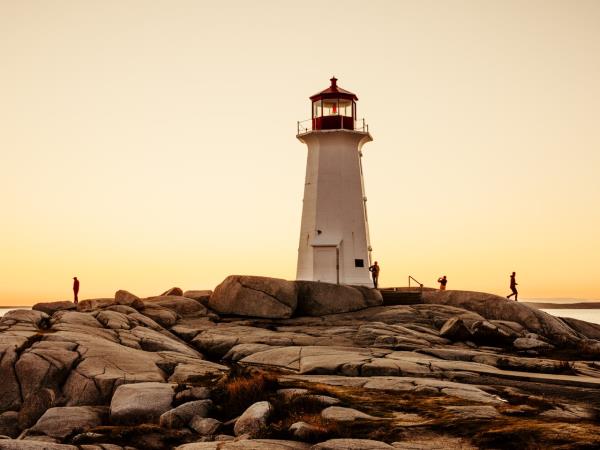 16 days
ex flights
Get off the beaten track in captivating Nova Scotia
12 days
ex flights
Gourmet food, whales and fjords in Quebec
About our Canada vacations
Adventure vacations in Canada
Canadian mountains, rivers and oceans aren't just for looking at – they're for hiking, snowshoeing, white water rafting and kayaking. Canadians are experts at making the seemingly inaccessible accessible, so don't let traveling with kids or specific accessibility requirements put you off, either. Adventure vacations in Canada run nearly year-round, so you can track bears with an expert guide in spring, hike the peaks and plateaus of the Canadian Rockies in summer, kayak the orca bays of Vancouver Island in autumn, and mush between ex-goldmining towns in the Yukon in winter.
Canadian Rockies
The
Canadian Rockies
are the 1,600km-long finishing flourish of the Rocky Mountain chain. They barge through the US border into Alberta, threading north-west through Banff and Jasper national parks, carving out glacier fields, luminous turquoise lakes and hot springs along the way. Canada is even bigger and journey times are even longer than you might think, especially on sidewinding Rocky Mountain roads, so do take your time. Most
Canadian Rockies vacations
last at least 10 days, so that you have time to settle into forest campsites and get stuck into full-day hikes.
British Columbia, Canada
We've thought of a more apt name for British Columbia: Bear Country. Or, as our
British Columbia travel guide
would have it, Bloody Cool. This sprawling province in Western Canada bundles together 900 provincial parks and protected areas, a 26,000km-long coastline that faces the whale-rich Pacific Ocean, and Vancouver Island – and there's still plenty of room to spare. Most
vacations to British Columbia
focus on the wildlife that roams here, from grizzly bears, free-range elk, caribou herds and bald eagles, to sea otters, grey whales, salmon and orca.
Family vacations in Canada
Family vacations in Canada
often head out to the wild west. Here, the jigsaw of national parks is well-supplied with kid-friendly campsites and smooth roads. You could have a tailor made vacation fitted to your brood's requirements, but for older kids small group trips are often the best way to go. Between the campfire stories, cookouts and easy hikes, the kids will make friends for life. Plus, you'll get a guide who can keep your children's attention with stories about the bear forests and Aboriginal kayaking routes you're exploring. Just be sure to stock up on trail mix and root beer for the long drives.
Wildlife watching vacations in Canada
Many travelers seeking out critters in Canada have one beast on their mind: the inimitable bear.
Wildlife vacations in Canada
put you in the hands of expert guides who can search for black, grizzly and even the near-mythical spirit bear in British Columbia and Alberta.
Polar bear tours in Canada
are the crème de la crème. You can often see pods of belugas and narwhals on the same trip when you go to Churchill, the self-crowned "Polar Bear Capital of the World". You're most likely to see cetaceans on the westerly Pacific Coast, where over 10 species of whales and orca chase salmon and seals.
Types of tours & vacations in Canada
Small group vacations to Canada
put you in league with a bunch of similarly minded explorers. They're often best for solo travelers and those on a budget, as you can choose to share rooms or tents and easily meet new people.
Walking vacations
are the best way to see the secretive trails originally trod by Aboriginal Canadians. And really, almost every vacation to Canada is an
adventure vacation
. You might begin and wind down with a few days in Vancouver, Montreal or Toronto, but in-between you'll strike out into sky-nudging mountain terrain, bump across polar bear tundra, or sail to islands surrounded by whale-y great ocean.