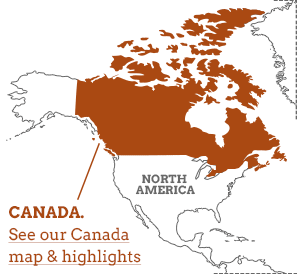 It takes six hours to drive from one end of Vancouver Island to the other. An island that is as big as Austria. And it is just an hour and a half away from Vancouver city. Which sums up Canada rather beautifully really. Wilderness is always just a heartbeat away. And on this island, you can hike for days, snowshoe to a log cabin, see grizzly bears, cycle a plethora of mountain paths and visit Aboriginal communities. You can also go kayaking and see orca whales as you paddle. Vancouver, however, is just like a microcosm of the rest of Canada, where this wilderness stretches on forever, creating the second largest populated country in the world.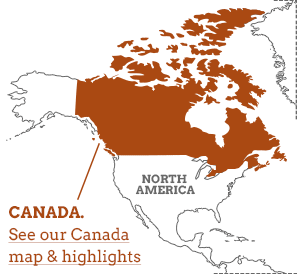 Don't give yourself a heart attack by trying to 'do Canada'. You can't do Canada. It's a place that has such a powerful impact, it's almost as if you have to sit back and let it 'do you'.

The large majority of its population lives within 200km of the USA border, however, leaving the rest of the Rocky Mountains, interior plains, Arctic tundra and maritime magnificence wide open and wild at heart. This Canada travel guide aims to share some more of its mind-blowing microcosms.
Canada is...
about freedom and openness. The Canadians are too.
Canada isn't...
anything like the USA.
What we rate & what we don't
Aboriginal tourism
The correct term for indigenous people in Canada is Aboriginal peoples in Canada, or Aboriginal Canadians. The term 'First Nations' only includes eight tribes, and doesn't encompass the Métis or Inuit. Attending a pow wow is a great way to witness contemporary Aboriginal culture, and there are many of these around the country. Or check out national park reserves, which are on Aboriginal land but under Parks Canada umbrella.
Dog sledding
Also known as 'mushing', this is an exhilarating way to access Canada's wildest places. Traditionally, all mushers share one passion: to go in search of solitude in an unforgiving environment, thereby experiencing a true life of man (and dog) versus nature. Or, as Jack London famously named it in his novel, to follow "The Call of the Wild". And Canada is certainly calling.
National parks
The magnificence of Banff and Jasper National Parks are well known, but there are actually 39 parks, as well as eight national park reserves. The latter are Aboriginal Reserves that have come under Parks Canada management, but which have strong connections with the indigenous people, such as the Pacific Rim National Park Reserve on Vancouver Island. Each province has a provincial park too, like wildlife-packed Nahatlatch Provincial Park in BC.
Grapes & grain
Canadians keep their grapes well hidden under their bushels, but there are many fine wines to be had. British Columbia's Okanagan Valley has plenty of pinots, Ontario has numerous wine regions around Niagara and Lake Erie, and there are over 70 grape growers in Nova Scotia. And with an interior full of grains and a growing worldwide trend for craft distilleries, the spirit is definitely willing in Canada.
Wildlife
British Columbia and the Rocky Mountains are the places to see grizzly and black bears. With the help of expert guides, head to the Tweedsmuir Provincial Park, Bella Coola or the Great Bear Rainforest of BC's snow-capped Coast Mountains. Churchill is polar bear central, on the western shore of Hudson Bay. The Far North is also superb for seeing musk-oxen herds and also migratory waterfowl.
Lakes
It may sound trite, but Canada does lakes like nowhere else. Especially in Ontario where, apart from their eponymous Great Lake, there are 250,000 freshwater fancies. Lake Louise in Banff National Park is the one that comes up in all the catalogue shots, but the park's Moraine Lake is also pure glacial gorgeousness. Float planes are often used as transport from lake to another, so that you can take in the superb glacial formations from the sky.
Wild camping
Putting a tent in a canoe and heading off into the wilderness for some wild camping and nights under the stars, is as Canadian as maple syrup. Traveling with a tour operator means that you have all the equipment supplied, as well as a guide. So all you have to do is paddle, and sink into that mountainous silence that soothes the soul. Wells Gray Provincial Park, Vancouver Island, Banff and Jasper National Parks are top spots for this.
Winter
As well as the chance to see polar bears in Churchill, Manitoba, the cities are alive and kicking in winter, while just out of town you'll have a wild winter wonderland. Algonquin Provincial Park, three hours from Toronto, is perfect for snowshoeing, cross country skiing, ice skating and dog sledding, while Toronto itself has ice rinks galore, island winter walking trails and an active arts scene. Canada doesn't shut down for winter; if anything, it goes up a gear.
Calgary stampede
A ten day rodeo event in July, where animals are subjected to fear and extreme stress for mere entertainment – not only out-dated but also unethical. The stampede does defend itself as taking due care of all animals, which include not only livestock but also horses pushed to extremes, and often death, while chuckwagon racing. Animal welfare groups seek to ban, in particular, the barbaric practices of calf roping and steer wrestling.
Captive whales & dolphins
There are only two aquariums in Canada that keep dolphins and whales in captivity, but this is two too many. They are the Vancouver Aquarium, and Marineland Canada, at Niagara Falls. Given that Canada is blessed with whales and dolphins in the wild, the irony is cringeworthy. Thankfully Vancouver Aquarium no longer holds orcas or belugas, but they do have dolphins. There are still belugas and one orca in captivity at Marineland Canada.
Niagara Falls
It is most definitely a glorious natural spectacle. However, the trashy commercialism of the park is depressing to say the least, and worthy of one big bulldozer. Think Las Vegas in the mist. However, the good side is that the Niagara region itself is a Canadian cornucopia of artisan food producers, vineyards, orchards and exemplary responsible tourism.
Fake indigenous culture
You can get away with camping in a tepee in Europe, but there is something just too cynical and patronising about selling tepee vacations in Canada when you have no ties at all with indigenous tradition. And even worse, your neighbours do. If you want to get to grips with genuine Aboriginal culture, attend a pow wow, shop at genuine artisan outlets or seek out local guides.
Eating & drinking in Canada
Canadian wine is a find. BC's Okanagan Valley, Ontario and Nova Scotia give good grapes.

With an interior full of grains, the craft distillery trend is going crazy. The spirit is definitely willing in Canada.

Bison and elk are big on locally sourced menus. Don't think they are too gamey; they are burger bliss.

Originating in Quebec, 'poutine' is chips, topped with gravy and cheese curd. It's like Marmite. Love it or hate it.

Nanaimo bar is a sugary dessert with crumbly base, custard icing and melted chocolate on top.

We all know about the ice hockey mania in Canada, but few know that lacrosse is the national summer sport. It was adapted from the Aboriginal sport called baggataway.

If you'd like to chat about Canada or need help finding a vacation to suit you we're very happy to help.

People & language
Canada is bilingual, using French and English, although the former is mostly in the provinces of Quebec and New Brunswick. Canadians are generally liberal, open thinkers. French Canadian sounds different to European French but do attempt some words when you are in these regions, as it will be welcomed with a 'merci'. There are also dozens of aboriginal languages spoken, such as in Nunavut, where more than half the population speaks Inuktitut, the traditional language of the Inuit. Most people living in these communities speak English or French too. The regions with the largest aboriginal populations are the Northwest Territories, Yukon and Nunavut.
Gifts & shopping
Visit an Aboriginal artist, such as a potter or a wood carver.

In particular, seek out a genuine Inukshuk, an Aboriginal stone carving of a man, designed originally to guide people across the tundra. Now a nationwide symbol of friendship.

Canadian wine is superb, and beats the proverbial maple syrup as a gift.

Smoked wild salmon travels well, often sold in handmade cedar gift boxes.
Five reasons why Canada is SO not like the USA
It has near universal healthcare.


It was one of the first countries in the world to legalise gay marriage nationwide.


Gun crime is minimal, with no law guaranteeing the right to bear arms.


90 percent of the population lives within 200km of the US border. You can drive for what seems like forever without meeting anyone.


USA has desert. Canada has tundra.

The Trans-Canada Highway connects all ten provinces and is 8,030km long. Imagine driving from London to Istanbul, and then double that. At least. But in Canada, big really does mean beautiful.

How much does it cost?
Good bottle of regional Canadian wine:
£10 in shops
National park pass: £5.50
Canucks hockey game ticket: from £40
Ferry from Vancouver to Victoria:
£9 one way foot passenger
A brief history of Canada
If you were to visit Canada in chronological order of its history, it would make for an interesting itinerary. The Aboriginal peoples have, of course, been living all over the land that is now Canada for millennia and there are still communities scattered all over the country. Looking at its more recent history, however, a good place to start is Newfoundland, discovered in 1497 by Italian explorer John Cabot, but which actually became England's first overseas colony in 1583. Meanwhile, in 1534, the French had started working their way up the St Lawrence River, which falls between Newfoundland and Nova Scotia, and the main artery inland. Albeit often frozen. The French claimed the shores of the river as their own, and so began the concurrent Anglo and French colonisation of this region.
Read more