Rock climbing: get to grips with the basics
Before you picture yourself scaling the Eiger, a rock climbing vacation is more likely to involve climbing up or across natural rock formations rather than reaching the summit of a mountain. As long as you're relatively agile in both mind and body you should have no problem getting to grips with the basics. Instructors are on hand at every foothold to allow beginners to learn techniques safely and gain confidence. Experienced climbers can take advantage of expert local knowledge by using pre-determined routes to help them further develop their craft in some extremely exciting settings. Although rock climbing is not a dangerous sport it can be a risky one. The difference being: risk can be managed, whereas danger cannot.
rock climbing styles and terms
The majority of our rock climbing vacations focus on sport climbing for beginners, and single or multi-pitch routes with a specific grading for more experienced climbers. Sport climbing: Pre-bolted anchors are fixed into the rock. Climbers ascend, clipping their rope into these permanent anchors on the way to minimise the distance they can 'fall'. There are thousands of sports climbing sites across the globe where routes have been created with minimal damage to the environment both physically and aesthetically. . Traditional climbing: Temporary 'nuts' are placed in crags to create anchors before being removed as the climber keeps going to the top. Traditional climbers aim to leave no trace on the rock. Lead climbing: One climber will climb to the top of a rock formation passing their rope through a series of pre-prepared or introduced anchors. A belay partner on the ground below will steadily feed the rope to allow the lead climber to ascend freely and avoid the rope getting too slack or too tight. Free climbing: This is as raw as rock climbing gets. You're placing your hands and feet on the rock face and using physical strength, determination and agility to pull yourself ever higher. No bolts, no ropes, nothing. Although impressive and gains huge respect within the climbing community, it's also incredibly risky. Free climbing is best left to the pros – you won't find free climbing vacations on our site! Single or multi-pitch: A lead climber will climb to the end of a rope and make a temporary anchor before belaying a second climber up to meet them. Carabiners (climbing clips), and temporary anchors if used, will be removed by the second climber, en-route. These will then be used by the lead climber as the climb continues onto the next section, or 'pitch'. Top roping: An anchor is pre-placed at the top of a rock formation. The climber's rope runs freely through this top anchor with the other end held by the belay partner at the base of the rock. Slack is taken in by the belay partner to prevent the climber falling too far. Top belaying: This occurs when a climber gets to the top of a route and belays a partner from above. It is the job of the second climber to clean the route if using temporary anchors. Grading system: The French numerical grading system is the most widely used by European and UK climbing companies. Overall technical ability and the strenuous nature of the climb is measured from Grade 1 (very easy) to Grade 7 and upwards. Further difficulty levels are shown using a + sign and also by using a, b and c suffix when describing climbs harder than a Grade 7.
WHAT DOES A ROCK CLIMBING HOLIDAY ENTAIL?
---
What does a rock climbing vacation entail?
Rock climbing vacations will usually be based, for part or all of a trip, close to scalable rock formations or at least just a short transfer away. It's also possible to live aboard a sailing boat in Greece, camp in the folds of the Sahara Desert in Morocco and choose from a variety of accommodation in Granada – especially if you're looking to combine an afternoon of rock climbing with daily Spanish lessons.
Hundreds of pre-determined climbing routes, and pre-bolted sections, will be accessible to all levels of climber from beginners to experts. Short daily transfers will take you to the site whereupon you'll be able to learn, develop and practise new techniques in the company of a certified local instructor. Climbing groups will be small (average six people) so as not to impact on the environment and natural ambience. Groups might also be split to further lessen their impact as well as allowing different levels to develop at their own pace. As you'll be accommodated in one place, usually a small, locally owned guesthouse, you'll get to socialise with the rest of the group including your hosts and instructors. There might also be the chance to visit nearby cities or towns, such as Granada if climbing in Andalusia, or Marrakech if climbing in the High Atlas Mountains. It's these sorts of opportunities that really make rock climbing vacations come to life; it's not just climb, eat, sleep, repeat. You'll be invited to visit local villages and meet people living in remote areas as you experience daily life from a unique point of view – both on the ground and while clinging to a rock face.
Our top trip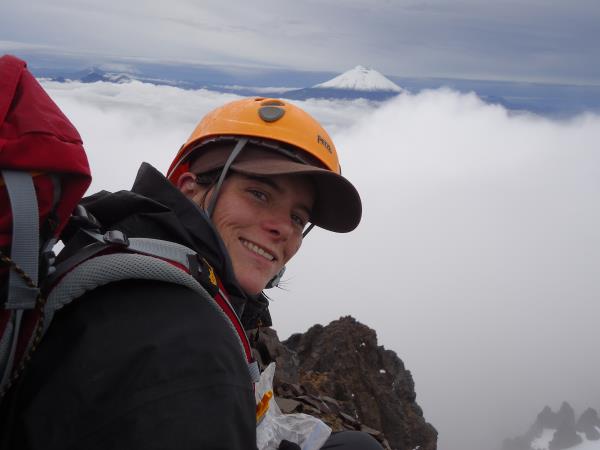 Climb three stunning peaks, included Cayambe Volcano (5790m)
From
US $

1499
6 days
ex flights
Small group travel:
2023: 18 Dec, 25 Dec
If you'd like to chat about Climbing or need help finding a vacation to suit you we're very happy to help.

THREE OF THE BEST ROCK CLIMBING LOCATIONS
Todra Gorge in Morocco
is an outstanding area for rock climbing. Sheer limestone walls reach up to 300 metres with narrow canyons providing not only access to more than 150 readymade bolted routes but also ample shade from the unforgiving North African sun. Visits to Marrakech via the Tizi N'Tichka Pass allow extended insight into this remarkable region as well as an amazing backdrop of the High Atlas Mountains.
Andalucia in southern Spain
Andalucia in southern Spain
boasts two of Europe's most iconic climbing sites: El Chorro and Chilam Balam. From hundreds of basic beginner routes to some highly technical climbs up natural rock columns (chorreras) this region of Spain has more than enough to keep climbers coming back for more. A visit to the city of Granada, set at the base of the Sierra Nevada Mountains, makes an ideal cultural accompaniment.
Dodecanese islands in Greece
The Dodecanese islands in Greece
are absolutely breathtaking and there's nothing better than a rock climbing vacation to enable Mediterranean views from the most exclusive of vantage points. Islands like Kalymnos, Pserimos, Leros, Lipsi and Kampos have an abundance of scalable crags and limestone formations which are always at their best when first observed from the deck of a liveaboard sailing boat.
CONNECTING TO THE COMMUNITY
& THE ENVIRONMENT
Rock climbing has long been a contentious issue for conservationists. Easily eroded rock formations, removal of vegetation (including moss and lichen), and disturbance to nesting birds and indigenous animals, are just some of the issues that can create conflict. Poorly-placed anchors and fixed climbing equipment, such as slings and nets, not only damage a location but also look unsightly and out of place. Local people and non-climbing visitors don't want to see a site adorned in climbing paraphernalia; the majority of climbers don't either. Large groups of climbers can also disturb the natural ambience of a place.
In some cases, rocks also represent something far more significant to a local community or cultural group than simply a climbing site. Sacred rock formations, such as Uluru in Australia or Devil's Tower in the Black Hills of Wyoming, hold incredible cultural significance to indigenous people. Some rocks are sacrosanct but this still doesn't stop some irresponsible rock climbers from literally leaving their mark. Just because it is there is no excuse to disrespect the rights of native people or local communities.
All rock climbing vacations should start and close with respect for the safety of climbers as well as the safety of the natural environment and cultural beliefs. Leave no trace is not a throw away phrase. It's simply what has to be done to treat nature, no matter how rough and rugged, with the respect that it deserves. Find out more about the history of a region and only climb with a tour operator that works as part of the local community. Also, make sure pre-bolted anchors are presented in the least intrusive way possible as well as removing all temporary anchors before leaving a site. Natural gorges, cliff faces and river valleys have been carved for millennia. They may look like an outdoor adventure playground but this is simply not the case. Choose a responsible tour operator that realises the rights of local people as well as actively helping to conserve the environment. Rock climbing is great fun and done the right way it can continue to promote responsible tourism in remote areas of the world without disturbing the balance between climbers, communities and nature.
More Climbing articles
Is the time right to take a step up from indoor walls? Our guide will take you to new heights.
If you're looking to find out more, here's when and where you should take your first steps to the top.