Sprawling, heady and, at times, infamous, Colombia's cities might have a few things in common, but they aren't homogenous. Or hugely unsafe anymore.

No visit to Colombia is complete without a few days immersed in the heat of frenetic city-center life – and small group vacations and tailor-made itineraries alike will include tours with local guides to help you navigate its major cities' vibrant, feast-for-the-senses, streets.
Explore Bogotá's famous graffiti art and its legendary fresh flower markets, wander Caribbean Cartagena's colourful colonial streets, dance the night away to sizzling salsa in Cali or learn how Medellín, once one of the most dangerous cities in the world, is now reinventing itself as a bastion of culture, creativity and social integration.
Read on to find out more about Colombia's cities.
Bogotá
Colombia's biggest city and home to nine million people (and the main international airport) Bogotá is an almost ubiquitous stop on any Colombia vacation itinerary. Perched up in the Andes at 2,500m, it's well worth a few days of your time at the beginning or end of your tour. The fashionable, colourful, La Candelaria district is a good starting point, where local residents watch the world go by from rows of painted wooden balconies. Or take a wander through the vast main square, Plaza Bolívar, home to the beautifully colonial Catedral Primada de Colombia.

There's plenty to keep you occupied for a few days here. Take a guided tour of the city's famous graffiti street art or visit the Museo Botero, a colonial house dedicated to the surreally oversized work of Colombian artist and sculptor Fernando Botero. Alternatively, visit the Gold Museum – the world's finest collection of pre-Hispanic gold –or take a cable car to the top of Mt Monserrate for spectacular city views.

Every Sunday, from 7am to 2pm, vast swathes of the city center's main roads are closed to traffic for the Ciclovía – where up to one and half million Bogotanos take to the streets on bicycles, skateboards or on foot. Along the way, a plethora of food stalls sell fresh mango, grilled corn-on-the-cob and empanadas, alongside on-street Zumba classes and the odd live band.

Finally, don't miss a visit to the Paloquemao farmers' market - where an enormous array of stunning fresh flowers are on offer (Colombia is the world's second biggest producer and exporter of flowers) among other local produce.
Cali
With a heady Afro-Colombian culture and a penchant for Latin music, it's little wonder that tropical Cali is the Salsa capital of Colombia. This is a city with a vibrant, lively reputation – but don't be put off if you've got two left feet and dance just isn't your thing. There's still plenty here to keep you entertained. Wander the rambling, colourful streets of the hilltop barrio of San Antonio – one of the oldest in Cali – and you'll enjoy spectacular views. Or you could cool off with a bite of the city's famously fresh fruit. Street stalls across the city sell everything from mangoes to mora (a local cross between a raspberry and blackberry).
If dancing
is
your thing, then Cali offers everything from dedicated dance vacations including private daily classes in Salsa, Mambo and Bachata to simple evenings out among the infectiously pumping salsa bars of the La Sexta or Menga districts. Cali's salsa is famously fast and intense – and if you're worried about your footwork local salsa shows provide you with plenty of atmosphere from the comfort of your chair. Uniquely Colombian is the 'salsa choke', born in Cali and danced to pounding salsa rhythms mixed with reggaeton, hip hop and electronic music vibes. Expect to hear it blasting out of bars and buses alike across the city. Read more about
salsa in Colombia
here.
If your energy levels are flagging then local cheesy bread pandebono – sold in cafes and bakeries all over the city and traditionally served still warm with a cup of hot chocolate - will keep you on your feet.
Cartagena
Oozing Caribbean charm, UNESCO-listed old Cartagena de Indias rightly stakes its claim as one of South America's most captivating historic cities. This maze of cobbled streets and hidden plazas, lined with brightly coloured colonial houses, bougainvillea-filled balconies and encircled by ancient fortifications, is frequently the grand finale to wider Colombia tours. This city is hot hot hot, not just in temperature (which doesn't fall below 30°C year-round) but in its Afro-Caribbean heritage which drives a street culture full of tasty Creole-inspired food and pumping salsa rhythms.

Visit the magnificent San Felipe fortress, which originally protected vast hordes of Spanish treasure from pirates, and walk the old walls for captivating city views. For something more upbeat the up-and-coming neighbourhood of Getsemani offers lively bars and excellent local restaurants against a backdrop of bright Caribbean colours.

No visit to Cartagena is complete without a taste of its legendary street food, from fresh fruit at roadside stalls to Colombia's ubiquitous arepas – corn or wheat flower patties often stuffed with eggs or minced beef. If you've got a sweet tooth don't miss 'el Portal de los dulces' in the colonnades of Plaza de los Coches, where handmade Colombian candies of all colours are on offer.
Medellín
The former home of the notorious drug lord Pablo Escobar, and once considered to be one of the most dangerous cities in the world, Medellín has undergone something of a cultural and social transformation since his death. Now, a reputation for innovation and creativity is taking the place held formerly by cartel violence – epitomised by its modern cable car system allowing easy access into the center of the city to residents of poorer neighbourhoods. The result is a thriving, cosmopolitan city driving modern Colombian industry and social integration.
Take a ride on the cable car yourself to Parque Arví on the eastern edge of the city – an ambitious social project to make nature accessible to city dwellers that has since become one of the region's largest nature reserves, home to 19 species of mammal, 69 species of bird and 79 species of butterfly.
Alternatively, stay in the city center and you can enjoy tours with local artists, who will be able to explain more about the city's ubiquitous graffiti art, and its cultural and political context. Or track down sculptures by Colombian artistic icon Fernando Botero dotted in the city's plazas. A visit to the zen-inspired 'Barefoot Park' – where children and adults alike are encouraged to kick off their shoes and enjoy the freedom of playing barefoot – is a relaxing, energy-boosting way to wile away the hours.
Our top Colombia Vacation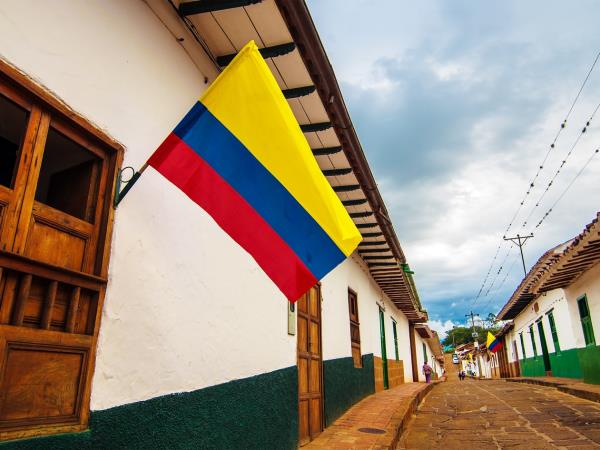 Bogota, Coffee Region, Medellin & Cartagena - Tailormade
From
£

1850
13 days
ex flights
Tailor made:
This trip can be tailor made throughout the year to suit your requirements
If you'd like to chat about Colombia or need help finding a vacation to suit you we're very happy to help.

Are Colombia's cities safe?
As with any big cities around the world, a certain level of caution needs to be taken to keep you and your things secure as you wander around. And of course, there will be neighbourhoods that are no-go areas. However, despite the fearsome reputation for violence that these huge metropolises have earned in the past, since the demise of the FARC and the end of the 52 year civil war, they have become safe and welcoming to visit and offer beautiful colonial architecture, avant-garde arts scenes and steamy salsa clubs without the pressures of mass tourism. Colombia is keen to shake off the negativity that has surrounded it in recent years – and even in the cities local people are welcoming visitors with open arms, and an infectious smile.