Rows of coffee trees extend up lush mountainsides, overshadowed by towering endemic Quindío wax palms. While on the edge of pretty colonial villages, historic haciendas open their wooden shutters to visitors keen to learn more about Colombia's traditional coffee-making process - and taste the spoils, of course. This is Colombia's UNESCO-listed Zona Cafetera, a fertile hilly region of cloud forest and rolling plantations where coffee is, quite literally, a way of life.
However, don't be fooled into thinking you need to be a hardcore coffee aficionado to enjoy the Zona Cafetera to its fullest. This region goes beyond its most famous export. Tropical, verdant valleys offer abundant opportunities for hiking, cycling, horse riding or rafting, while a plethora of brightly-coloured, flower-filled villages all compete for the title of 'prettiest pueblo in Colombia'.
Coffee in Colombia
Stretching through the regions of Quindío, Caldas, Risaralda and Tolima, Colombia's Zona Cafetera, also known as the 'Coffee Triangle', encompasses tracts of cloud forest, the mountainous Los Nevados National Park and the richly fertile Andean foothills. Lush vegetation, including undulating banana and citrus plantations as well as the ubiquitous coffee, characterise the area, which is dotted with over 24,000 small farms.

Five active volcanoes - the highest of which, Nevado del Ruiz, erupted in 1985 killing 25,000 people - are ironically the lifeblood of this region, creating a richly fertile soil perfect for sustaining the cloud forest and plantations of coffee trees. Often shrouded in cloud, the snow-covered tips of the volcanoes can be seen from Manizales, Salento and many of the small Zona Cafetera towns.

The rich landscape and fertile soil have led Colombian coffee to be considered by many as some of the highest quality in the world, still picked by hand, bean by bean. The Coffee Cultural Landscape in Colombia has been inscribed on the UNESCO World Heritage List, recognising the human adaptation needed to grow coffee on the difficult geographical terrain – and the importance it has had for the region economically, socially and culturally for generations. It is estimated that around 80,000 people here dedicate their lives to the cultivation of coffee.
Adventurous activities
If you prefer your coffee with a spoonful something a little more active then the Zona Cafetera has adventure in spades. Alongside hikes in the Cocora Valley there are options for more strenuous treks among the volcanic peaks of the Los Nevados National Park, as long as no eruptions are imminent. If you'd prefer not to hike, explore on horseback instead. Or join a small group tour cycling between the region's small pueblos, via its local markets, haciendas and coffee-tasting experiences.
Cocora Valley
Lined with spindly, 60m tall Quindío wax palms, the lush Cocora Valley is one of the most beautiful, and astonishing, parts of the Los Nevados National Park. Hikes here are one of the highlights of the Zona Cafetera and as you follow well-marked paths up into the cloud forest you'll need to keep your eyes peeled for endangered Palm Parrots and tiny hummingbirds as well as mighty eagles and condors soaring overhead.
Coffee farm tours
Stay on one of the Zona Cafetera's working coffee farms for an insight into subsistence agriculture and Colombia's traditional coffee-making process. Here, tours and demonstrations unveil the intricacies of the production process – from cultivation to the picking, de-pulping, washing, drying and roasting of the beans. In this region the coffee tends to be planted in rows extending up the mountainside and picked by hand – a feat of physical endurance that the tours bring into sharp relief. A taste of the final product is, of course,

And to top it all off, the old haciendas, many offering accommodation as well as coffee tours, are beautiful in themselves, with wooden colonnaded balconies painted in bright reds and blues set among the deep greens of the coffee plantations and the hazy blue of the surrounding forested mountains.
Salento
As well as being the perfect base for excursions into the surrounding cloud forest, the Cocora Valley and coffee plantations, pretty Salento is worth a visit in its own right. This small pueblo – full of colourful houses sporting wooden balconies overloaded with blooming flowers – offers spectacular views of the Cordillera Central mountain range, the slopes of which rise steeply out of the town itself, and is a pleasantly peaceful place to relax and soak up the tropical ambience. Make sure you try regional speciality trucha - a fish usually served up with plantain, rice and pinto beans.
Small towns and villages
It seems like all of the Zona Cafetera's villages are competing to be the prettiest in Colombia – with stunning Andean panoramas peeking out behind colourful colonial architecture, picturesque plazas and sleepy-yet-friendly streets. Sit down with poncho-wearing coffee-pickers in tiny bars and enjoy a cup full of steaming Arabica or simply enjoy the peace and tranquillity of these little visited small towns. Pijao offers beautiful mountain views and a robust coffee heritage (many plantation owners and coffee merchants have settled here and built their homes), while Salamina feels uniquely and authentically Colombian, with few foreign visitors. Alternatively, shop for hand woven baskets in colourful Filandia's lovely local market.
How to get there
Most small group tours will include two to three days in the Zona Cafetera as part of a longer itinerary through Colombia. Frequently these reach the Zona Cafetera by road from Popayán – a seven hour drive to the city of Armenia - or from Cali or Medellín. A variety of flights to and from the region mean it is easy to combine it with pretty much anywhere in Colombia – as long as you're happy to fly.

Tailor made specialists offering bespoke itineraries in Colombia can arrange for you to spend as long as you want in the region – from two or three days to a week or more. Private transfers and local guides will be on hand to help you hike, bike or simply taste your way around.
Our top Colombia Vacation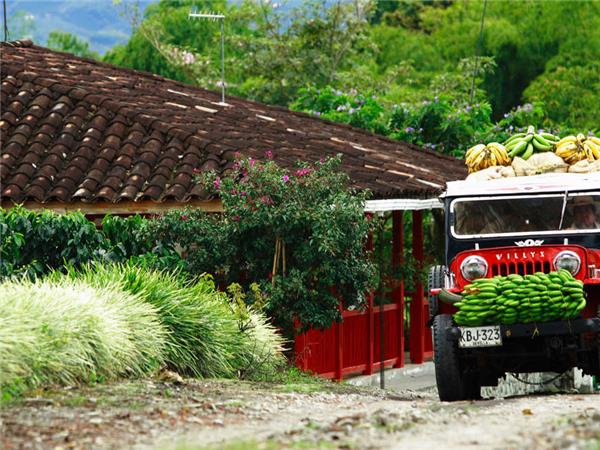 A comprehensive overview of Colombian diversity
From
US $

3660

to

US $

4840
13 days
ex flights
Small group travel:
2023: 7 Oct, 21 Oct, 4 Nov, 18 Nov, 20 Dec
2024: 13 Jan, 20 Jan, 10 Feb, 24 Feb, 9 Mar, 29 Jul, 5 Oct, 19 Oct, 2 Nov, 23 Nov, 18 Dec
If you'd like to chat about Colombia or need help finding a vacation to suit you we're very happy to help.

Best time to visit
In weather terms the best time to visit the Zona Cafetera is from December to March. It's the driest season in Colombia's highlands and the colourful Feria de Manizales festival takes place in January.

July to September offers another short, dry season, with rain easing in the Zona Cafetera in August, so a good option if you're tied to school vacations and want to avoid the December to March peak season prices.

If you don't mind a few soggy days, then travel in April to June or October to December when the coffee harvest is in full swing and the farms are a hive of activity. You won't need to worry about getting cold though – temperatures in the Zona Cafetera hover around 28°C year round.

Bear in mind that even the dry seasons in Colombia's highlands hold the possibility of some rain – so you'll want to pack a waterproof whenever you travel.