COSTA RICA WILDLIFE MAP & HIGHLIGHTS
---
WHERE TO SEE WILDLIFE IN COSTA RICA
Costa Rica may be small – but it is dense with wildlife and national parks; unless you have a month or two to spare, don't even attempt to see it all. To experience the best of the natural world, it's also essential to spend at least a couple of nights in each place; forests come alive at dusk and dawn, while on the coast, nesting turtles haul themselves ashore once night falls. Local flights are possible, but it seems a shame to skim over these glorious landscapes when distances are so short. Some reserves are only accessible by boat through winding forest rivers – here, the wildlife adventure begins before you've even arrived. For more independence, hire a car; all your accommodation will be booked and you'll have 24-hour support, but with all the flexibility and freedom of an independent vacation.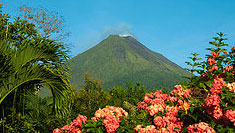 Arenal Volcano
Combine stunning views with pleasant hikes and – of course – the ubiquitous wildlife in this national park, overlooked by the gently smoking volcano which gives it its name. A number of short nature trails lead you 8km through the park; get around on foot or horse back. Spider and howler monkeys swing through the rainforest canopy; look out too for sloths, coatis, parrots, motmots and hummingbirds.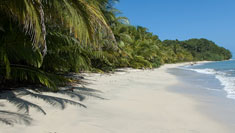 Cahuita National Park
Just a short distance from the sweet-scented, Afro-Caribbean-style grilled chicken lies an untouched sliver of sand where opportunities to snorkel over coral, watch nesting turtles and generally enjoy a rather wonderfully rustic day at the beach are to be found in abundance. Trails in Cahuita intertwine with Caribbean coast and tropical forest, with the 7km hike from the southern entrance probably the pick of the bunch.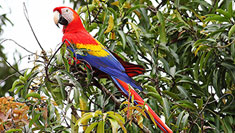 Carara National Park
This one-time biological reserve was upgraded to a national park in the late 1990s and presents an accessible and lesser-visited option than nearby Manuel Antonio. The dense primary forest is prime habitat for scarlet macaws, hummingbirds and kingfishers as well as an abundance of insects and hard to spot reptiles and mammals, including American crocs, capuchin monkeys and smiling, three-toed sloths.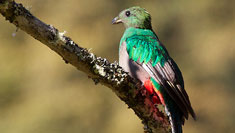 Los Quetzales National Park
A cooler, fresher feel descends over Los Quetzales as moss-shrouded branches loom through mist, and steamy clouds camouflage all but the brightest birds and flowering fauna. The iridescent red, green and aquamarine feathers of the resplendent quetzal are one such flash of colour to pierce the haze and following trails from the ranger station invites chances to see this shy bird in all its natural glory.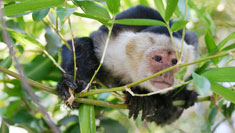 Manuel Antonio National Park
Protecting coastal forest, mangroves, beach and ocean, Costa Rica's smallest national park is one of its most diverse – and most visited. Its 109 mammal species include two- and three-toed sloths plus a number of monkeys; twitchers can spot over 180 species of birds. The park is always popular, with more visitors at weekends; explore the well marked trails early on weekday mornings if possible.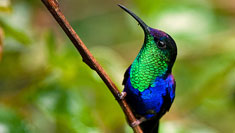 Monteverde
Perpetual mist, rich volcanic soil and moderate temperatures make Costa Rica's cloud forests its most biodiverse regions, with the endangered resplendent quetzal its most sought-after species. Around 400 bird species live in Monteverde Cloud Forest Reserve, including 30 shimmering hummingbirds. The trees of this fairytale forest are cloaked in orchids, mosses and bromeliads which feed on the moist air.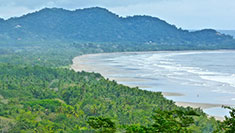 Nicoya Peninsula
Lined with stunning Pacific beaches, the Nicoya Peninsula is Costa Rica's driest region. While many travelers head here for the consistent surf, wildlife fans should spend a couple of nights in Ostional, home to the world's largest scenes of nesting turtles. Hundreds of thousands of olive ridley turtles arrive between Aug-Dec, particularly on nights leading up to the full moon. Utterly spellbinding.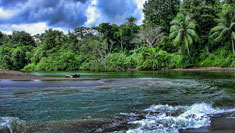 Osa Peninsula & Corcovado NP
While much of Costa Rica has been well developed for ecotourism, the Osa Peninsula hasn't – which, ironically, means it is one of the best places for wildlife fans as it remains pretty much as nature intended. Around half of the country's species can be found here, including agoutis, tayras and tapirs. Much of it is protected by Costa Rica's largest national park, which receives few intrepid visitors.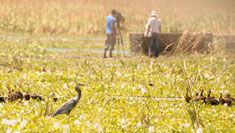 Palo Verde National Park
Tropical dry forests, evergreen forests, marshlands and seasonal lagoons, feature prominently within Palo Verde National Park making it a hotbed for bird watching. In the dry season especially, birds head to the park en masse including herons, macaws, ibis, spoonbills, anhinga and storks, such as jabiru and wood storks, alongside migratory birds, such as ducks and teals, using the park as a much needed rest stop.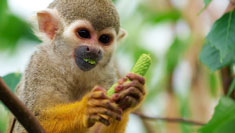 Piedras Blancas National Park
Logging and poaching used to be big issues but thanks to increased rangers and conservation projects, nearly all the park is now under public ownership. Staying at a lodge surrounded by forest trails gives you every chance to spot capuchin and squirrel monkeys eyeing up fruit trees whilst tyrant flycatchers flit through foliage before night turns into a swirl of bat wings against a choral cacophony of frogs and toads.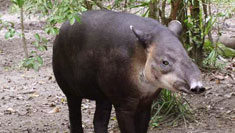 Tenorio Volcano National Park
Tenorio Volcano National Park has an excellent network of walking trails along the Rio Celeste as well as through elfin forests and over canopy walk ways leading to hot springs, waterfalls and volcanic craters. Elevated slopes provide a variety of forest habitats for monkeys and big cats, such as cougars and jaguars, whilst rarely seen Baird's tapirs snuffle in foliage-covered water further down.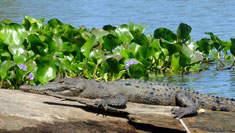 Tortuguero National Park
Named after the endangered sea turtles that nest along its Caribbean coastline, Tortuguero can only be reached by boat, keeping an eye out for otters, caiman and manatees as you do so. Jungle hikes and canoe trips along the creeks take you through the rainforest, where sloths and spider and howler monkeys hang in the canopy. Head to the beach with a registered guide after dark to glimpse the nesting turtles.


COSTA RICA WILDLIFE ITINERARIES
---
Bird watching & wildlife
San José ► Sarapiquí Rainforest ► Selva Verde Reserve ► Savegre Nature Reserve ► Macaw Reserve ► Carara National Park ► Gulf of Nicoya ► San José

Beaches & wildlife
San José ► Monteverde ► Arenal Volcano ► Tenorio National Park ► Southern Nicoya Peninsula ► San José

Family wildlife vacation
San José ► Tortuguero National Park ► Sarapiquí region ► Arenal Volcano ► Manuel Antonio National Park ► San José