Responsible wildlife tourism in Costa Rica
---
Travel right in Costa Rica
Costa Rica is remarkable not just for its incredible variety of biodiversity but also for the conservation initiatives and for the eco-pioneers that have helped to create the level of protected natural areas that youíll find today. Itís well worth remembering that Costa Rica is one of the planetís most progressive nations when it comes to environmental issues and following their lead is something that we all need to do in order to contribute to a brighter future. Sustainability and renewable energy are at the forefront of Costa Ricaís green philosophy with the aim to be completely fossil fuel free by 2021 not as overly ambitious as some may have thought. Thereís still work to be done, however, as the poorest communities and rural farmers are yet to completely benefit from tourism and some tourists still have a lot to learn when it comes to watching wildlife responsibly.
People & Culture
---
HUNTING, POACHING & LOGGING
WHERE DO FARMERS FIT IN?
---
In 2012 Costa Rica became the first Latin American country to ban hunting as a sport. Under law, hunters would serve prison time or pay a substantial fine with smaller fines issued to anyone found poaching animals for pets or to take abroad. In the past, larger jungle cats, such as jaguars and pumas, were also killed by farmers wishing to protect livestock. These days, farmers have to use more preventative methods to conserve their cattle with electrified fences, motion sensitive lights and noisy donkeys all perceived as far better options to a hefty fine or imprisonment. Smaller farms are nearly always the ones at the most risk from jungle predators and often have less money to spend on protecting cattle and crops. The government and conservationists recognise that big cats in the wild are a far greater incentive for the tourism industry as opposed to the plight of farmers; however, there are many rural communities in Costa Rica that would be forced to disagree.
What you can do
Visit Costa Rica with a tour operator who has the interests of both the local community and the environment at heart. As Responsible Travel screens tour providers and trips for both environmental and social considerations you can rest assured that your money will be working with local groups and conservation initiatives so as to continue Costa Ricaís fight for a sustainable future. Ask your tour operator and tour guides how they support local farmers and ensure that they benefit from protecting big cats in the wild as much as the tourists and tourism businesses do.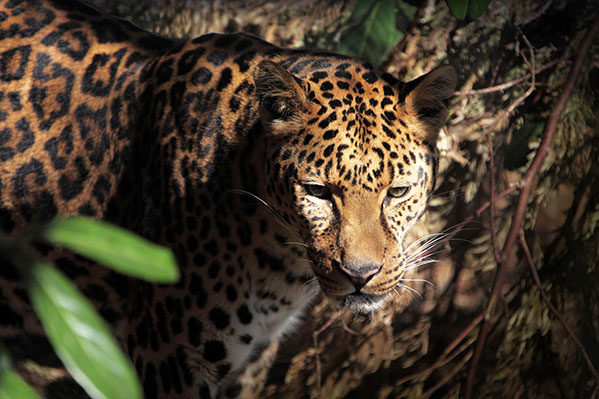 DEFORESTATION & ILLEGAL LOGGING
---
In the 1990s, Costa Ricaís deforestation concerns were way out of control with nearly one percent of the countryís rainforests disappearing on an annual basis. Vast areas of land were cleared for mango, banana and pineapple plantations with multinational corporations profiting as smaller farmers went out of business. Cattle farming was also responsible for the decline in Costa Ricaís rainforests with huge areas of virgin forest cleared for grazing pastures alongside roads that were forged through forests for trucks transporting logs to lumber yards and beyond. Today, just over a quarter of Costa Rica is protected and about 12 percent of the country has received national park status. Every effort has been made to prevent the spread of deforestation and itís estimated that many areas that were stripped in the 1990s have now become forests once again. Reforesting and incentive schemes to prevent illegal logging have both been tried in rural areas; however, this often only benefits larger farms leaving smaller land owners without compensation for good practices and sustainable land management. Illegal logging does exist, even in protected areas, with exotic trees such as the cocobolo raising interest in parts of Asia as an expensive source of wood for furniture and specialist musical instruments.* Although the trade in cocobolo trees has dropped over the last few years, stronger permit controls are needed, before itís too late.
*Source:
The Tico Times
What you can do
In the 1980s Costa Rica adopted projects to combat the need to take timber from rainforests by introducing bamboo as a substitute building material. This was a great means of not only helping to halt deforestation but also of providing affordable homes for the poorest communities. Using alternative resources to prevent illegal logging is just one way Costa Rica has tried to combat this problem and you can help by contacting the Costa Rican government and voicing your concerns about the illegal logging of cocobolo. You can also support groups such as
Friends of the Earth Costa Rica
and find out whatís being done to report illegal logging sites and help park rangers.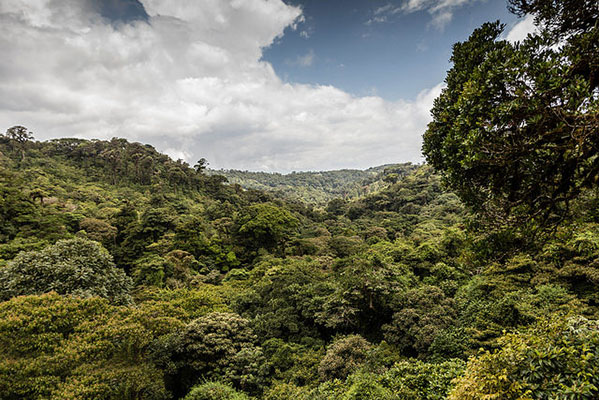 WILDLIFE & ENVIRONMENT
---
SUSTAINABILITY AND WILDLIFE WATCHING
CARBON NEUTRAL COSTA RICA
---
Renewable energy and Costa Rica are intrinsically linked as the country aims to run its national grid for an entire year without using fossil fuels and to become completely carbon neutral by 2021. Hydro, geothermal, solar and wind harnessing facilities are all in place with heavy rainfall helping hydro power account for over three quarters of the country's electricity for August 2016. Making the switch to sustainable power has also been helped by Costa Ricaís responsible tourism industry and its traditional methods of agriculture as both require far fewer energy resources in comparison to industries such as mining and manufacturing. The government has also placed a tax on companies or individuals who pollute water systems through sewage dumping and irresponsible use of agricultural chemicals as well as offering land owners financial incentives to maintain environmental services. The more tourism and renewable energy benefit local people, the more employment opportunities will come about in the future. Extolling the virtues of responsible tourism, whilst also bringing benefits to local people, is crucial for perpetuating a positive cycle and halting irresponsible ways of making money through selling land for logging or taking eggs or poaching.
Sources:
climateactiontracker.org
and
The Guardian
What you can do
Stay in accommodation that takes renewable power and sustainability seriously. These sorts of properties will have their own mini-hydro electric power plants and solar panels to help them operate off grid. They may also be involved in reforestation projects as well as having relationships with conservation groups, such as ASANA. Find out more about where a property gets its food and what facilities are in place to dispose of waste, both organic and non-biodegradable. Does your accommodation employ local people and make use of local services such as regular farmers' markets? Asking questions before choosing where to stay is intrinsic to the responsible travel process.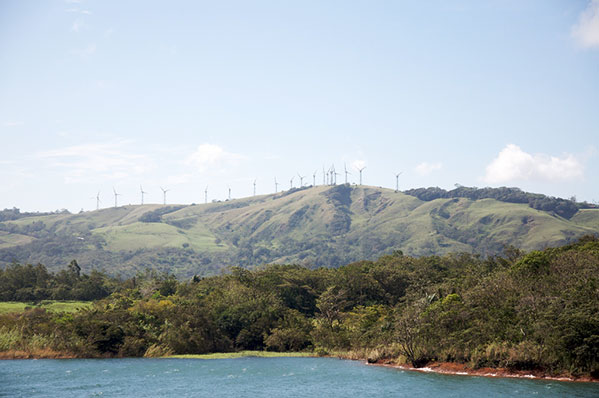 RESPONSIBLE WILDLIFE WATCHING
---
No matter which animals you're hoping to watch in their natural environment there are absolutely no excuses for ignoring expert advice and putting a photo opportunity ahead of animal welfare. Encouraging your skipper to chase down dolphins for a closer look, encroaching nesting turtle sites and overcrowding whale pods are incredibly irresponsible and will not be approved by any wildlife watching tour operator that has an animal's best interests at heart. Only recently nesting turtles at a beach in Ostional were invaded by thousands of tourists looking for selfie (short for selfish) opportunities and chances to touch turtles. Not only was this illegal Ė you're only allowed to enter a turtle nesting site with an accredited guide Ė but it also caused turtles to return to the ocean without nesting as they were scared off by the crowds. Given that the sea turtles are already endangered, this type of tourism presents a real threat to their future.
What you can do
Choose a responsible wildlife watching tour operator before heading to Costa Rica. Think about a tour that features a registered scientist or biologist as not only will this ensure animals are treated with respect it also helps tourists learn about what they're seeing without feeling the need to disrupt natural behaviour patterns. Volunteering is another great way to learn about and watch animals in a responsible way. Collecting data, protecting nesting sites and accompanying researchers and professional conservationists is not only an excellent means of getting closer to nature but it's also a deeply humbling experience, much more so than posing for photos and putting animals' lives at risk.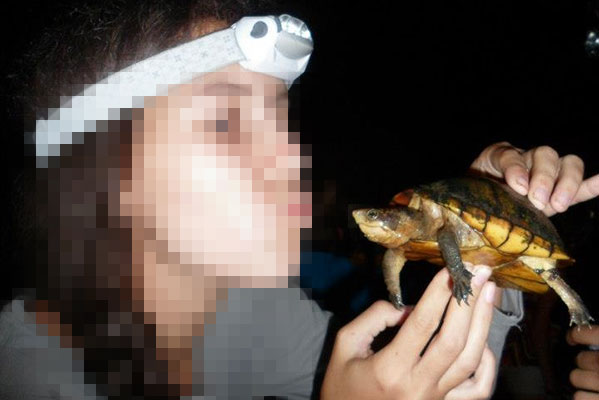 Responsible tourism tips
---
WATCH WILDLIFE BETTER IN COSTA RICA
Johnny Villalobos, one of the brilliant guides for our Costa Rica wildlife tours suppliers Exodus: ďBe responsible travelers and be respectful of the environment. Donít be too noisy, donít try to touch or pick up animals, donít feed them and donít use a flash light while taking photos. Basically, leave the place the way you found it.Ē

David Orrock, from our supplier Pura Aventura: ďThey grow a lot of coffee here, but if you do a tour, try and go to Doka coffee estate. Itís much less commercial than Britta, which is the brand you see everywhere.Ē
When looking for souvenirs, donít spend all your money in larger market places and shopping areas, such as Mercado Central in San Josť. Buying locally-made items from a smaller market or artistsí workshops ensures youíre putting your vacation funds directly into the pockets of craftspeople so they can continue to hand create traditional arts and crafts, and live relatively self-sufficiently.
Avoid buying anything made from fur, feathers, shells, coral or hardwood. Items made from endangered species may well be illegal Ė either in Costa Rica or your own country, such as tortoiseshell, which is made from the shells of endangered sea turtles. These trinkets will cease to be of importance to poachers if no longer considered desirable by tourists.
Visit some of the lesser-known nature reserves such as Cahuita, Cabo Blanco or Braulio Carrillo and family-run plantations and organic farms to ensure your money is spread throughout the country rather than just at more popular national parks like Monteverde, Tortugero and Arenal.
Learn as you travel because Costa Rica is like a vast outdoor educational center where plants and animals are amongst the most fascinating on the planet and a guided rainforest walk or whale watching tour will let you into the secrets of life on earth.
Stay at accommodation where sustainability is at the forefront of activities and local people are hired and trained at a fair wage both because of their work ethics as well as their knowledge of the surrounding natural environment.
Only go on marine wildlife trips with responsible and registered tour operators. Dolphin watching, for instance, can be an amazing experience but not if the animals are put under distress or corralled or chased by harmful propeller-powered motor boats.
Try to avoid internal flights to lessen your impact on the environment. Costa Rica is a very small country packed full of incredibly rewarding scenery which you wonít want to miss. Traveling overland not only reduces your carbon footprint but also gives you every opportunity to experience the environment at ground level. If you have to fly we recommend NatureAir which were highly commended in the Best Low Carbon Transport & Technology category at our 2007 Responsible Tourism Awards for their work in limiting emissions and donating funds to local charities and conservation projects.