Cross country skiing
vacations in Austria
Austria is home to world class downhill ski resorts but speeding down the slopes is not the be all and end all of skiing vacations; and there are hundreds of cross country skiing tracks here if you prefer your winter vacations a little lower key. The Tyrol region, where our cross country ski vacations take place, is particularly well endowed when it comes to traditional mountain scenes, with snow dusted pine forests, towering mountains and fairytale villages all putting in an appearance.

Cross country skiing vacations are based out of traditional towns and villages, offering a more authentic slice of Alpine life, far away from the bling and crowds of manufactured ski resorts. And while you'll be safe from the après ski crowd, it doesn't mean it's a hassle to get there. You can touch down in Innsbruck and be mountainside in just over an hour. Small group trips that include tuition and guides are the way to get the most from the mountains, learn a new skill and stay safe, and you'll have a tour leader who'll choose routes and activities according to conditions and forecasts.
Our Cross country skiing Vacations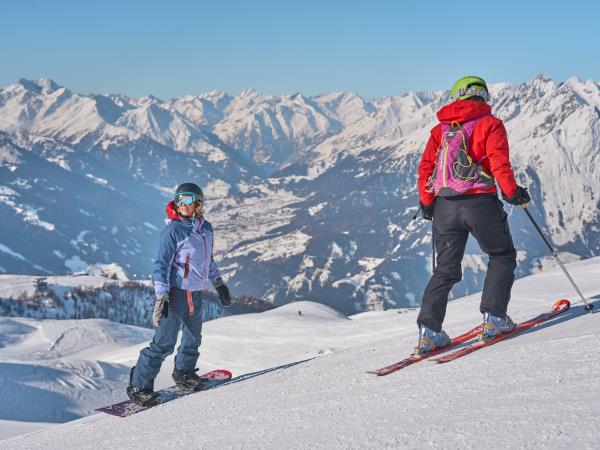 Yoga, Ski, Snowshoe & Cross Country ski in the Austrian Alps
From
€

1190

to

€

1490
7 days
ex flights
What's skate skiing?
Our dedicated cross country skiing vacation differs to many of our other similar vacations in that you'll be learning the technique of skate skiing – aimed at those who've tried traditional cross country skiing and now want something a little more challenging. Using a shorter ski, more ankle support and a style that is a little bit closer to ice skating or rollerblading, it generally takes a faster pace, allowing you to cover greater distances.
Where to cross country ski in Austria
You'll be based in Achenkirch in Austria's Tyrol region staying in a rustic, traditional hotel by the side of Achen Lake, in the Achen Valley, with wonderful views over the surrounding mountains. It's a local institution when it comes to cross country skiing, and has been in business since 1875 – unsurprising given that there are more than 200km of cross country skiing tracks in and around the valley, with Achenkirch loipe (track) found directly opposite the hotel.
What's a typical day like?
On this tour you'll be in for five full days of cross country, with a free day to help you relax, explore and perhaps take a day trip. Mornings will be spent learning the ski skate technique with an experienced instructor, with afternoons out on the trails, while evenings offer the promise of Schnapps by the fire to warm your toes after a day on the snow. All of our cross country skiing breaks are small group vacations, and this one is no different, meaning that you'll have a group of between four and 11 fellow travelers with whom to share the fun (and falls) on the trails.
How tough is this trip?
You don't have to be a mega athlete or adrenaline junkie, but you do need to be fit, with strong knees, and you do need previous experience of cross country skiing, as this particular vacation takes the action up a notch. You'll also need to be at least 18 years old.

Routes will be determined according to the experience of the group. Total skate skiing newbies will get down to business on prepared, gentle up and down slopes and will cover around 10 to 15km a day. Those with more experience will hit more challenging terrain and will cover between 15 and 20km per day, learning more advanced techniques to help increase your speed.
What else can I do?
The joy of a cross country skiing vacation in Austria is that you won't be stuck in a crowded, anonymous resort, but staying in a quiet mountain village at the heart of the Tyrol, so it's a great opportunity to experience true Tyrolean hospitality. This includes heavy, calorie laden food, which is fine because you'll be burning it all off on the trails. Favourite dishes include Tiroler Gröstl, made of roasted potatoes; speck and onions topped off with a fried egg; and Kasspatzen – soft egg noodles or dumplings covered in cheese and baked. When you return from outdoor adventures, cake, hot chocolate and boozy drinks are usually on offer, too.
Can I combine it with something else?
If you don't want to dedicate your entire break to cross country skiing, there's always the option of combining it with other activities in a weeklong activity break. You could, for example, spend a week at a farmhouse trying everything from snowshoeing to tobogganing to yoga. With some cross country thrown in too, of course. Or, you could go a little more hardcore and go on a ski touring and snowboarding week; where as well as wearing yourself out on the trails, you'll learn avalanche awareness and rescue techniques.
Our top Cross country skiing Vacation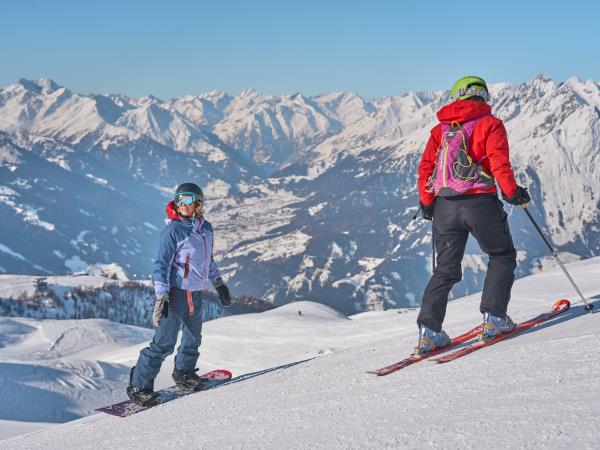 Yoga, Ski, Snowshoe & Cross Country ski in the Austrian Alps
From
€

1190

to

€

1490
7 days
ex flights
Small group travel:
2023: 9 Dec, 16 Dec, 23 Dec, 30 Dec
2024: 6 Jan, 13 Jan, 20 Jan, 27 Jan, 3 Feb, 10 Feb, 17 Feb, 24 Feb, 2 Mar, 16 Mar, 23 Mar, 30 Mar, 6 Apr
If you'd like to chat about Cross country skiing or need help finding a vacation to suit you we're very happy to help.

When to go cross country
skiing in Austria
The best time to go cross country skiing in Austria is from January to early March. At this time, here's snow already on the ground and more can fall at any time, so there's no need to rely on resorts that manufacture the fake stuff. Average daytime temperatures in the Tyrol at this time are around -5°C, with around eight to 10 hours of daylight and some periods of bright, sunny weather.
More about Cross country skiing