Cross country skiing
vacations in Norway
Donning a pair of skis and gliding across pristine landscapes is the ideal way to experience Norway's winter season. Often overshadowed by its flashier, faster paced downhill sibling, cross country skiing is written in Norway's very DNA. An essential means of transport across the wilderness for thousands of years, it made the transition to winter recreation as early as the 1800s, and you'll find everything from groomed slopes to remote backcountry paths criss-crossing incredible places inaccessible by road.

Our Norwegian cross country skiing vacations concentrate on lesser visited ski spots that are popular with local people rather than large alpine ski areas that draw international crowds and rely on ski lifts, graded pistes and fake snow. In this way, not only will you lessen your environmental impact, you'll meet local Norwegians and get plenty of off-path action, where the only tracks you'll encounter are those of elk and deer.
Our Cross country skiing Vacations
What do cross country skiing vacations in Norway entail?
Our Norway cross country vacations last for seven to nine days. You'll spend all day out on the skis with stops for hot drinks and lunch included, whether you're having a packed lunch in the wild or stopping at a wilderness hut along your route for a bite around an open fire. At the end of each day, you'll have the chance to sample delicious, fresh Norwegian produce or soothe your limbs in a sauna. Often you'll get a day's break during your vacation – giving you chance to sample some of the other winter activities on offer.
There are vacations available for all levels of skier, from beginner to advanced, with beginners receiving tuition at the start. Some tours are center based, meaning that you'll return to the same bed every night, after exploring different areas of the local terrain each day, with an experienced guide along for the ride. Others involve self-guided cross country skiing from point to point, with nights spent in mountain lodges and your luggage transferred for you. The latter are tougher, with more time spent out on the snow, and therefore only suitable for those with some prior experience.

All of our cross country skiing breaks are small group vacations, meaning that you'll have a small band of between four and 16 fellow travelers with whom to share the highs, lows and aches and pains along the way.
Our top Cross country skiing Vacation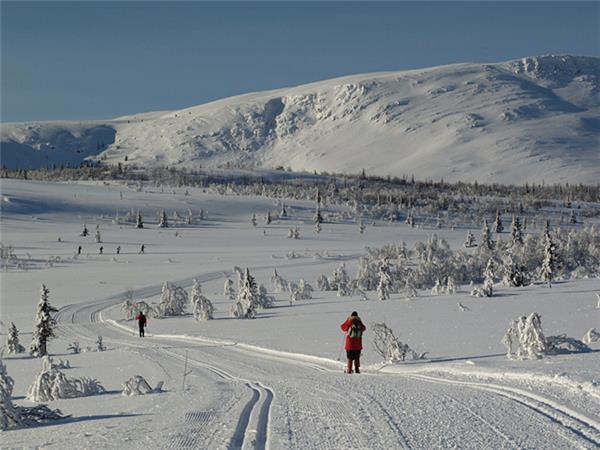 Independent cross-country skiing in dramatic landscape
From
£

2049

to

£

2289
8 days
inc UK flights
Tailor made:
This trip has selected Saturday departures from December - April
If you'd like to chat about Cross country skiing or need help finding a vacation to suit you we're very happy to help.

How hard is it?
Although you'll need practice and instruction to get your cross country ski legs, you don't have to be a winter sports expert to make a go of it. It's pretty straightforward for anyone who's reasonably fit and isn't afraid of exercising every muscle in their body. If you want to do some preparation before you hit the wilds, then cross training equipment at the gym and cycling up hills will both stand you in good stead. Our trips provide full instruction for beginners including short introductory jaunts before the skiing kicks off for real.
Where to cross country ski in Norway
Our Norway cross country skiing vacations are all about exploring frozen lakes, forests and fells, taking time off for sleigh rides and snowmobiling. They take place off the major tourist drag in central Norway, in quiet spots popular with Norwegians. You could spend your week in Venabu, just outside Rondane National Park, in a landscape of plains, thick forest and sharp mountain peaks; head for Rjukan, set in Norwegian high country and surrounded by mountainous land and scenic lakes; hole up in Mosstrond, a picturesque town on shores of Lake Mosvatn - on which you can ski; or get your winter action in Kamben, where there's an excellent range of trails for all levels.

Keen on following a point to point trail? Then high points include the hardy Troll Trail Rondane to Lillehammer and the easier Peer Gynt trail, north of Lillehammer between Espedalen and Skeikampen.
Where will I sleep?
Whether on a point to point trek or a center based vacation, you'll stay in simple mountain lodges and hotels. They range from a former boarding school where you'll sleep in twin bunk rooms and use shared facilities to small locally owned hotels with private cabins and en suite facilities. Either way, they'll have fireplaces to ensure that they're toasty warm, and some include a sauna or a hot tub. They are generally family run and in remote locations with little tourism and few international guests, further enhancing the local experience. Food is a big part of the experiences and you'll be able to sample traditional specialties such as reindeer, elk, salmon and fresh local berries.
What else can I do?
Additional activities that allow you to get the most out of these remote winter wilderness landscapes include dog sledding, snowshoeing, snowmobiling and even nighttime horse drawn sleigh rides.
When to go cross country
skiing in Norway
December to March is the best time to go cross country skiing in Norway, though beware of the shorter days earlier on. At this time the snow is soft, the landscape still fit for winter wonderland fantasies. There is usually a Norwegian school vacation in mid to late February, at which time popular spots get busy.
More about Cross country skiing