Thankfully all those Middle Aged Men In Lycra haven't discovered ski touring yet. All that gear, all that adrenaline and all those hills to conquer – it's a midlife crisis cure just waiting to happen.

Ski touring is not the same as classic cross country skiing, but a cross between cross country and downhill, heading off into the backcountry with an expert mountain guide, taking on more elevated slopes, using special 'skins' on your skis when you need to climb the steep ones, and sometimes even donning crampons when the going gets tough. So always check with your vacation provider to see which one they mean, as sometimes it can get lost in translation. On ski touring vacations, you will usually be staying in mountain huts or forest cabins along the way. In fact, it is often called ski mountaineering, as you will learn skills in both. You do need, therefore, to be fit and have experience in downhill skiing, but you will learn some new skills along the way too. And you still get that feeling of freedom. This is freedom at its feistiest in fact.
Our Cross country skiing Vacations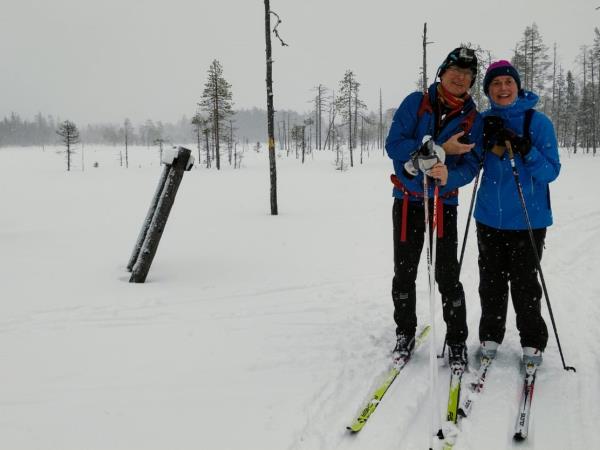 Guided country skiing vacation through remote eastern Finland
From
€

1140
7 days
ex flights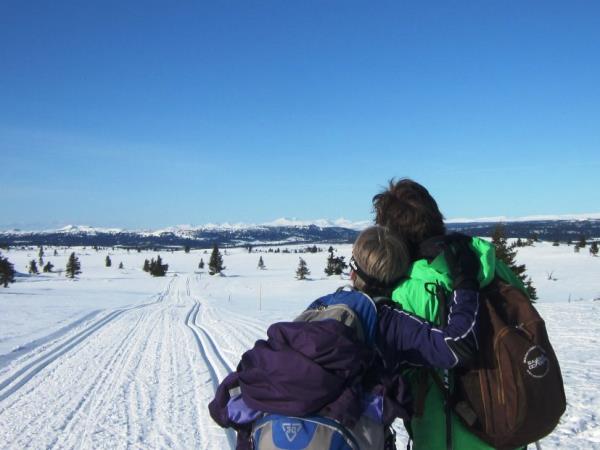 Nordic skiing - The Troll Trail from Rondane to Lillehammer
From
NKr

16200
9 days
ex flights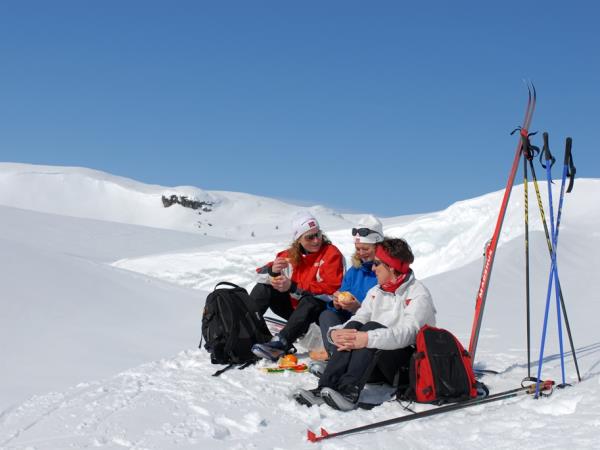 Cross county skiing The Peer Gynt Trail - Lillehammer Norway
From
NKr

14450
7 days
ex flights
The gear
If gear and gizmos rather than the latest in salopette chic are your thing, you will love ski touring vacations. As you cover all sorts of terrain, from meadows to mountain ridges, steep slopes to summits, the skis are different to those used in classic cross country. They are similar in shape to a normal downhill ski (cross country skis are long and narrow in contrast), but they are lighter in order to facilitate going uphill. The ski touring boots are rigid like a downhill skiing boot, but also lighter, offering more support than a cross country ski boot. 'Skins' are applied to the skis when going uphill, in order to stop you falling backwards, and sometimes you may need to add special crampons to your skis as well, called 'harscheisen', when the going gets really tough. You will be trained in the use of avalanche transceivers and other avalanche safety equipment, you get to carry a cool backpack with straps to hold your skis when you aren't using them, and of course you need a helmet, although usually this isn't put on until you get your well deserved downhill moment.
The guides
Ski touring should always be with an expert high mountain guide, with qualifications and experience recognised by International Federation of Mountain Guides Association (IFMGA). Because these are not just winter walks in the park, but quite serious expeditions on snow and ice. The IFMGA was founded in 1965 by guides from Austria, France, Switzerland and Italy, but now represents mountain guide associations from more than 20 countries in Europe, Asia, the Americas, and Oceania, representing a total of almost 6,000 guides. They will be trained not only in guiding, but also in mountain safety. Knowledge that they will also pass on to you before you head off into the hills.
Our top Cross country skiing Vacation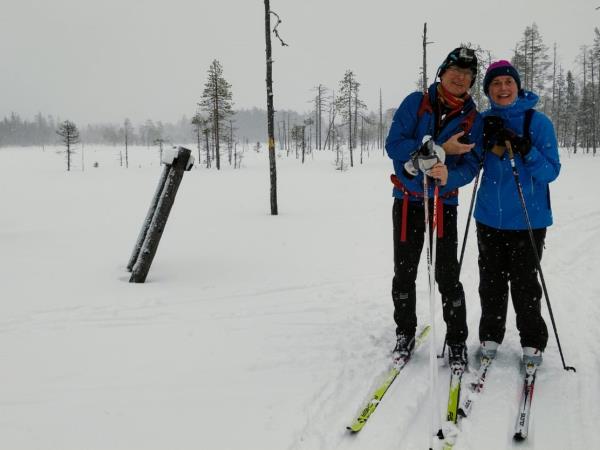 Guided country skiing vacation through remote eastern Finland
From
€

1140
7 days
ex flights
Small group travel:
2024: 18 Feb, 25 Feb, 3 Mar, 10 Mar, 17 Mar, 26 Mar
If you'd like to chat about Cross country skiing or need help finding a vacation to suit you we're very happy to help.

The go to places
The French Pyrenees are one of Europe's great places for ski touring, because the downhill skiing infrastructure is there which provides access to high altitudes, but it is also easy to escape the groomed pistes and resorts and head into the wilder winter territory at great elevations. Also, conditions are great in March/April, with the mountain refuge huts open during this time too.

For an off-the-beaten-piste adventure, the Western Balkans promise breathtaking scenery, culture, and the thrill of discovery too, taking in the as yet uncrowded trails of the Albanian Alps, Hajle Mountain in Montenegro and Boga in Kosovo. You'll stay in mountain cabins, eat hearty Balkan food and still find time to beautiful Visoki Decani, a UNESCO-protected medieval church.

Ski touring from volcano to volcano in Chile is also an extraordinary challenge, skiing between the seven craters of Lonquimay, Llaima, Villarrica, Mocho, Choshuenco, Casablanca and Osorno. It doesn't get much cooler or, given that some of the volcanoes are active, hotter than this.
The go to people
Emma Mason, our leading supplier of ski touring vacations in the French Pyrenees Mountain Bug, gives great ski touring vacations travel advice: "Your ski-touring clothing will be more like hiking gear than ski wear. There is no point packing heavy salopettes and padded jackets, as you will quickly overheat when skiing uphill. The key is to pack plenty of layers – always a lightweight, wicking base layer (not cotton), with a thin fleece or softshell jacket. Bottoms should be flexible and breathable – preferably specific ski touring trousers, which will have a built-in ankle gaiter, but comfortable synthetic walking trousers are a good substitute. In wet or snowy weather, you will need a lightweight, waterproof jacket and trousers. Generally these can stay packed in your rucksack, along with a warm fleece or duvet jacket to put on during stops."

"Other kit essentials include a day rucksack (ideally with straps to attach skis), ski socks, waterproof gloves, ski goggles, sunglasses, a warm hat and sunhat. Some people do wear a ski helmet for the descents, but bear in mind that you'll need to carry it during the climbs. Technical ski touring equipment (skis, poles, skins, crampons) and avalanche security kit can be hired in-resort. If your ski touring trip includes one or more nights out at a mountain refuge, you will also need a head torch, sheet sleeping bag liner and a lightweight wash kit."

"We're quite excited about the development of split-boards for snowboard touring. Obviously there are a lot of snowboarders who would like to visit the wild mountains just as much as the skiers. The concept of a "split board" allows a snowboard to be divided into two long-sections, similar to a pair of skis. The bindings can be rotated to enable a forward-facing position for climbing, then the two halves can be reunited to make a snowboard for the off-piste descent. It's great to think that skiers and snowboarders will be able to go out exploring together, and no one will be held back."
More about Cross country skiing