DEVON TRAVEL GUIDE
---
2 minute summary
There's something about the combination of hillside, hedgerow and sea air that invites a more laid back, Devonshire, pace of life. Days on Dartmoor, without another soul in sight, meld with the clatter of cutlery on china as you debate the very real issue of jam on cream or vice versa. Self catering cottages deep in the countryside or organic farm B&Bs let you melt into the ambience of rural southwest England with practical tips and info on where to go, even when it's raining, always much more reliable when extolled from a lifelong local. No matter which time of year, Devon always has a cheery outlook, especially for foodies, with village stores and warming pubs providing home cooked regional fare whilst, closer to the coast, freshly caught shellfish steal the show after windswept mornings strolling over beach and headlands. Sea, stiles and scones – what's not to like?
DEVON MAP & HIGHLIGHTS
---
MAKE THE MOST OF YOUR TIME
The Jurassic Coast, shared with Dorset in the southeast, Dartmoor, south of center, and Exmoor, straddling Somerset, in the north, all present wild and untamed Devon far from the hushed chatter in the county's corner cafes. Walking and cycling trails nearly always lead to a pub with market towns like Okehampton, on the northern skirts of Dartmoor, and centrally located farming villages, like Winkleigh, inviting a deliciously authentic slice of Devonshire life. From the Tarka Trail between Barnstaple and Bideford, to the protected dunes, wetlands and Blue Flag beaches of Dawlish Warren, Devon deserves to be devoured – length and breadth.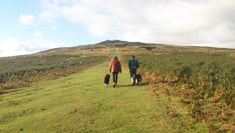 Dartmoor
'Beware the Great Grimpen Mire!' And you'll do well to heed the warning before setting out over the peat sodden bogs of Dartmoor National Park. But fear not, Dartmoor isn't one giant quagmire and there aren't any hounds either, just ponies, sheep and cows. So press your boots over grass and moss, past granite tors and trickling streams, on some of Britain's most magical moors.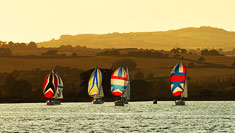 Dawlish Warren
Set where the Exe Estuary enters the English Channel, Dawlish Warren is an old fashioned stretch of seaside from where to get lost amongst the salt marches, mudflats and sand dunes backing onto the Blue Flag Warren Beach. Twitchers will be in their element over autumn with thousands of wildfowl and waders returning to make the most of warmer climes amongst the protected natural wetlands.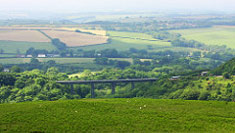 Granite Way
Cycle or walk the 18km trail that skirts north of Dartmoor and discover Devon's propensity for granite with Okehampton Castle, Lake Viaduct and the legendary tors on the moors highlighting the relationship between man and rock. Pubs at either end, as well as midway in Meldon, offer respite although valley views from Meldon Viaduct also provide a perfect pause en route.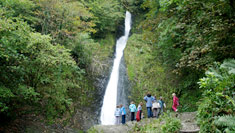 Lydford Gorge
Delving into southwest England's deepest gorge can be slightly sticky, with several slippery sections, over granite, making the 5km walk through oak, chestnut and laurel woods, around the Lyd River, best undertaken by those with a surer foot. White Lady Waterfall – Devon's longest at 30m – is a real highlight alongside the Devil's Cauldron although a flash of kingfisher or heron can be just as sought after.
South West Coast Path
Stretching around the entirety of Britain's southwest coast, for over 1,000km, the North Devon section of the SWCP features a succession of shorter, accessible trails to lead walkers past secret smugglers' bays, vast stretches of sand and secluded scree-covered cliffs and hillsides. Seabirds nest under cliff edges whilst marsh and woodlands offer rest for migratory birds heading south.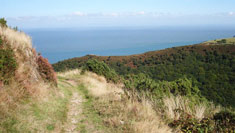 Tarka Trail
The Tarka Trail streaks across Devon in a figure of eight for almost 300km via well-posted paths and disused rail tracks, perfect for walking and cycling. Stations from Exeter to Barnstaple (the Tarka Line) enable hopping on and hopping off after walking sections of the trail which abound with woodland valleys, riverbanks, moors and coastal stretches, as well as village pubs and bike hire centers.