Where to go on a family
winter sports vacation

Perhaps the most attractive element of family winter sports vacations is the focus on authenticity. Your activities are always framed with cultural discovery.

Fancy learning how to drive a sled pulled by happy huskies through a snow tinged spruce forest? What about cross country skiing around frozen lakes, pausing to cut a hole in the ice and see if you can catch a fish to grill later on the fire? Or even strapping on a pair of snowshoes to explore a wintery wilderness, following the tracks of woodland animals in the snow? You're spoilt for choice when it comes to traditional winter sports in countries such as Finland, Slovakia and Montenegro and while of course skiing and snowboarding are ever popular activities on family vacations, we think the following trips go far beyond the ordinary.
1. Finnish Lapland
Finland is perhaps the quintessential family winter sports vacation destination: think skiing, husky sledding, snowshoeing and snowmobiling all crystallised against a beautifully frozen landscape. Father Christmas, reindeer sleigh rides and traditional wood-fired saunas all punctuate the fun. Plus of course, there is always the chance of seeing one of the universe's great natural fireworks displays: the Northern Lights.
2. French Alps
Sleep dorm-style in very sociable, rustic accommodation in Chamonix, with a convenient ski-in, ski-out location. Perfect for families with children of all ages, after a day on the slopes parents can iron out the kinks in the yoga studio while kids learn circus skills, build igloos in the garden, practice their dance moves for the disco or take a guided trip inside a sparkling ice cave.
3. Northern Montenegro
Durmitor National Park is the enticing destination for tailormade vacations of skiing, snowboarding and snowshoeing on Savin Kuk Mountain (yes we know it sounds like an alien planet in Star Wars, your kids will think that too). After a day on the slopes, warm up on mulled wine and if the snow should fail to materialise it's not all bad news, as there is a wealth of interesting cultural attractions in the surrounding area.
4. Slovakia
Picture your family snowshoesing around a frozen lake, taking winter walks in the crisp mountain air, learning to ski or snowboard at a popular resort, then warming up in thermal pools afterwards: welcome to the High Tatras Mountains, pride of Slovakia. As if that weren't convincing enough, you might learn to track animals in the forest with a wilderness guide too, or overnight in a remote mountain hut perfect for stargazing.
5. Slovenia
Ski safaris based out of Slovenia's beautiful capital, Ljubljana actually allow you to ski, or snowboard, in three different countries, as there are also Italian and Austrian resorts just a short drive away. You share your trip with up to six other families so it's great for socialising, and you can spice things up a little by trying some exciting night skiing, or learning to ride 'ski bikes'.
6. Spanish Pyrenees
This is the antithesis of most ski vacations, as you'll enjoy tailor made itineraries in a 'hidden valley' of the Spanish Pyrenees, skiing, snowboarding and snowshoeing on uncrowded slopes where in most cases the only people you'll meet will be local. Private lessons are available and guides will help you learn more about the region; in the evenings you'll dine on delectable regional cuisine.
Our Family winter sports Vacations
If you'd like to chat about Family winter sports or need help finding a vacation to suit you we're very happy to help.

Tips from our vacation reviews
At Responsible Travel, we think the best people to advise our travelers are often... other travelers. They always return from our tours with packing tips, weather reports, ideas about what to do – and opinions about what not to.

We have selected some of the most useful family winter sports advice that our guests have provided over the years to help you make the very most of your vacation – and the space inside your suitcase.

My children loved learning to ski and the dog sledding, but I think my favorite was the winter walk on New Years day.

"We would recommend bringing your own gloves and if you have trouble with circulation in hands and feet – there are little packs of chemicals that heat up and can been worn inside your glove and that keep you warm. You have no idea how cold -30 degrees is, especially when you are sitting still in the sledge or on the back of the skidoo!" – Leontine Mastenbroek in Finland

"Don't pay out for heavy snow clothes. All outdoor gear supplied. Don't pack loads to heavy jumpers. We brought far too many clothes and didn't end up wearing half of them. Pack thermal underwear and 1 or 2 thick or fleece jumpers." – Louise Cox-O in Finland

"Such an unusual and great blend of yoga in the morning as the sun came up and fun circus skills, provided by fun, caring people. The community feel that the team creates is very special. Nothing is too much trouble. Our kids aged 10 and 12 had a ball and enjoyed mingling with the 35+ other kids form the UK." – Britta Bayman in Chamonix, France

I was concerned my daughter would be too young but she thoroughly enjoyed playing in the snow and all the excursions.

"If you have young children (my daughter is 3 and a half), don't hesitate booking. I was concerned she would be too young but she thoroughly enjoyed playing in the snow and all the excursions." – Clare Adcock on a Northern Lights family vacation

"The dogsledding was a highlight, the thermal pools was most enjoyable, the Zeleno Pleso hut was very special, the setting was out of this world, I thought I was dreaming! And to learn more about the Slovakian culture was also great!" – Ilze Henderson in Slovakia

"The whole thing was excellent. My children loved learning to ski and the dog sledding, but I think my favorite was the winter walk on New Years day. Snow would probably be better during the February Half term – but if you want to book at Christmas it is still fantastic, you just might need to be more flexible. Excellent trip for active families." – Paula Stevens in Slovakia
More about Family winter sports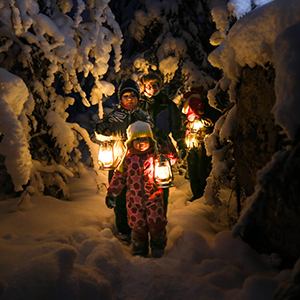 If you're looking for a trip to remember then our family winter sports vacations guide will provide you with plenty of inspiration.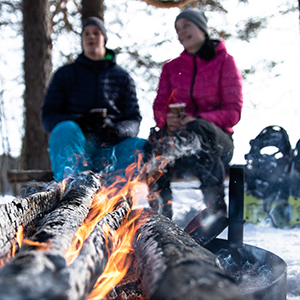 The most appealing aspect of family winter sports vacations in Finland? Authenticity - snowshoeing, husky sledding, cross country skiing, ice fishing are all pretty much a way of life out here.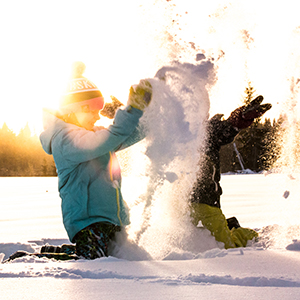 Classic winter sports go way beyond just skiing and snowboarding, as fun as they can be (but no eco-unfriendly snow cannons please!).