CYCLING IN FRANCE TRAVEL GUIDE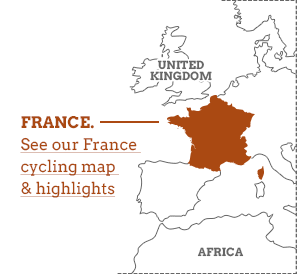 Forget Lycra-clad bottoms and ascending alpine summits; our cycling in France travel guide paints a much more inclusive and varied picture with gradual gradients, even through the Alps, opening up a world on two wheels for self guided and small group cyclists. Of course, the challenges of the Pyrénées and l'Alpe d'Huez will prove too much to bear for some, but lavender fields in Provence, towpaths along the Canal du Midi or the riverbanks of le Rhône or la Loire, are just cause for celebration. Let's not forget the beaches of Normandy leading to Brittany by way of Mont-Saint-Michel and St Malo; the delights of the Dordogne; and beautiful Burgundy where vineyards surround forgotten villages and timeless hillside towns, for as far as the eye can see.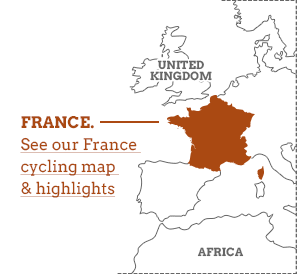 Be it striped Breton or yellow jersey – pick the style, region and pace that suits your physical, social and gastronomic expectations of cycling in France.

A cycling vacation in France doesn't have to be about pumping calves and drop bars, although it can be! But find a pace and a region which suits you – from foodies and historians to competitive clubs and le Tour enthusiasts, cycling in France fills a thousand glasses, and deserves to be drunk by all.
WHAT DOES A FRANCE CYCLING
HOLIDAY ENTAIL?
Leisurely cycling in France
Cycling vacations in France fall into two distinctly different camps. Firstly, you have those who wish to take their time. On these vacations, cycling is less an all day, every day, activity, and more a peaceful way to explore; more efficient than walking and certainly less stressful than driving. These sorts of cyclists might well favour a tailor made, self guided tour where they can plan an itinerary around their own specific interests and include plenty of free time for leisurely lunches, days at the beach or strolls around historic towns or picturesque rural villages. On point to point tours, they can cycle from one locally owned guesthouse to the next, with luggage transferred for them. Alternatively, they can stay put on a center based vacation, and cycle a series of routes close to their chosen accommodation. This means there's no need to pack and unpack.
Small group tours
Some small group tours will offer the same kind of laid-back approach to pedalling, plus you'll be sharing the experience with likeminded cyclists which can work really well for solo travelers as well as for those who enjoy socialising – or appreciate the motivation! Coastal routes, such as those around Brittany and Normandy, are generally flatter and more conducive to leisurely cycling, as are the towpaths of the Canal du Midi and the riverbanks of the Loire Valley or the Dordogne. On one or two days, distances might well stretch to 50km but this is a cycling vacation, after all, so putting in some practise sessions before the vacation, even for a pleasant pootle, is always advisable, especially if you're intending to work up an appetite for each and every evening.
Challenging cycling in France
Now, in the alternative camp, visions of cycling in France may be formed from a slightly more challenging perspective. Distances will be longer, gradients will be steeper and time spent out of the saddle might well be for getting some rest rather than staying up long into the night. In fact, most days, especially in the summer, will start at a reasonable hour in order to avoid the midday sun or to ensure you complete a designated route before it begins to get dark. More challenging routes include cycling across the Pyrénées from the Atlantic to the Med over the course of a week.
This point to point route includes some of the cols (the lowest section between two mountain peaks) cycled in the Tour de France. You can also join a small group (max 16 cyclists) for four days as you attempt one of the Tour's most notorious mountains, Mont Ventoux, also known as the Beast of Provence. If you are up for this sort of challenge, joining a guided, small group definitely offers the safest and most sensible way to achieve success. Support vehicles, expert advice and the camaraderie of cycling as part of a team will make all the difference as well as letting you concentrate on cycling, safe in the knowledge that your back is well and truly covered.

Whichever type of cycling vacation in France best suits you - leisurely, moderate or challenging; self guided or small group; point to point or center based – it's good to know that accommodation, bike hire, luggage transfers and 24/7 back up will all be possible as part of an organised tour. France is a huge place and getting lost on two wheels is not something that we'd recommend. An organised tour not only takes out the worry of cycling away from home but also gives you the chance to get the most out of a region so you can cycle with freedom, with confidence and have the best possible experience no matter how high you want to climb or how far you wish to pedal.
Our France cycling Vacations
If you'd like to chat about France cycling or need help finding a vacation to suit you we're very happy to help.

Are bicycles provided?
Some cyclists, particularly on more challenging tours, want to bring their own bikes. If this is the case we also recommend they bring adequate spare parts. If you're hiring a bike you won't need to bring any spare parts – your back up team will have them covered. Cycling helmets are mandatory and we also recommend these are brought from home to ensure they're completely safe and comfortable.
More about France cycling