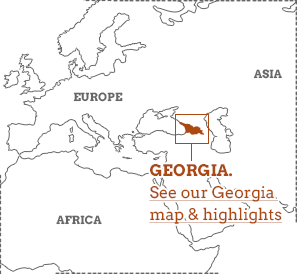 Cultural discovery is at the heart of all our Georgia vacations, whether you're touring wine regions or hiking in the Caucasus Mountains. Local guides unlock Georgian traditions and customs, while making the introductions in remote communities where traveling in small groups means the impact of tourism remains positive. Georgia is often combined with neighbouring Armenia and Azerbaijan for convenient cultural comparisons. Visits to ancient sites help preserve the unique heritage of these countries. And if you want to really tap into local lifestyles, there's no better way than sharing a glass of Georgian red wine with your hosts in a family-run guesthouse.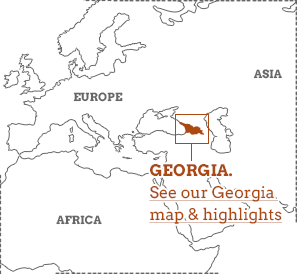 Our top Georgia vacations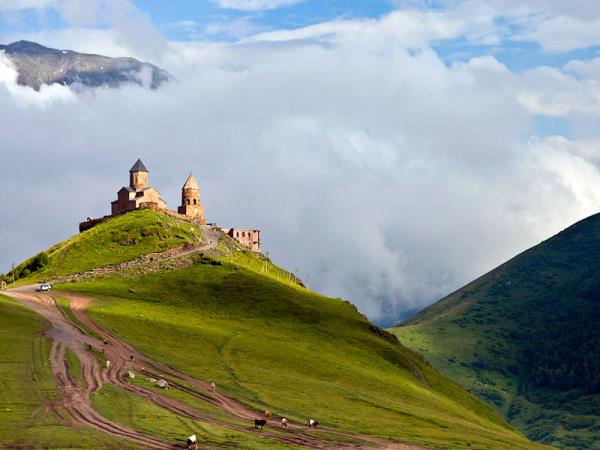 9 days
ex flights
Independent tailor made vacations to Georgia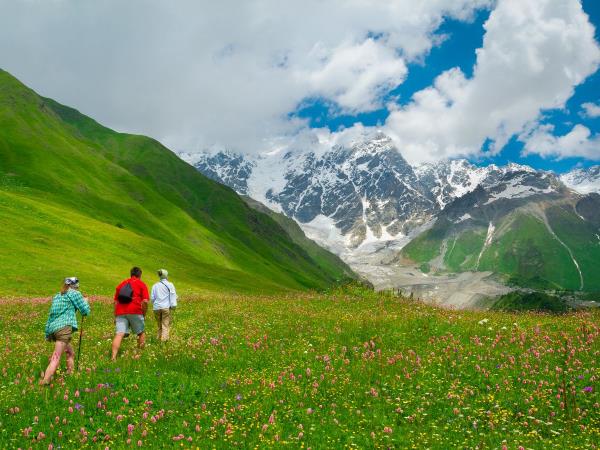 11 days
ex flights
Discover the dramatic and picturesque landscapes of Georgia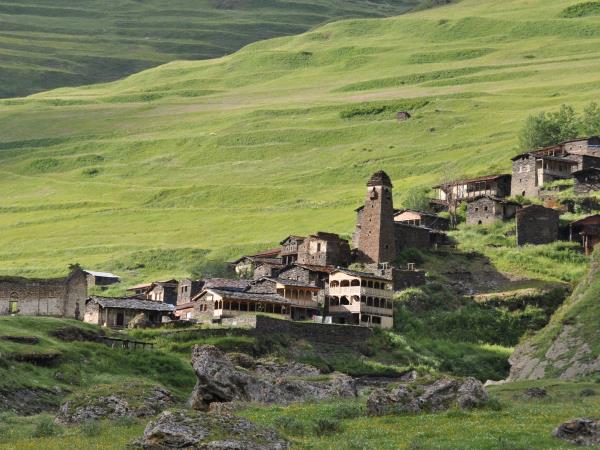 10 days
ex flights
Get off the beaten track in Georgia
Small group
2022: 16 Jun, 14 Jul, 11 Aug, 1 Sep
Best time to go on vacation to Georgia
For a relatively small country, Georgia's climate is diverse, the Caucasus Mountains and the Black Sea both playing a part in the differing conditions. In general, it's drier yet colder in the east, and wetter but warmer in the west. The best time to visit Georgia is May, June or September, especially in the lowlands around Tbilisi, as you'll avoid the summer heat and humidity as well as the freezing winter. Autumn harvest time is well worth a look, especially around the vineyards of Kakheti. You'll need to pack waterproof gear no matter what, as weather can change in an instant.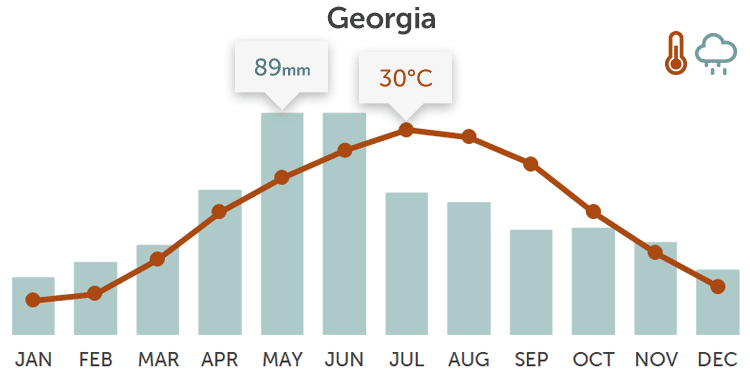 Map & highlights
Tbilisi, Georgia's riverside capital, is renowned for the cathedrals, synagogues, basilicas and mosques lining its cobbled old town – an elegant display of religious tolerance. Mtskheta, the ancient capital, is the spiritual heart of Georgian Orthodox Christianity, home to the famed Svetitskhoveli Cathedral, while Kutaisi holds many more architectural gems among its UNESCO World Heritage Sites. Vardzia is another must-see – a medieval city with a subterranean church dramatically carved into a rock face. Wine lovers should head for the historic vineyards of the Kakheti region, but if hiking is more your thing, there are many superb trekking routes in the Caucasus Mountains.
1. Caucasus Mountains
Hiking
over high meadows close to Russia is just one of many reasons why the Caucasus Mountains are held in such high regard with Mount Kazbegi, Tetu Peak and the Abodelauri Pass adding to the endless appeal. Trekking routes are extensive and range from easy to challenging, with overnight mountain camps and white water rafting offering a couple of distinctly different perspectives of life.
2. Kakheti
Wine lovers, look no further. Georgia has one of the oldest wine producing traditions in the world, and it's at its finest in the Kakheti region, which is gathering increasing attention as the home of natural qvevri wines, which are made using the whole grape (including skin and stems) in an underground clay vessel called a qvevri.
3. Kutaisi
Georgia's second largest city features a cultural cornucopia of churches, theatres and UNESCO world heritage sites, including the Bagrati Cathedral and Gelati Monastery. Kutaisi in spring is a real pleasure with leafy parks and the swollen banks of the Rioni River matching the agricultural fields and forests that line the foothills of the surrounding mountains
4. Mtskheta
The ancient capital of Georgia, Mtskheta is a beguiling city with a beautiful setting where the Mtkvari and Aragvi Rivers meet. It's also Georgia's spiritual heart, where Christianity was established back in 327. The magnificent 11th century Svetitskhoveli Cathedral dominates the skyline and is still the setting for important ceremonies of the Georgian Orthodox Church.
5. Tbilisi
Georgia's capital straddles the Mt'k'vari (Kura) River amongst the flourishing hills and vales of the South Caucasus. A tour of the cobbled old town reveals Tbilisi's reputation for religious tolerance with cathedrals, basilicas, synagogues and mosques standing side by side in the shadow of the Narikala Fortress that overlooks the city just above the waterfalls and springs of the resplendent botanical gardens.
6. Vardzia
Reached by a dramatic 60km drive from Tbilisi through the wilderness, Vardzia is a beautiful medieval city carved into the side of the Erusheti Mountain. The highlight is a grand subterranean church, featuring a number of important historical murals. Monks still live in and oversee the complex.
Culture
The Caucasus region sits at the crossroads of Asia and Europe. Organised tours – the best way to travel Georgia – are a great introduction to its religious heritage. Guides may recount myths from Slavic folklore as you move around, as well as stories of more recent Soviet history. Georgia's ancient winemaking traditions are best explored in the Kakheti region. Feasts of comfort food accompanied by copious local wine are a centerpiece of the warm hospitality for which Georgia is known. The best way to appreciate Georgian culture, however, is by comparing it with that of neighbouring Armenia and Azerbaijan on a multi-country Caucasus vacation.
Georgian churches
The Georgian Orthodox Church has risen to become practically a state religion. Despite Christianity's dominance, which is focused on the magnificent UNESCO-listed Svetitskhoveli Cathedral in the holy city of Mtskheta, Georgia is renowned for its religious tolerance. Nowhere is this better demonstrated than in Tbilisi, where small group tours showcase
Georgian churches
, basilicas and synagogues nestling comfortably together. Elsewhere in Georgia you can appreciate the ancient Vardzia Monastery, still inhabited by monks, and the Gergeti Trinity Church. Its impressive location beneath Mount Kazbegi makes it popular with hikers.
Family vacations in Georgia
Active and adventurous
families
will love rural Georgia, as well as the generous helpings of food waiting for them after a busy day. You won't find many kids' clubs here, but you need have no concerns about keeping your brood entertained. Rafting, mountain biking, horse riding and a spot of R&R along Georgia's Black Sea coast are all natural adjuncts to hiking in the gorgeous Caucasus Mountains. There are plenty of historic forts, castles and monasteries about, too. What may recommend Georgia to families most of all, however, is the warm welcome you experience everywhere you go.
Walking vacations in Georgia
There aren't yet any facilities for self guided walking vacations in Georgia, but there's no shortage of small group and tailor made
walking
options to help you take advantage of these rugged landscapes. Rustic stone villages and views over the border to Russia are highlights of walking in the imposing Caucasus Mountains, and Lagodekhi National Park boasts lynx, eagles, bears and wolves. You might opt for an easy-going trek to investigate a remote monastery or a challenging multi-day route at high altitude. Camping and homestays are the standard accommodations, with lashings of Georgian hospitality throughout.
Multi-country tours
Combining Georgia with Armenia and Azerbaijan on
multi-country tours
makes perfect sense. Organised tours don't just cut down on paperwork and handle all the logistics – they help you to untangle the cultural characteristics of each Caucasus country as you travel between cities ancient and modern, and across mountainous landscapes. Small group tours match you with a handful of like-minded travelers, while tailor made trips let you set your own agenda and pace. Multi-country tours are typically two to three weeks in length, involving long overland journeys and plenty of opportunities to indulge in regional cuisines, wine tasting and encounters with local people.
Types of vacations & vacations in Georgia
Organised tours are the best way to explore the culture of the Caucasus countries, whether focusing on Georgia alone or combining the country with Armenia and Azerbaijan. On sociable
small group vacations
you'll quickly bond with a gaggle of enthusiastic fellow travelers as expert local guides illuminate Georgia's history, from its early Christian roots through invasions, occupations and Soviet annexation.
Tailor made vacations in Georgia
can be fitted precisely to your own requirements, so while transport, accommodation and guides are all handled on your behalf, the actual route depends entirely on your own interests.