Visiting Armenia & Georgia together

Armenia and Georgia lie top to tail on old Mother Russia's crumpled Caucasus couch with just enough distance in between capitals to ensure everyone gets a good night's rest.

As they share space where continents collide both countries offer a taste of Europe and Asia. Yerevan, for instance, is Armenia's capital city and cultural hub, with an eclectic mix of contemporary and ancient landmarks to be found under the all seeing eye of Mount Ararat. Tbilisi, Georgia's capital, is also more than a match for Western Europe's perennial weekend breakers with a historic district on both sides of the Kura River, skyscrapers and sulphur baths sitting alongside open air cafés, operatic theatres and numerous nightclubs. There's another perhaps more significant link that makes Georgia and Armenia inextricably bound: Orthodox Christianity. From the Holy City of Echmiadzin and the 4th Century Geghard Monastery in Armenia to Georgia's Svetitskhoveli Cathedral and Gergeti Holy Trinity Church, there is no escaping the ecclesiastical on a visit to these former Russian counterparts.
Although, on the face of it, Armenia and Georgia may appear somewhat similar in their cuisine, Caucasus, churches and so on. Scratch the surface however, and you'll discover there's much more to it. Allegiances with neighbours vary drastically. Armenia is considered by some to still be at war with Azerbaijan, for instance; while Georgia and Russia haven't always 'gotten on' with South Ossetia – a serious stumbling block when it comes to who to put on the Christmas card list. The Armenian and Georgian languages are completely different, although Russian is usually understood on both sides of the border. Armenia is landlocked, Georgia boasts the Black Sea. Georgia has cultivated grapes in regions like Kakheti for thousands of years; Armenia's collection of khachkars (carved medieval crosses) in Noratus cemetery is second to none. Yes, Armenia and Georgia are at first glance similar, however, visit them both and you'll discover there's much more than might at first meet the eye.
Why it's worth combining
Armenia & Georgia
Although experiencing Armenia on its own is always an option, and a trip to just Georgia gives greater understanding; visiting Armenia and Georgia as part of the same trip will unearth cultural contrasts that you'd never have known existed. It takes around eight hours – including a change of aircraft – to fly from London to Yerevan. After you've made this sort of effort it also makes sense to stay a little longer and make the most of what could well be your one and only trip to the Southern Caucasus. Joining a small group – with local guides in both Armenia and Georgia – really offers a deeper understanding of the region over the course of two weeks. Yerevan and Tbilisi are great bases for accessing surrounding sites as well as allowing you to really get orientated in these lesser-visited capitals.
Joining a small group tour lets you explore with confidence as you get to see all of the UNESCO-listed heavyweights in addition to off-the-beaten track experiences unbeknown to guide books and DIY travelers. Touring Armenia &and Georgia will involve hiking on rugged tracks, several long drives and more than a few churches and monasteries; Armenia alone has around 4,000. This is an expedition that will stay with you for a lifetime as you experience cultural contrasts one polyphonic folk song or apricot brandy toast at a time.
Our top Georgia Vacation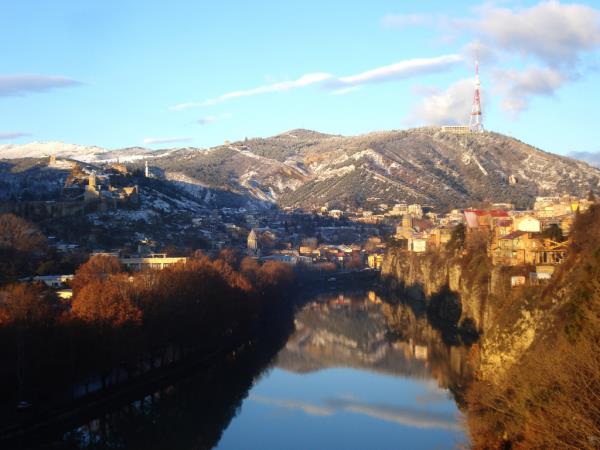 A short journey in fascinating and beautiful Georgia
From
£

1525
8 days
ex flights
Tailor made:
This trip can be tailor made throughout the year to suit your requirements
If you'd like to chat about Georgia or need help finding a vacation to suit you we're very happy to help.