Armenia & Georgia travel guide
With more monasteries and churches than you can throw a thurible at, Armenia appeals to ecclesiastical enthusiasts seeking enlightenment. However, give Georgia its due, too, and you've got the makings of a fascinating, two-country tour. From honey, wine and Cognac production in the villages of the Southern Caucasus, to quirky cafe culture in Tbilisi and youthful exuberance in ancient Yerevan; neighbours they may be, but the same they certainly are not.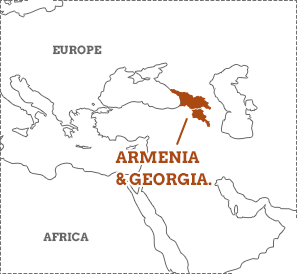 Next door neighbours characterised more by contrasts than similarities, Armenia and Georgia offer a tale of two countries the likes of which you'll never have heard before.

Our Armenia and Georgia travel guide explains how small groups and local tour leaders enable travelers to unlock cultural contrasts and explore in areas that were once off limits. Walking is part and parcel of this experience, as are churches, cathedrals and monasteries, if you're not a fan of either then best advice is to turn back now. But if you're looking for a Eurasian experience unlike any other, now's the time to pack your bags and set off to where the Holy City meets the Soviet Ghost.
Armenia and Georgia vacations are…
for travelers looking to embrace ecclesiastical architecture and Southern Caucasus culture on the outskirts of Europe.
Armenia and Georgia vacations aren't…
for those who often find themselves thinking: "Not another bloody church."
Armenia & Georgia map & highlights
Starting in youthful Yerevan allows Armenia to usurp expectations at the start of a bi-country tour. The ancient allure of Echmiadzin, Geghard and Sevanavank and Hayravank, overlooking Lake Sevan, is equally as enlightening as you continue north into Georgia. Visit Armenia's Haghpat Monastery before crossing the border at Kura River, and continuing on to Tbilisi, Georgia's capital. From Tbilisi, Batumi and the Black Sea lie a six-hour drive to the west, the Kakheti wine region an hour to the east, and Gudauri in the Greater Caucasus a couple of hours north. A two-week tour will take you on one of Eurasia's most eye-opening, orthodox odysseys.
1. Batumi
Set on the Black Sea, Batumi is where Georgians head to in summer. A bit like Brighton, although a lot further from the capital (six hours by road). Batumi has an eclectic architectural mix of shimmering skyscrapers, Gothic cathedrals and pedestrianised piazzas featuring fountains and statues. There's a buzz about Batumi on the beach boulevard but the botanical garden is an even hotter hang out.
2. Etchmiadzin
Visit Vagharshapat, also known as Etchmiadzin, and find out why this is considered Armenia's holiest of cities. Although Etchmiadzin Cathedral, alone, justifies the short trip from Yerevan, especially via the 7th century cathedral ruins of Zvartnots, Vagharshapat is also awash with UNESCO sites as well as paying homage to Armenia's prodigal son, Komitas, whose musical works are well worth investigating further.
3. Geghard Monastery
This UNESCO site was built amongst the towering cliffs of the Azat River gorge on top of a sacred freshwater spring within a cave, and features several notable khachkars (carved stone towers) as well as churches carved from the surrounding rock face. Combines well with a visit to the nearby colonnaded Temple of Garni.
4. Haghpat Monastery
Weathered by age, damaged by earthquake and scarred by siege, the medieval Haghpat Monastery complex has survived almost intact since the 10th century, and remains a superb example of Armenian religious architecture. A UNESCO World Heritage Site, the monastery sits half concealed on a hillside, surrounded by picturesque villages.
5. Kakheti
Wine lovers, look no further. Georgia has one of the oldest wine producing traditions in the world, and it's at its finest in the Kakheti region, which is gathering increasing attention as the home of natural qvevri wines, which are made using the whole grape (including skin and stems) in an underground clay vessel called a qvevri.
6. Kutaisi
Georgia's second largest city features a cultural cornucopia of churches, theatres and UNESCO sites, including the Bagrati Cathedral and Gelati Monastery. Kutaisi in spring is a real pleasure with leafy parks and the swollen banks of the Rioni River matching the agricultural fields and forests that align surrounding mountain foothills.
7. Mtskheta
Within Georgia's spiritual heartland, Mtskheta is one of the country's oldest cities and home to a couple of the Caucasus' most significant Georgian Orthodox Christian sites: Svetitskhoveli Cathedral and Jvari Monastery. The monastery's hillside setting, especially, makes it an absolute must with views overlooking the UNESCO protected city, where the Aragvi and Kura converge, justifiably sacred.
8. Lake Sevan
The descent towards Lake Sevan from Selim Pass takes travelers on a section of the Silk Road that still features the 14th century caravanserai where traders would stop to sleep and refuel. Continue down to the lake and Armenia's only beaches can be found alongside the Sevanavank and Hayravank monasteries and the country's premier collection of khachkars (carved stone stelae) in the medieval cemetery of Noratus.
9. Tbilisi
Visit Armenia's Haghpat Monastery in the morning before crossing the Kura River into Tbilisi in the afternoon. A blend of cultural contrasts awaits, with mosques, Georgian basilicas, Armenian churches, and synagogues standing alongside an eclectic architectural ensemble of medieval, Art Nouveau and Stalinist styles. Quirky cafés, the Rustaveli Theatre, and a cobbled Old Town increase Tbilisi's appeal.
10. Yerevan
It may be one of the world's oldest inhabited cities, but don't think Yerevan is old-fashioned. Statues to Stalinism stride however, stroll through the city's plentiful parks or the Vernisage craft market, or peer at the properties on Republic Square, and you'll find a charming sense of completion, togetherness, perhaps more so than under Yerevan's mighty monument to Mother Armenia.
Our Armenia & Georgia Vacations
If you'd like to chat about Armenia & Georgia or need help finding a vacation to suit you we're very happy to help.

What to do in Armenia & Georgia
Things to do in Armenia & Georgia…
It's easy to assume that Armenia and Georgia must be pretty similar. On the face of it, there are plenty of similarities – the food, Orthodox religion, the southern Caucasus – but scratch the surface and you'll find church services aren't the same, languages are totally different and relationships with neighbouring countries, such as Azerbaijan, contrast, to say the least. Touring both countries allows you to see similarities and discover differences for yourself with local group leaders sharing stories and providing brief history lessons to help you fill in gaps carved over time.
Joining a small group lets you explore with confidence as well as being able to share experiences and enjoy evenings in the company of similar minded people. You'll visit sites that aren't accessible to larger groups or coach loads. And you'll also discover locations that would be nigh on impossible to access if organising a DIY trip. Tour leaders know the local languages, and will help you avoid making any cultural faux pas. They can show you sites in the most respectful way possible as well as providing fascinating back stories to enhance experiences and hold attention, even at the end of a long day.
Yerevan maybe one of Europe's oldest capitals but its youthful vibrancy is far from old-fashioned. Cafe culture and park life thrives and trips to Echmiadzin, Geghard Monastery and the Amberd Fortress, on Mt Aragats, are made all the more accessible when using Yerevan as a base. Five hours north, Tbilisi stands on the banks of the Kura River resplendent in Art Nouveau and Soviet-style architecture. The Church of Metecki, the Sioni Cathedral and the State Museum all add to the ambience of the Old Town's narrow streets with access to the farmers' markets and wines of the Kakheti region another feather in the cap of Georgia's quirky capital.
Things not to do in Armenia & Georgia
Leave your hiking boots behind. Hiking vacations in Armenia and Georgia are not only about the natural landscapes of the Southern Caucasus, they'll also include important historic landmarks and significant cultural sites, too. The steep slope to the Gergeti Trinity Church in Georgia, for instance, requires walking on loose slate and gravel. Dilijan National Park in Armenia is definitely best experienced on foot with Goshavank Monastery, and its collection of khachkars – carved stone pillars – one of several 10th-13th century sites to be discovered on two feet. There's lots to see and days can be long; don't forget sensible shoes even for city sightseeing. Stick to the international menu. For many travelers the cuisine, on both sides of the border, is a real highlight and you'll be hard pushed to find another area of Europe that has such a mix of Mediterranean, Middle Eastern, Russian and Asian influences. From freshly baked bread, homemade honey and jams to salads, grilled, meats, fresh veggies and kebabs, all washed down with a serious selection of wine, believe us – you will not go hungry. Ignore the importance of Orthodox religion. Armenia alone has at least 4,000 monasteries and churches, including Echmiadzin Cathedral, and Khor Virap Monastery on the banks of Lake Sevan. Take into account Georgia's Svetitskhoveli Cathedral, Gelati Monastery, and the 10th century Saphara Monastery and you'll begin to get the picture of the significance of religion in the Caucasus. Join a congregation for Sunday service, and listen to singing as the scent of candles and incense fills the air. Even if you just stand at the back and observe you'll soon appreciate the atmosphere and the seriousness that religion holds for local folk.
More about Armenia & Georgia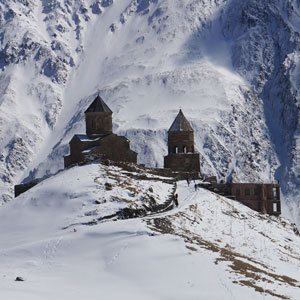 Find out about the best time to go to Armenia and Georgia with advice from our expert tour operators.