Best time to visit Greenland

kayaking alongside glaciers as the sun dipped created the illusion of fire on ice. But of course, the sun never set. And so, the show never seemed to end.

Greenland is gargantuan so although it has an Arctic climate, it certainly varies. Most trips are in summer which gets up to 10°C, with big freeze setting in from Nov-April. Northern Lights start to shimmer in Sep, so get in before the pack ice does if you want Aurora and aqua fun. Bowhead whales appear March-May, as it is krill feeding time. But there are whales of various species here year round. Enjoy the benefits of the midnight sun in late April-late Aug, depending on latitude, but most tourist regions are lit up 24/7 from early June-mid July.
WHEN TO VISIT GREENLAND & WHEN NOT TO
As Greenland is so huge, temperatures vary around the country – and even locally, from fjord to fjord – but everywhere is below freezing from November through to April. In January, February and March, the temperature drops to an average of -16°C to the north around Ittoqqortoormiit, but it's slightly milder further south and milder still if you are inland, away from the colder coast. In Ilulissat, people celebrate the return of the sun on around the 12 or 13 January with songs. The sun's only up for about half an hour, but by the end of January daylight lasts for just over five hours. February, March and April are a great time to see the Northern Lights and spot wildlife including musk oxen and reindeer. This is also the best time for dog sledding. Once May arrives, average temperatures finally pull above freezing, hitting 2°C. In Ilulissat, just north of the Arctic Circle, a day lasts 24 hours in June, nearly 24 hours in May and July, and 20 hours in August. The longest day, 21 June, is also Greenland's National Day, celebrated with songs, speeches, music and dancing. In the summer months – June, July and August – temperatures don't tend to go above 10°C, but down south and particularly inland on the long fjords you can get occasional highs of 20°C. Thanks to the low humidity, it can even feel surprisingly warm. A t-shirt is often enough when the sun's out. The summer months are the best time for photography vacations and small ship cruises, with some cruises departing in September, too. Expect to see polar bears, whales, walrus and lots of birdlife. Few tours run in October, November, December and January. Temperatures return below freezing in early October and stay there right through the winter. Fjords freeze solid, making small ship cruises impossible. Winter is dark in Greenland, but daylight hours vary around the country. On the shortest day in December, southern Greenland experiences just four hours of daylight, while further north around Ilulissat, the sun goes down at the end of November and doesn't rise again until mid January.
Our top trip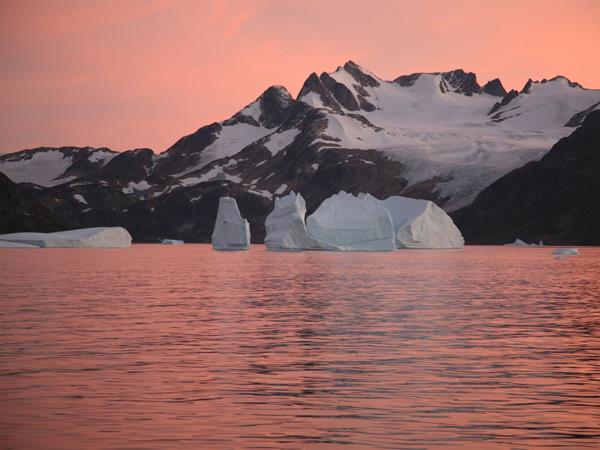 The world's longest fjord & spectacular Aurora Borealis
From
€

4250

to

€

13005
9 days
ex flights
Small group travel:
2024: 31 Aug
If you'd like to chat about Greenland or need help finding a vacation to suit you we're very happy to help.

Things to do in Greenland
Things to do in Greenland...
Just getting to Greenland is an adventure vacation, but for those who want to step onto terra firma and out of their comfort zone, Greenland is Go-Pro gorgeous. Hike and wild camp along the elevated, exquisite landscapes of the east with views out across the Northeast Greenland National Park. Go on a veritable polar expedition, cross country skiing across the ice cap, dog sledding or trekking alongside the great Jakobshavn or Equi glaciers. And you can even go diving with polar experts alongside glaciers and icebergs. Or just chill and watch the Northern Lights.
Take a small ship cruise or sailing trip around Greenland's fjords, its vast national park or across the Denmark Strait, to really get to grips with Greenland's poetry in motion. Watch icebergs calving from their mother glaciers, look out for polar bears and whales, enjoy lectures and guidance from expert naturalists on board, and anchor up at small bays that are home to Inuit communities, or long abandoned islands.
The most sparsely populated island in the world in terms of humans, Greenland has prolific wildlife. Spotting polar bears on ice floes, walrus in the fjords, reindeer and massive musk oxen on the tundra, minke, beluga, humpback or even rare blue whales presenting in the deep, will make your day. And with days that go on all day in summer, you have twice as much time to see them.
Things not to do in Greenland…
Eat whale meat. Controversially, Greenland is one of several places in the world that still allows hunting for whales, contravening the International Whaling Commission's commercial whaling moratorium. It is permitted as a subsistence practice by indigenous whalers, but whale meat is often on sale to tourists. Which increases demand and, therefore, the killing. We do not therefore recommend eating whale meat as it is a direct threat to whale species.
Hunting also plays a role in Inuit society, and trophy hunting is a tourist thing. Most responsible travelers will not see the killing of seals or polar bears as their thing, but we also encourage visitors to keep an open mind, and understand that the culture among your Arctic hosts is very different, and an innate way of life. So, don't to go in with metaphorical guns ablazing on the subject. Refer to people as Eskimos. The native Greenlanders, or Kalaallit, are Inuit descendants of nomads from northern Canada, and they make up almost 90 percent of the population here. The word Eskimo is considered derogatory, so stick to Greenlander, and while you're at it, learn a couple of words of their language – Greenlandic.
Tips on when to go
Laura Greenman, from our leading Greenland vacations supplier rounds up her feedback below:
"Travel during the period of the midnight sun in late spring and early summer and make the most of round the clock daylight. A cruise at midnight to see the gigantic icebergs is not to be missed."
Itinerary tips
"The weather can change quickly in Greenland which can impact on your travel plans. As air transportation is the main way to get around internally, you need to allow for unexpected changes in the itinerary. Traveling for more than three days is a must, both to enable you to see the country and in case plans have to change because of weather conditions."
Activity tips
"People always think that Greenlandic husky dogs have the same temperament to their Scandinavian/Alaskan counterparts. Quite often they're bred as working dogs and not quite so keen for pre-sledding cuddles! But they're incredibly hard-working and a husky sledding adventure with Greenlandic dogs is a very different and rewarding experience." "Experiencing the ice cap below your feet is not to be missed – whether it's a short hike or an overnight camping expedition. Seeing and touching the glacier is something that stays with you."
Cultural advice
"Learn a few words of Greenlandic and meet the locals. Admiring their national costume up close and hearing about the pride that goes into its creation is really memorable."
"Take a range of clothes for all temperatures. I did not expect it to be high 20s 200 miles north of the Arctic Circle! But I wasn't complaining!" - Judith Olsen
"Spend as much time on deck, you never know when you may see something, really take in every moment we are privileged to be able to travel and see such wonders" - Paul Lee on a small ship cruise.