West Greenland photography vacations
You won't struggle for subject matter in Ilulissat, a small town on Disko Bay in
West Greenland
where the sled dogs almost outnumber the people. Just step out onto your hotel room balcony to watch as icebergs the size of a house, and larger, float slowly down the fjord after calving from the vast Jakobshavn Glacier. There's more spectacle here than you'd find in Elton John's glasses collection.
It's thought that the iceberg that sank the
Titanic
originated from here, but the cruise industry had its revenge – visit Ilulissat in the summer and you'll find it swamped with camera-clicking tourists, there to get the snaps but not splash the cash. Photography tours in February, however, are a different matter entirely. "We're dropping our late summer tours," says Geraldine Westrupp of our specialist operator Wild Photography Vacations. "The cruise crowds really disrupt things, and it's such a shame because they don't benefit the local economy much either. We focus on winter now, when the sea is frozen and the ships can't get in. It's a completely different experience and the landscapes are amazing."
This is a location that has only recently become more accessible for the amateur photographer. But responsible operators such as Wild Photography Vacations have been leading groups here for some time, developing strong links with communities that depend on tourism, and in doing so opening up amazing opportunities for their groups that you'd simply never find on a typical cruise vacation.
Our top Greenland Vacation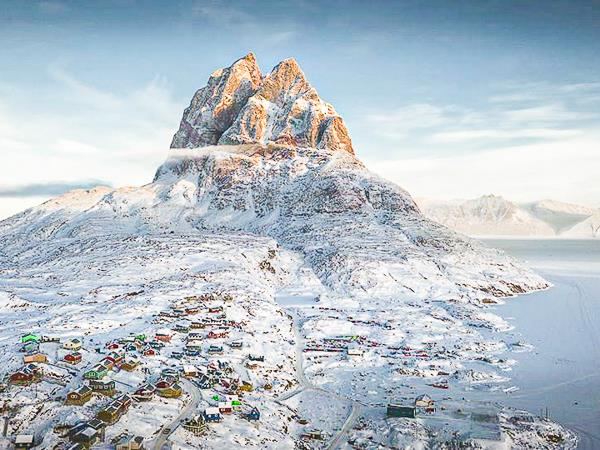 Photograph epic and remote winter landscapes and the aurora
From
£

4550
9 days
ex flights
Small group travel:
2024: 12 Mar
If you'd like to chat about Greenland or need help finding a vacation to suit you we're very happy to help.

Subjects
Every year some 35 billion tones of ice crack off the Jakobshavn Glacier and drift off along the fjord, past Disko Bay and into the open sea. The largest icebergs may get stuck for years before they eventually disintegrate, resulting in a vast icefield that can be navigated by small boat. You'll explore the bay by sunset, getting up close to massive walls and arches of ancient blue ice in the evening light. This is an unforgettable and ever-changing photography destination.
Days are spent exploring on foot or by boat, traveling to viewpoints around Ilulissat and the surroundings that are framed against the pastel blue and pink skies characteristic of this remote location. In the evenings, groups come together to review their efforts in a supportive environment, which is also fantastic for skills development. Natasha Moody visited in 2017 and loved the collaborative aspect of the tour: "A very interesting group of teachers and guests, I was lucky to benefit from so many experienced and patient photographers who shared their knowledge with me. Beautiful landscapes, great food, comfortable accommodation. A very inspiring trip." The sunrises and sunsets here can be incredible, and in winter it's not uncommon to see the arctic night illuminated by the
Aurora Borealis
.
A highlight is sailing to a tiny Inuit settlement on the coast, where colourful wooden houses perch on rocky bluffs, and there are no roads at all. The area's seafaring heritage is clear, with fish racks, seal skins and furs to be seen everywhere, little boats coming into harbour every afternoon loaded with halibut and crab, and holes cut into the ice by speculative fishermen. Many Greenlandic communities are becoming hollowed out as people move to urban areas for work, but others such as Oqaatsut survive still. There is a tiny school (approximately four pupils) here, and a hotel owned by a former mayor of Ilulissat where you might stay.
Sermermiut is another popular photography location, an ancient Inuit settlement lying a short walk from Ilulissat that promises exceptional vantage points over the fjord (you have to stick to the high ground, because moving icebergs can sometimes produce an unexpected wave or two).
Practicalities
These are small group tours, with numbers limited to around 10 or 12 participants. That allows for everyone to get all the personalised tuition and support they need from the tour leader, and crucially means less of an impact on tiny communities that can be overwhelmed by cruise tourists in peak season. Getting in is usually via Copenhagen or Reykjavik, flying over Greenland's immense ice cap.

Enthusiastic amateurs are just as welcome as more experienced photographers, but it's a good idea to have at least a decent grasp of your camera or smartphone's functions before departure. The cold weather in Greenland means you won't want to spend too long fiddling around without your gloves on.
You'll be based mainly in Ilulissat, which means 'icebergs' in West Greenlandic, and they'll never be far from your thoughts, or your viewfinder, with a hotel that directly overlooks the fjord. Ilulissat is a noisy town, with a large population of sled dogs – sledding is not just an Inuit tradition dating back 2000 years, it's also the only practical way to get around on land. You might have a chance to head out on an exciting sled ride, or to take a helicopter tour to try some aerial photography, with fresh perspectives over the ice field (both would normally be optional supplements).

Traveling with an operator that has been bringing groups to West Greenland for years you'll benefit from the deep connections that they have forged with local people who are happy to strike a pose. A perfect example of that is the chance to stay a few nights in a tiny Inuit settlement away from busy areas. Here you'll be able to learn about the lives of residents and find some unique photography opportunities, again something that very few other tours can offer.

Many Greenland communities combine income from tourism with traditional industries such as farming, hunting and fishing – these photography vacations offer a sustainable alternative to cruise groups that give little or no financial benefit to most local people. All meals use Greenlandic fare wherever possible with ingredients sourced from local suppliers, reducing the carbon footprint of your trip and supporting the economy. You'll also be able to purchase handicrafts such as knitted goods, and perhaps watch as they are made.

Your operator will provide you with a comprehensive list of what you'll need, and what you might want to pack if you have the space. A set of ski poles is indispensable for walking in snow, and another essential is a laptop with a RAW conversion application such as Lightroom, as you will also be brushing up your editing techniques.
When to go on a photography vacation in West Greenland
Trips operate in both summer and winter, but between June and September it's peak season in West Greenland, and key destinations such as Disko Bay see several massive cruise ships arriving every week. It's for that reason we recommend traveling in the winter instead. Sure it's colder, around -5°C is likely, but there are no cruise crowds in February, and the low light is fantastic for capturing the frozen landscape.