Cycling in Ireland travel guide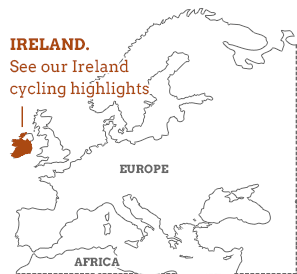 Once upon a time, Ireland's nine west coast counties were places to escape. These days, they're absolutely brimming over with opportunities. Fáilte Ireland (Welcome to Ireland) marketing campaign has been a great success story with the 2,500km Wild Atlantic Way and the Greenways project (resurfacing of disused railway lines) connecting isolated communities on narrow lanes and car-free tarmac tracks. Cycling tourism, too, has really benefitted from a decade of responsible redevelopment. Now you can pedal from pub to pub, beach to beach, and from one welcoming local B&B landlady to the next.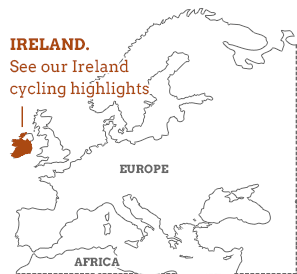 I've known Maeve for years, she's amazing. There's nothing she doesn't know about everything and everybody in County Clare. She's been in charge of the B&B all her life, I'm sure; and she's very well versed with guests. They absolutely love her.

Many of Ireland's rural towns and villages can be reached via a variety of ways, and distances. This is good news for mixed ability cycling groups, as you can often choose between 25km, 50km or 70km routes that all lead to the same overnight location. Then it's up to you how you spend your evening. At an Atlantic seafood restaurant in Connemara, perhaps, or chatting to the locals as accordions, fiddles and tin whistles are played along to the beat of the tipper on the bodhrán (frame drum). That's the thing about modern day Ireland; there are plenty of options on and off the saddle.
Cycling in Ireland is...
good for you.
Cycling in Ireland isn't...
about how fast you can ride; it's more to do with how much you can take in.
Our Ireland cycling Vacations
IS AN IRELAND CYCLING HOLIDAY FOR YOU?
Go on a cycling vacation in Ireland if…
… you're comfortable without a guide. Our cycling tours are all self guided. Bikes will be fitted before you start, itineraries and routes discussed, and maps pored over with a local expert in Galway City. You'll then be given an info pack and route notes before transferring to the countryside. Luggage transfers, 24-hour call out service and a network of local bike shops ensure you can pedal with confidence, safe in the knowledge that help is always at hand in the unlikely event of an emergency.
… you like a variety of landscapes. From the rocky, lunar-like limestone landscape of Burren National Park that covers the west of Co. Clare, to the evergreen meadows of Kerry and Cork, and the golden Atlantic beaches of the Connemara region in Galway, you'll never get bored on a bike in Ireland.
… you want to meet local people. There's a large network of car-free resurfaced railway tracks (known as the Irish Greenways) that not only encourage visitors to explore by bike, but also connect local people with the wider community. You'll get to say hello to lots of local people as you pedal past, as well as plenty of publicans and welcoming B&B hosts, no doubt.
… you're a mixed ability group. The beauty of a tailor made cycling tour is that mixed ability groups of friends and family members get to go on the same trip. There are often about four or five different routes that you can cycle that lead from one village or town to the next.
Don't go on a cycling vacation in Ireland if…
… you're not happy with a bit of wind and rain. This is Ireland. Some of the golden beaches in Connemara might look like you're in the Caribbean, but just dip your toe into the Atlantic Ocean and you'll be blue for a week. It's the near-permanent misty fine rain that makes the grass so green and the wind whipping off the ocean that makes the waves so dramatic. Don't forget your mac. … you're looking for 5-star facilities. B&Bs are often more homely than stately, but the welcome that you'll receive at the front door and the breakfast in the morning more than make up for any lack of airs and graces. … you want to go off road. Why would you want to? There are hundreds of tarmac routes that cover the west of Ireland. These are very narrow roads we're talking here, proper winding country lanes, only a car's width. Not that you'll see many cars. Enjoy the good quality road surfaces and being surrounded by countryside. Leave the off road exploits to the muddy mountain bikers.
Our top Ireland cycling Vacation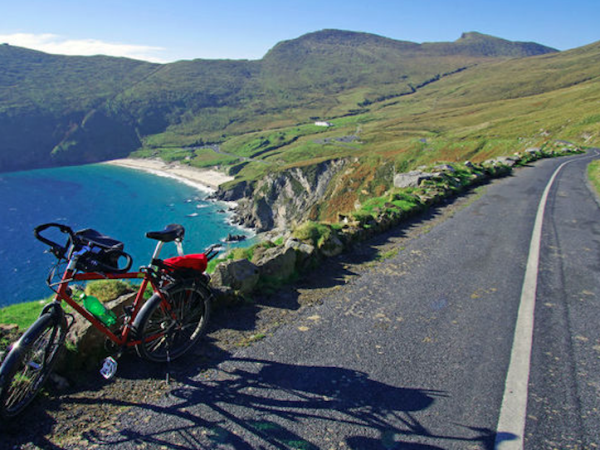 Westport Way Cycling tour
From
€

1150

to

€

1250
6 days
ex flights
Tailor made:
This trip can be tailor made throughout the year to suit your requirements
If you'd like to chat about Ireland cycling or need help finding a vacation to suit you we're very happy to help.

BEST TIME TO GO ON A
CYCLING HOLIDAY IN IRELAND

Ireland is a four seasons in one day sort of country and cycling allows you to appreciate every aspect of the weather, no matter when you decide to visit

If you're cycling in Ireland, there are two things you're going to need: a rain coat and a bike. Now, before you get to thinking that all that wet weather might dampen your day, you need to appreciate that after a while you'll barely notice. The sun will be out, the sky will be blue and skylarks will be calling from the hedgerows. Ireland, the west coast especially, has a kind of magical misty rain that fools you into thinking that this is the way that weather was always meant to be. The best time to go cycling in Ireland is from April to October. Summer can get busy with tourists in the towns of Cork and Kerry particularly, but pedal off into the Connemara countryside and you'll be none the wiser.
CYCLING IN IRELAND, MONTH BY MONTH
January and February aren't the best months to be cycling in Ireland. It's just too damp and dark. Snow's not uncommon, especially inland and on higher ground. I mean, you can cycle, if you want to, there won't be any tourists and the pubs will still be open. Just make sure you've got top notch waterproofs, plenty of breathable layers and high-viz, glow-in-the-dark clothing. March is a bit milder but not much and who knows these days with global heating. Prepare for the worst and hope for the best. It might still be winter, or spring might have sprung. One thing's for sure, it will be raining and there will be lambs bouncing about all over the place. The clocks go forward at the end of March, which means more daylight as Ireland moves into April. The rain also eases up a tad in April, it's all relative really, and by May you can expect ideal conditions for cycling with meadows adorned with endemic orchids and lush green grass. The public cycling event, the Tour de Connemara, takes place towards the end of May. It's great to watch but bear in mind that accommodation around this time will get booked up months in advance. Entries for the race usually get snapped up in 24hrs, so best of luck with that one. June is another best time to cycle in Ireland and you'll be treated to near endless daylight, well past 9pm at any rate; pop your head out of the pub door to catch the sunset. July and August can get busy during the school vacations, especially in Kerry and Cork. Larger villages and towns will be decked out in bunting to celebrate summer festivals, and coastal roads to the more popular beaches will be busier than at other times of the year. You can sail past the traffic if you're on a bike though. July is generally the driest month of the year, but you never know. Cycling in September can be an absolute pleasure with misty mornings and woodlands on the turn. There might even be some sunshine as late as the end of the month and into early October. November and December are as dark, damp and cold as the start of the year. Not the best time to be cycling for pleasure unless you're made of stern stuff.
More about Ireland cycling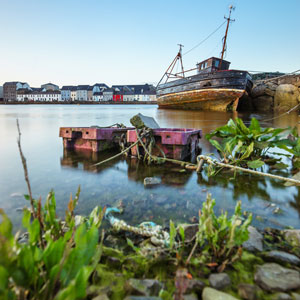 The nine counties in the west of Ireland all have plenty to offer visitors and exploring by bike is the best way to take in the highlights as well as those unexpected moments that keep us coming back for more.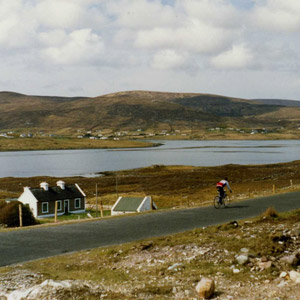 Cycling Ireland's Wild Atlantic Way gets you closer to the incredible landscapes on the west coast and the people living in the isolated communities of Connemara and Burren National Park.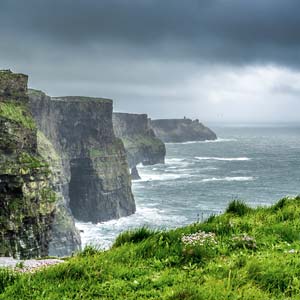 Ireland's local communities living in isolated areas along the west coast have received a real boost thanks to the government developing previously abandoned railway tracks (Greenways) and seanbhóthar (old road) networks.