CYCLE IRELAND'S GREENWAYS
The old railways in the west of Ireland ground to a halt more than a century ago. There just wasn't anyone left to use them. During the 1800s, the national population was expected to reach over eight million. However, these expectations were never realised. Unemployment, famine and poverty led to mass immigration to the US. Those who remained had to endure desperate times in harsh and unforgiving conditions. They had no need for a railroad, they just needed to survive.

These days, the population of Ireland is up to more than six million. A modern rail network is in place – you can ride the rails from Dublin to Cork to Galway City, and there are plans to reach out to more rural areas too, especially in the west. The existing tracks from the 1800s lay abandoned; foliage and trees encroached and wooden sleepers remained preserved under carpets of moss or rotted beyond repair.
It was discovered that the land that the old railway network was built on is actually publicly owned. And so, the Irish government and county councils, with support from the EU, decided to do something with it. The Irish Greenways project was born, and plans to convert the old railway lines into car-free, off-road tracks are currently continuing, full steam ahead.
The paths either replace the train tracks or run alongside, depending on the condition of the old wooden railway sleepers. Bridges, too, have also been resurfaced to take users under or over tracks and onwards to small towns and villages. Cyclists, especially, have been quick to make the most of the tarmac and light sandy gravel pathways. Many of the old stations and railway houses have also been converted into county museums. They make interesting places to stop off along the way.
Our Ireland cycling Vacations
Community connections
But it's not just visiting cyclists that have been making the most of Ireland's Greenways. One of the scheme's great success stories has been connecting rural communities and people that would otherwise have been living in isolation. Mums and their kids, retired couples and dog walkers have been able to take advantage of the car-free routes linking out of the way areas to villages and towns.

They're very safe environments and often circumnavigate cities, as well as offering car-free access into town for anyone looking to go shopping, have a day out or even go to work. Part of the reason for the redevelopment is to give local people living in smaller villages and towns the option to commute to work in larger urban areas like Galway City.

The health benefits to local people and cyclists are very apparent, as are the financial implications to small businesses who are seeing more custom thanks to the resurfacing of the Greenways. Not just the B&Bs, pubs, cafes and restaurants, but the pharmacies and dentists too; they're all seeing improvements in trade.
John Kennedy is the third-generation owner of our cycling tour specialists West Ireland Cycling. He and his family are based in the county of Galway, in the middle of Ireland's west coast. "Some of the areas of the west coast, particularly to the north of the more developed regions of Cork and Kerry, are very isolated. By introducing tourists to the area and redeveloping car-free routes, rural communities living around the Burren region in County Clare and Connemara in Galway have received a real shot in the arm."
"Population decline, away from the more touristy towns along the west coast of Ireland, has been a massive social and economic issue. By introducing the Greenways improvement scheme, the Irish government, in conjunction with the tourist board, has given people the option to stay in their local community and commute, by bike, to a larger town. This is not only good for social and physical health reasons, but it's great for the environment too. Additional tourism in the area also creates more jobs, particularly in the service industries and locally owned B&Bs and hotels." – John Kennedy
Our top Ireland cycling Vacation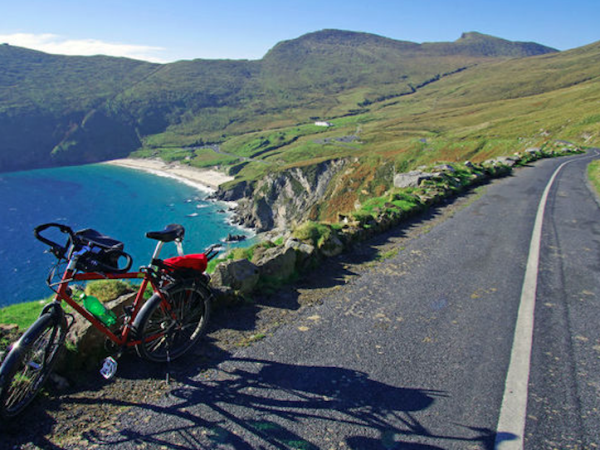 Westport Way Cycling tour
From
€

1150

to

€

1250
6 days
ex flights
Tailor made:
This trip can be tailor made throughout the year to suit your requirements
If you'd like to chat about Ireland cycling or need help finding a vacation to suit you we're very happy to help.

High speed connections
Nationwide high-speed Broadband coverage is another way that Ireland's government is looking to offer people living in remote areas more options in the future. By allowing people access to the internet, no matter where they live, you're empowering them to set up and run their own business.

Traditional crafts and small manufacturing companies in Ireland, as in most places, are struggling to make ends meet. Access to the internet gives them the option to showcase and sell their products across the globe. Knitwear, shawls, hats, socks and blankets, in the west of Ireland, are often made to very high standards. None more so than traditional Aran sweaters.

The Aran brand may have started off as a small cottage industry but, thanks to the internet and the quality of the product, it's become a multi-million pound international brand, with massive appeal to North American markets in particular. This, in turn, creates jobs for people living in the countryside.

The three islands of Aran, where the traditional knitwear business first took off, are part of the Gaeltacht region of Ireland where Irish is their first language, followed by English. You can catch a ferry over from the harbour at Doolin in County Clare. Doolin village itself is also very well known for its traditional Irish heritage. Many of the pubs have live Irish music where fiddles, accordions and tin whistles are played along to the beat of the tipper on the bodhran (frame drum). The village is a real hub for music and the setting, right beside the Cliffs of Moher, is incredibly atmospheric.
Self guided cycling
The beauty of designing your own cycling tour is that you can pick and choose where you go and how long you spend on and off the saddle. Alongside the Greenways project, many of the west coast counties' seanbhóthar (old road) networks are being converted into cycle friendly tracks. There are often about four or five different ways that you can cycle from one village or town to the next. This works out really well for mixed ability groups of cyclists, as you can often choose between 25km, 50km or 70km routes that all lead to the same overnight location in a locally owned B&B.
John Kennedy, owner of our cycling tour specialists West Ireland Cycling: "I've got to know some of our B&B owners very well over the years. They always provide a very maternal welcome and know absolutely everything about everything, especially what's been going on in their local village or town. They're centers of information. Landladies like Maeve Fitzgerald, who runs the Churchfield B&B in Doolin."
Self guided groups meet up with John in his bike shop in Galway City. Bikes are fitted, itineraries and routes discussed, and maps pored over on the countertop. Cyclists are then given their info pack and route notes before being transferred out of the city and into the countryside by vehicle. Luggage transfers, 24hr call out service and a network of local bike shops ensure cyclists can pedal with confidence.
Cycling with detailed route notes and maps, from one tried and tested B&B to the next, bridges the gap between DIY and being a part of a guided group. You'll get all the local info and recommendations, as well as the security of knowing that help is always at hand in the unlikely event of an emergency. Ireland's Greenways are great for getting around and even better by bike.
More about Ireland cycling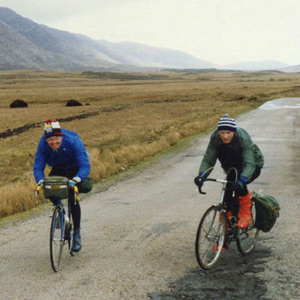 Our cycling in Ireland travel guide gets you around the coast and countryside and into the locally-owned pubs and B&Bs via a series of winding rural roads and good quality, car-free tracks.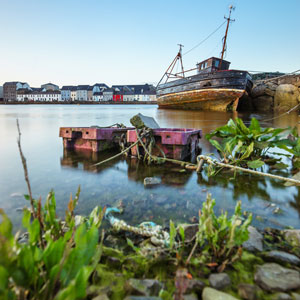 The nine counties in the west of Ireland all have plenty to offer visitors and exploring by bike is the best way to take in the highlights as well as those unexpected moments that keep us coming back for more.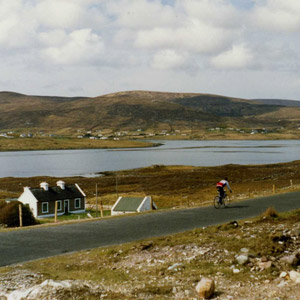 Cycling Ireland's Wild Atlantic Way gets you closer to the incredible landscapes on the west coast and the people living in the isolated communities of Connemara and Burren National Park.